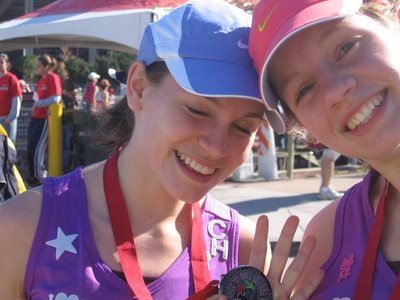 Finished, with medals!
Not long ago, I posted about my two nieces, Christy and Courtney, who were to run P.F. Chang's Rock and Roll Marathon in Phoenix, Arizona, to raise money for the Leukemia and Lymphoma Society. 26.2 miles. I'm trying to imagine doing that. I walk three, maybe four miles at a time, up and down hills, clambering around through the woods. Just got back from a brisk 2-hour hike. Baker's in a puddle on the floor. But twenty-six miles?? It takes training and dedication. Having a twenty-something body doesn't hurt, either.
My sister Nancy, (their mom) and sister Micky (aunt) both went out to Arizona watch them run. How I would have loved to see that.
Both Chris and Courtney finished the marathon. And I am so proud, I could bust. Pretty darn good time, too! Five hours, 24 minutes and 30 seconds. Together they raised
$8,100
to help fund the fight against blood cancers.
And, my good blog readers,
$600
of that considerable sum came  from
YOU
.  We're all blown away by your kindness and generosity. This is a powerful thing, this connection we have, and I feel it every minute of every day.