It was a surprise to this inveterate goat-hugger that alpacas don't like to be touched. At all. They don't even touch each other. I watched an alpaca bunch up and leap forward when a herd mate brushed against her. I'd describe them as sweetly aloof.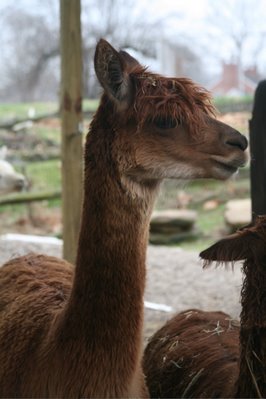 Whenever I turned my back, they'd crowd in on me, trying to get a better look at my camera and sniff at my hair. But when I turned around, they'd back off, looking embarrassed and apologetic. Approached, they'd gracefully exit stage right or left. No thanks, their demeanor said. I didn't see any spitting, though alpacas will spit like llamas. It's not actually spit, but a foul-smelling grass-and-bile mixture that's regurgitated, bleh. They spit mostly at each other, and very seldom at people, though they're highly individualistic on that and every other score. I noticed that many of the males had protruding lower incisors (they have no uppers), and drooping lips, and apparently that's from spitting a lot--the bile tastes bad to them so they make that face. It's called "sour mouth." The man alpacas made this face more than the girls.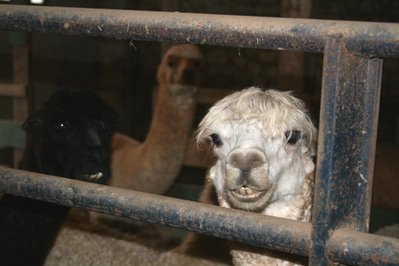 Not everything you read is true, Missy. We're just trying to look tuff.


Combined with all the fiber on their topknots, which looks a bit like a bad Beatle wig, the males had a rougueish look to my eye. Annie told me they're quite...ehm...avid, and young or gelded animals need to be kept away from them. In fact, all the males were together in a separate "bullpen." But I felt perfectly safe walking amongst them as Annie and Charlie fed them.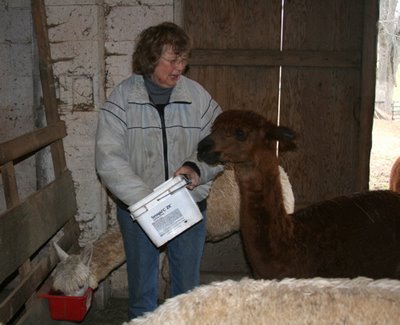 At first I was a bit put off when my visions of hugging alpacas had to vanish in a poof, but the more I watched them, the more fascinated I became, and I began to understand their great allure. Purely from a collection aspect, they come in beautiful colors and textures, and they're quiet and gentle and odorless and graceful and funny. Here's MAROON. Ever seen a maroon animal? Maybe a deep chestnut horse. But oh, my. And she's got what breeders call a "greasy luster."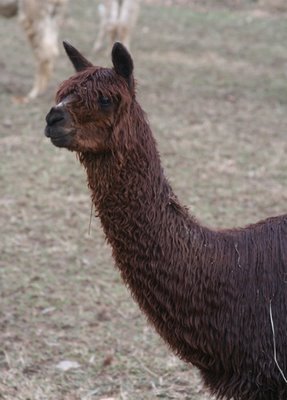 They have their own way of showing affection, sometimes as simple as approaching close to a person they favor.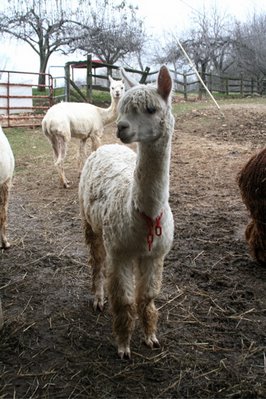 While I talked with Annie and photographed some alpacas in front of me, this trio was quietly approaching from behind. "Look, Charlie. Look what they're doing," Annie said, her voice warm with affection. She was as tickled as I was when I slowly turned around to see this: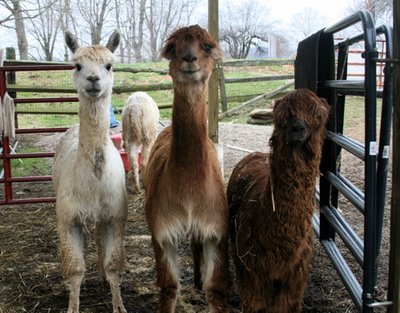 If an alpaca can look sheepish, they did.
Oh, sorry. We were just creeping up on you, but now you've busted us. How embarrassing. Again, sorry.
They're very responsive and intelligent and idiosyncratic. They're cool camelids.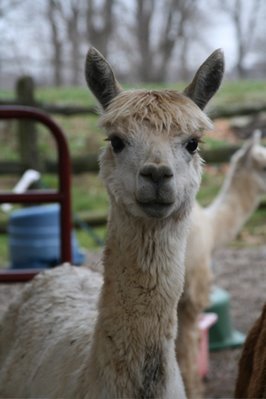 So I bought three Peruvian huacaya teddies as gifts, and brought them home for a photo shoot with Baker, who would love nothing better than an alpaca teddy to "parent."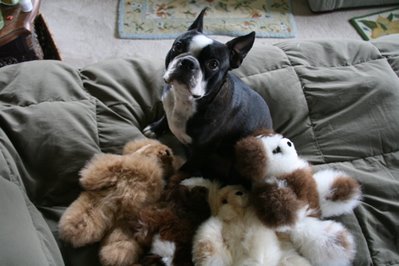 Nothing doing, Bacon. Nope. In your dreams.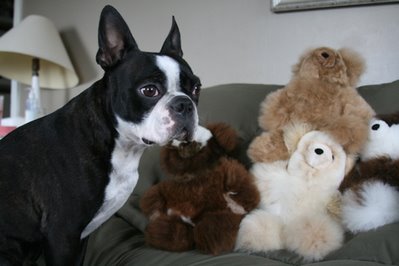 I drooled over a gray and tan alpaca blanket, and a white one made from cria fiber that was so incredibly soft and fine and light and warm that it felt like sunlight on my arm. Alpaca fiber is up to 4 times warmer than wool. It's a luxury fiber, and alpacas are a luxury animal. I'm glad the coyotes stay away, that Riverboat's animals are housed out of sight of any roadway, and that there are apparently no alpaca rustlers in southern Ohio.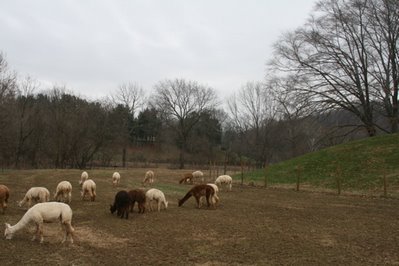 You can be sure I'll be back with pictures of new crias come July!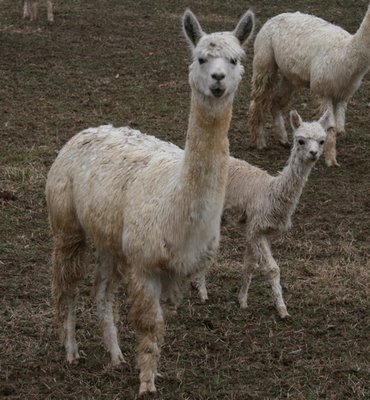 Here ends the Alpaca Adventure. For now. Thank you so much, Annie and Charlie and Riverboat Alpacas, for your patience and grace. Good luck with the cria rush.
Niche farming: what a way to go. I'll be looking for more cool assignments from my favorite little nonprofit magazine.