Bill and I were returning from a walk the other day when he stopped short. "Whoa. Somebody bit the dust here." There was a neat fan of wing feathers from a female northern cardinal on the path that leads through the honeysuckle tangles in our orchard. It was all so fresh and fluffy; hadn't been rained on the night before.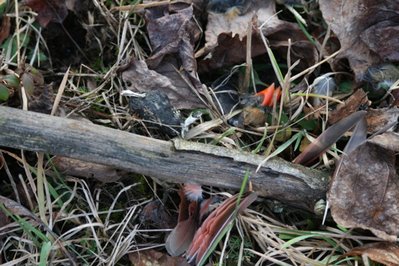 I knelt down and started looking for evidence of who the killer had been, but Bill was right on it--he'd found the carving block, and right beneath it a fresh puddle of whitewash from what could only be a small owl.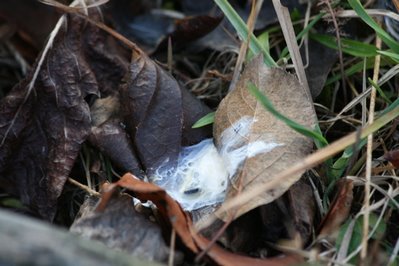 While hawks shoot their droppings out in a horizontal streak, owls drop them straight down, not being as well set up for muscles in the sphincter zone. I muse on why this might be sometimes; it beats wondering what Jamie Lynn Spears is going to name her baby or why Tom and Katie seem so MISERABLE or why Jennifer's calling Brad and she's all
I can't get over you!
and he's all
You're my only true love
and Angie's all
I'm gonna kill 'em both
. Can you tell I've just returned from the grocery store where I got my weekly tabloid fix? I'm the woman who's got her nose so deep in the
Star
she can't even load her flippin' groceries on the belt. One reason I like Ohio is that nobody gets nasty when I do that. They just wait for me to come to, just like they do at red lights. If anyone honked I'd faint. Any wonder I don't miss Connecticut?
This is tabloid stuff, too, but it's the kind of news that nobody much reads any more. So there it is, the telltale dropping of a screech-owl (or maybe even a saw-whet owl; we've had two records on our property and it is a big invasion year for them). But wait! there's more. Half-hidden in the grass beneath the carving log was a big ol' pellet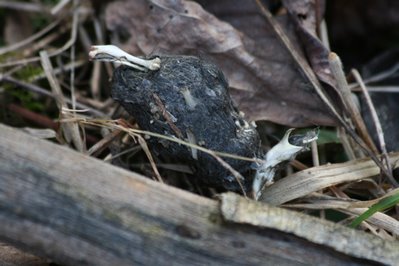 full of meadow vole fur and bones. That's the mandible on the right; I think the bone on the upper left of the pellet is a humerus or a femur. Or: I don't know what it is. Leg bone. Yeah! Better choke yer pellet up first if you're going to eat a whole cardinal for breakfast.
And the bill of the cardinal, neatly carved off. Wouldn't want to have to swallow that and then bring it back up in a pellet. Garrggh!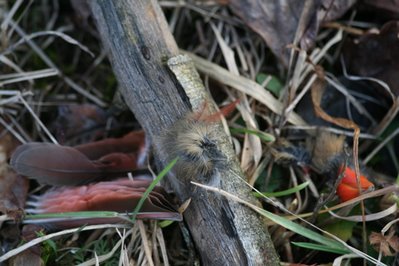 And here's the whole crime scene, every clue intact: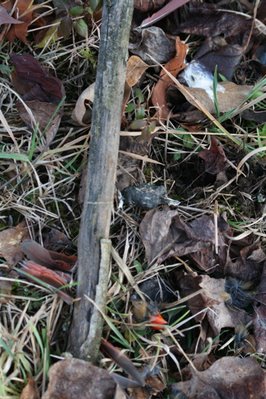 My best-ever find in an owl pellet was the entire skull of a belted kingfisher, beneath the carving perch of a great-horned owl behind the chicken shed where I lived for a couple of years in Hadlyme, Connecticut. I try to imagine swallowing a kingfisher's head whole and just cannot. This is why I would make a lousy owl.
Offisa Pupp was all over the crime scene.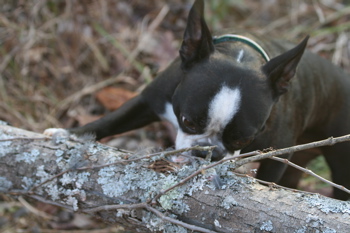 Something evil this way came. fuh fuh fuh fuh snorf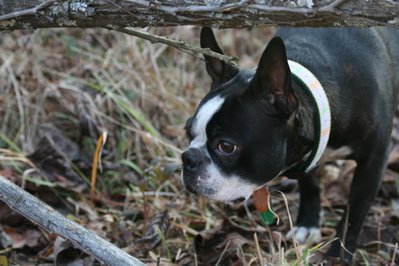 On the alert for more attacks. Nothing escapes Offisa Pupp, cruisin' around in his black-and-white. He's got his crime-scene latex glove on.
Think I'll write the Star and the Enquirer with this breaking news. Think they'll bite?
To everyone who contributed to the
Leukemia and Lymphoma Society
in memory of my dad, whom you didn't even know: Our hearts are full. Thank you, wonderful people.