Other arcane camelid facts: Alpacas have a communal dung pile, and they like to evacuate together. That, I didn't see, but I brought a whole lot of it home on my new
Keen Chamonix boots
(which were a Christmas present to myself, and which I loooove. Buy a whole size up; they run small.)
But Enough! about me and my boots. As a blogger, I pride myself on my dogged focus, even in the face of withering brain cells...Click around and buy Keens if you must; I'm back to alpacas.
Alpacas hum and moan, and the males orgle (sing) when they are courting a female. There is an album called Alpacas Orgling, by L.E.O, a tribute to the Electric Light Orchestra. Pretty darn good album, but it has diddly to do with alpacas. Orgling is what horny alpacas do. Just the word makes my every cell vibrate. Orgle. I cannot wait to hear an alpaca orgle. I heard them hum and moan a little bit, Ruthie, but I want a full-Monty orgle. Guess where I'm going to be come June, when the 14 crias are born and the males will be trying to get the females interested in mating again? Yep, hangin' over the fence down at
Riverboat Alpaca Ranch.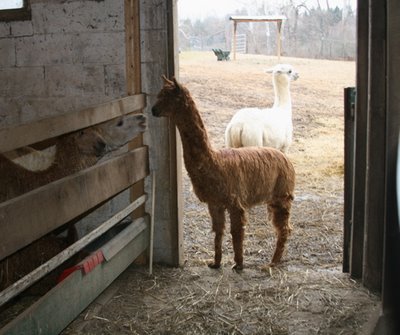 Annie told me that there are now about 100,000 alpacas in the U.S. The breeders know each other, help each other, and form little coalitions to help market their fleece together. It's cool. Annie told me that there need to be 600,000 alpacas producing to supply enough fleece to have a mill run around the clock to spin their fleece into yarn. The fiber sells for $5-$8/oz. So the incentive is high to get more people into alpaca ranching. Believe me, I am thinking about it. As well as goat farming, and running a greenhouse, and writing a ridiculous Chetbook, and learning how to play the guitar. Only one of those things is likely to happen. But Enough! About Me! Fiber! It's Fiber we're talking about here!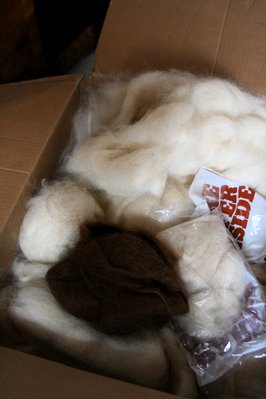 There. There's your fiber. Five to eight dollars an OUNCE. That's more expensive than dried wild mushrooms, or premium yellowfin sushituna, or almost anything else I can think of. Ann and Charlie have a cria due this summer who was sired by a stud valued at $250,000. Eek! I want to see it, and see if it looks any different from oh, say, the cria sired by the $10,000 stud. I'd have to take my electron microscope and analyze its fiber to really judge its quality.
Here's what they make out of alpaca fiber in Peru. (The hat is made from skins from an alpaca that died of natural causes). But the scarves and throws are made from sustainably-gathered fiber. This is dyed, of course; they haven't got a green alpaca yet.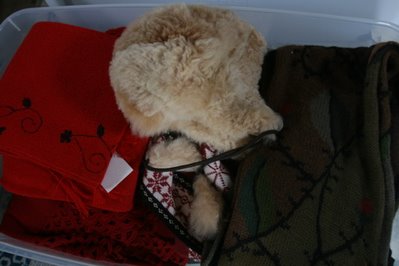 Annie's favorite throw, made from undyed, natural suri fleece: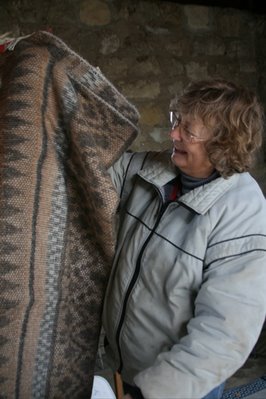 Her prices are amazingly low, considering the value of the fleece. This big throw was $85. Egad, I've been thinking about it ever since I saw it. I can't imagine a warmer, softer blanket. It's like cashmere. I'm tickled pink to know where to get things like this, from good people who are making a go of niche farming. It makes shopping ever so much more fun, to be able to go to an alpaca ranch to get your goodies, talk to nice folks, and listen for the orgle of a horny alpaca.