When Bill and I decided to build a tower on our house, our contractor and friend Dan Harrison was bemused. Thrilled, too, because he'd never built one. But he sat us down and said he was bound to warn us that, when people are looking for a home, they don't exactly look for homes with birdwatching towers on top of them. They look for nice kitchens and nice bathrooms. He said it might not positively affect the resale value of the house. (read: it might be a foolish thing to do, expensive, not exactly a sound investment) Bill and I looked at each other and laughed. "We're not going anywhere," I said.
And it's been nine years, and we haven't gone anywhere, and we're no closer to trying to sell our house than we were then. But I do think that a house with a tower on top of it has an extraordinary value, one that can't be measured by any realtor's parameter.
On snowy days when the kids are home from school for the thirteenth consecutive day (but who's counting?), the tower is worth every penny we poured into it. It's my writer's cabin. I go up there, close the heavy trap door, and settle into Bookspace. I'm almost halfway through writing my second book. Words just tumble out of me as I sit, swaddled in Polarfleece and bathed in natural light, in a folding camp chair. A little space heater at my feet augments what's coming out of the duct. The room's 10 x 10, just big enough for two chairs and a little square table. It's got four big windows, a phone jack and an outlet and that's about it. Perfect.
I believe in having dedicated spaces in one's house, free of clutter, that are meant for one thing. I also believe in having a place where a person can get away from it all, even if it's a 10 x 10' cell. As cells go, this is a dandy. It's all glass. So I can see birds whenever I look up. Yesterday, I was tapping away, writing about prairie chickens, of all things, when I heard a blue jay yell, a surprised sort of yell. My head whipped up, just in time to see an adult male northern harrier go sailing by to the south at eye level. I grabbed the camera, which, through Murphy's Law, had the short portrait lens on it, and snapped a couple of shots.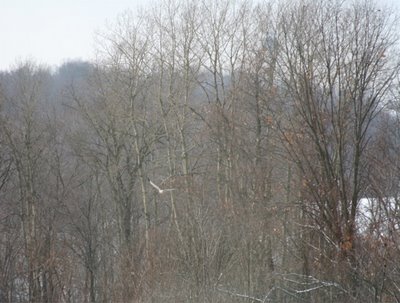 Even through glass, you can tell this is a male harrier by those ink-tipped white underwings, and that shining white rump. Here's a cropped view: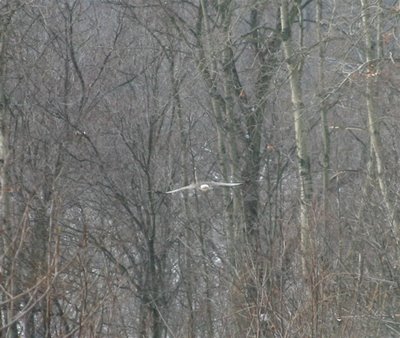 Northern harrier, male, January 2, 2008, in our orchard.
This isn't harrier habitat by any stretch, but we get a handful of chance records on our land every year. He's on his way somewhere, and he cruised through the yard when he noticed all the birds at the feeder. Like all raptors, harriers are opportunists. I'll never forget seeing one go coursing through the horse pasture behind my Connecticut cabin. That was a clearing in an immense woods, and it wasn't harrier habitat either, but it was close to the coast where there was a lot of salt marsh. There was a tufted titmouse on the very end of a maple branch, scolding that harrier like crazy. And as the harrier went by, it flipped on its side, threw out an impossibly long, slender leg, and just picked that titmouse right off the branch.
Yeak yeak yeak yeak
and the harrier and titmouse disappeared over the trees, the little bird yelling all the way. Tough way to go, good thing to see.
We've gotten another inch of fine powder last night, atop five or so from yesterday, which almost certainly means there will be another snow day tomorrow. Laugh if you must, Trixie, but you know how it is in southern Ohio. It's all ruled by the gravel roads out here, and they can be truly horrible for days on end with just a little snow, because there's no money to do anything about it, I guess. I'm sure there are a lot of moms who'd contribute personal income to get those roads cleared by now. Phoebe and Liam are pretty darn good, and they get out to sled and play and burn off some energy without being asked. I spy on them from my tower retreat.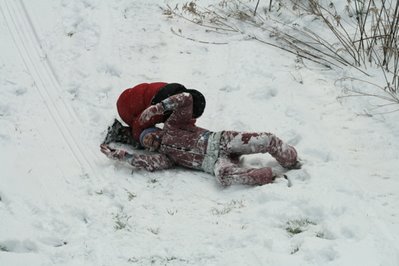 I'm gonna get you, sucka. Liam: Squeeeeee!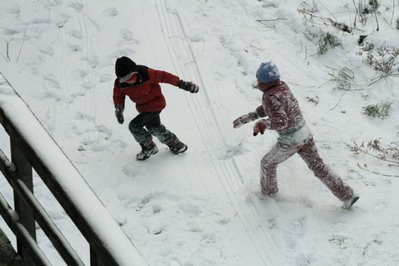 They like to come up and visit, and
Phoebe
comes up and gets me to drill her on spelling bee words, but there's nothing much they can do in a 10 x 10' room, so after we visit for awhile I don't have to ask them to leave. I've never shut myself off from my kids, even when I'm painting, because I think it just makes them insecure, which makes them need to bug you more.
There is one person who is welcome in the tower at all times. He never gets bored. In fact, he gets all excited when he sees me making tea and grabbing my laptop, binocs and camera. He dances with joy and runs up the stairs ahead of me. You get one guess who does that.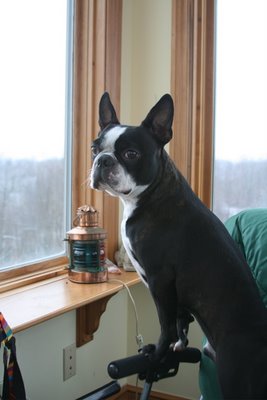 It is Chet Baker, Companion Dog. Aside from taking a walk with me, Chet loves going to the tower room the best. There are always things to watch from his perch on the barstool by the window. Such a little catdog. He clears his throat and whuffs to ask me to steady it for him, then leaps up with feline grace. Note favorite stainless steel Target tea mug. Miso love my Migo mug. It keep tea hot rong time.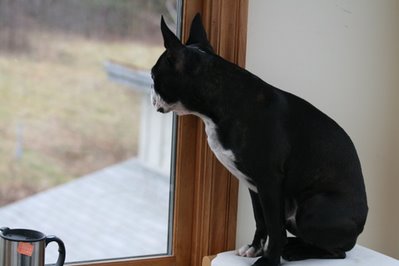 Besides the barstool, Chet has a dedicated chair right across from me, which is draped in a sleeping bag. It can be a bit chilly up there with all that glass, so I make sure he is adequately swaddled. You can never swaddle a Boston terrier too much in January.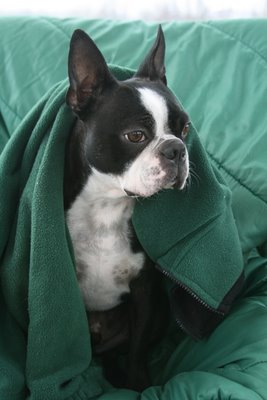 The perfect writer's companion--silent, sweet-smelling, softly snoring, always ready with a cuddle and a kiss, asking nothing but giving everything.