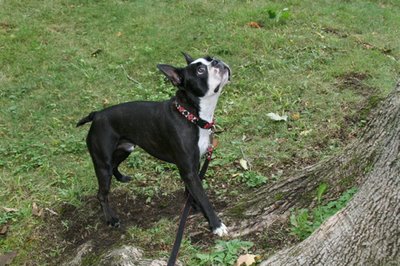 It's been a busy week. I wasn't planning to post at all this week, but when I fired up the laptop in our rented Chautauqua condo, boom! there were a couple of different unguarded wireless networks to choose from. Bless those folks who pay through the nose and don't guard their networks with a password. Anyone who came to Indigo Hill could sit at our picnic table and poach, that'd be fine with us. Nobody comes around to do it, but still...that's how I rationalize poaching off our neighbors here.
Chet Baker is in a constant froth at Chautauqua. For one thing, there are designer dogs at the end of every leash, and a lot of them. He gets to touch noses with Portuguese water dogs and goldendoodles and soft-coated wheaten teriers and a whole lotta French poodles. Yesterday, a Catahoula leopard dog. Weeee-oooh. He's matured quite a bit and he hasn't picked any fights so far this year. He did lock lips with a little dustmop dog at the Farmer's Market this summer, but so far so good in New York. I keep him on a tight lead, because despite having had a ballectomy, he's all man.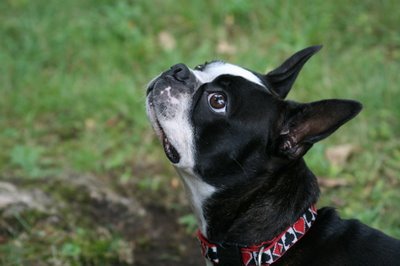 The other thing that spins Chet's top is the preponderance of gray squirrels. This morning, he had twin bubbles of drool at the corner of each jowl. They were the size of gumballs, and remarkably, mucilaginously persistent. I wanted to photograph them, but he was pulling so hard at the leash I couldn't manage both him and the camera. I don't know when I'll ever see that again.
But I have wanted to use the word "mucilaginously" for a long time. Ahhh.
He's always watching for squirrels and chipmunks.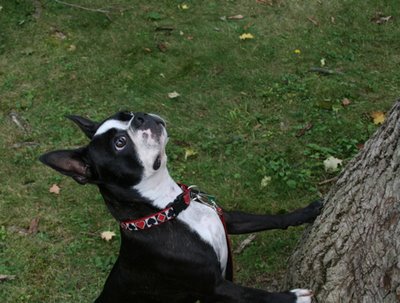 Such fun to photograph, this little doggie, with his clear eyes and white shirtfront.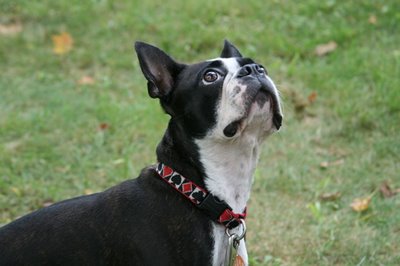 Here squirrly, squirrly. Please come down. I don't want to hurt you. I just want to pet you.
Boston jowls grow as the dog ages, just like people jowls do. I can age Chet in old photographs by how droopy or un-droopy his jowls are. He can probably age me, too. Just more to smooch, right, Chet?
And so I leave you for the weekend with a little Chet Baker fluff that requires no pondering. But do try to use the word mucilaginous at least once before Monday. Ta!