One of my greatest (and easiest) horticultural triumphs this past winter was the successful rooting, in water no less, of two cuttings of a red mandevilla that I love. Here's how it (and Phoebe!) looked in September 2006.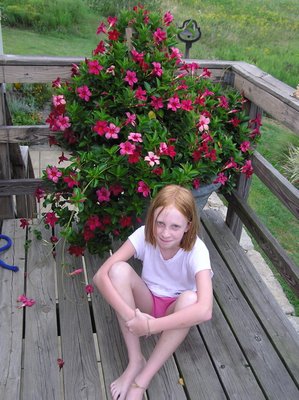 The mandevilla was so beautiful I could not leave it out to freeze. (Brought Phoebe inside, too). I sighed and grunted the plant into the greenhouse for a long winter of cutting back its wild tendrils, spraying it for aphid and whitefly, and dumping two gallons of water on it every other day. Urrrrgggh. I put it in the biggest pot I own (which also happens to be the upper size limit of what I can lift, not coincidentally), and it completely dominated the greenhouse all winter, cutting sun for everyone else. It wound its long tendrils around every plant within six feet of it, and I had to keep slashing it back. I cursed it and wished I had thought to root cuttings in the summer of 2006, so I wouldn't have to house that 60-pound, eight-foot-tall monster in my tiny Garden Pod all winter long. I had found this plant at the Greenbrier Nursery in West Virginia, and I was loath to lose that wonderful genetic material. It was the first red mandevilla I'd seen. By about January, to my great surprise and delight, I had two tiny cuttings throwing out roots, and after a winter in the greenhouse and a summer outdoors, they're just now coming into maturity, putting out delicious red blossoms. Come the first of May 2007, I just about broke my back getting the mother plant out of its pot, and I put it right into an enormous hole I dug in the ground next to the front door, where it is putting on a spectacular show and climbing a trellis up the front of the house. Thank you, darling. You've been an asset, overall.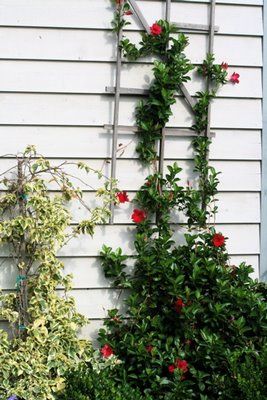 There it lives and thrives, and there it will die come November, because I have these two gorgeous little starts from it, who have promised not to dominate the greenhouse the way their mother did. I love this plant so much that I'm also layering it, burying low-hanging stems in moist soil. Those buried sections should put out roots by fall, and then I can cut them off the mother plant. This is one of the great joys of gardening, and Bill likes to say it's my only vice: plant propagation. What I'm going to do with the starts come October is anybody's guess. Most of the people I'd give it to don't own greenhouses. Given the growth potential of this tropical vine, I'll probably be cursing those cuttings all through the winter of 2007, too.
This plant was formerly in the genus
Dipladenia
, along with a pink variant which I also grow. Now, though they've put it in the genus
Mandevilla
, where it's called
M. sanderi.
The other
Mandevilla
is
M. amabilis,
sometimes called Chilean or Brazilian jasmine.
The most frequently grown variety of
M. amabilis
is "Alice Dupont," boasting enormous, fragrant pink flowers and quilted, rugose leaves,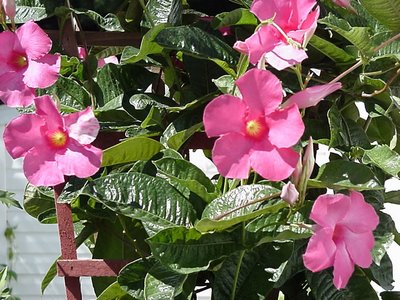 unlike the sweet, shiny dark green leaves of
M. sanderi.
There's no denying that Alice Dupont puts on a spectacular show. I've grown them for years, and always used to plant one for my mother, where people would stop in front of her house to ask her what it was. I give them to my mother-in-law every year, too, and she loves them. This vine loves the cruel humidity and heat of Virginia and Ohio summers, though like mine, it dies at the first frost. It's much more a vine than a shrub, growing in a straight line if you don't cut it back.


Of the two mandevillas, I now prefer to grow the shiny-leaved red-flowered
M. sanderi
, because it's much less prone to attacks by whitefly and red spider mite. It also has a much more compact growth habit, gorgeous shiny deep forest-green leaves, and dark red flowers that just can't be beat for beauty.
There is one more thing I love about this plant, but I'll tell you about that tomorrow. I seem to have gone on a bit long about mandevillas. It's going to be a long winter in the greenhouse, with three to bring in!