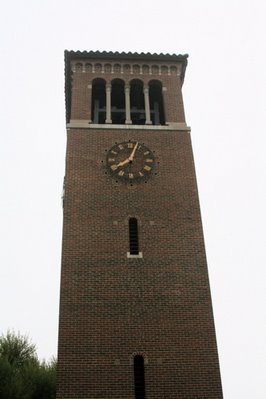 We've been in Chautauqua, New York, for the past week. It was a truncated trip, not our usual seven-day stay, chopped off at either end by family obligations. I had to give two talks and we both played music, and Bill was working every spare moment on a tight book deadline. It also poured much of the time, rats. One of my greatest pleasures in coming to Chautauqua is walking Chet in the mornings, looking at the lovely gardens and homes, and meeting other nice doggies. I also love watching the kids navigate around on foot and bicycle, unafraid and confident in this gated community. They can make their own way here, going to and from Boys and Girls' Club and our rented space. The vistas are beautiful and the atmosphere is one of peace and restraint.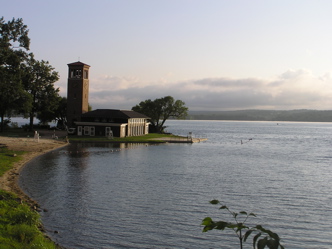 This shot's from last year, when the weather was more conducive to walking, photography, relaxing, and well, everything...
I stole a few moments from frantic preparation for a talk one morning to walk down by the lake with Chet. We were nosing around Chautauqua's famous belltower when the chime mistress, Carolyn Benton, welcomed us inside. I hope that's the right title for this lovely lady. Bell ringer? Lady of the Carillon? She's all that. She plays a small keyboard that runs fourteen huge cast iron bells hanging up above.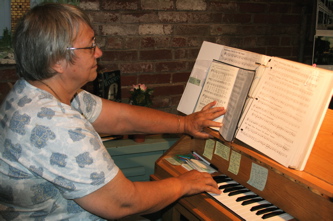 She plays a huge selection of sacred and secular music found in fake books and hymnals on a shelf nearby, and she takes requests, as I was soon to find out. She does this double-bell thing that kills me, hitting notes very close together. Hard to describe but it sends shivers up my spine.
First we had to meet Baby, Carolyn's sweet little black dog, um, third child. Chet was absolutely sure on first spotting her that Baby was a cat, and he dropped to his stomach in a slow stalk. "Chet. Chet. That's not a cat. That's a doggie." With a sheepish glance up at me, he rose to his feet and touched noses with her. She really had him going there. I was glad I figured out why he was stalking her before things escalated!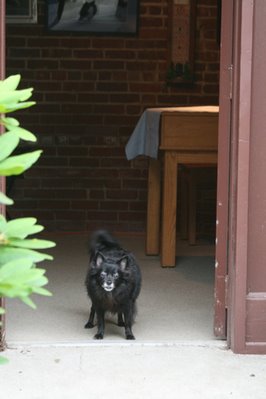 Chet thought she was a Persian; I thought she was a schipperke, but Carolyn said her mother was a purebred Pomeranian who had an indiscretion. Baby gave Chet a warm welcome, then retired to her chair next to her mistress.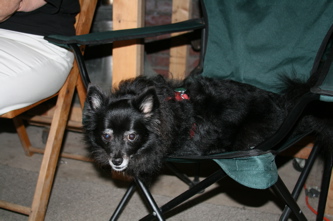 Clearly, she felt this was her proper station in life, keeping Carolyn company while she played. Man, I love dogs. They know where they're needed and figure out how to fit in. Baby is a wise little animal.
It didn't take me long to pick a couple of hymn requests. Carolyn played "Be Thou My Vision," a traditional Irish melody that I know as "Lord of All Hopefulness." My brother Bob sang it at our wedding. If that wasn't enough to raise a tear, hearing "How Great Thou Art" ringing out over Lake Chautauqua was. That hymn always breaks me up, with its reverence for all things in nature. "How Great Thou Art" makes sense to me.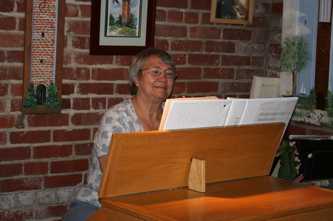 I loved meeting Carolyn, and hearing her play hymns that are sacred to me. This is a woman who loves her work. "I have the best job in the world," she said, and anyone seeing her smile would have to believe it.