...being on NPR's
All Things Considered
again this afternoon, Wednesday, August 29 . I've got a commentary on living with mice airing right after a story on pet store rabbit sales. Both stories are in the second hour of the program, which is sometime after 5 PM Eastern. If you miss it, you can hear the file
by clicking here.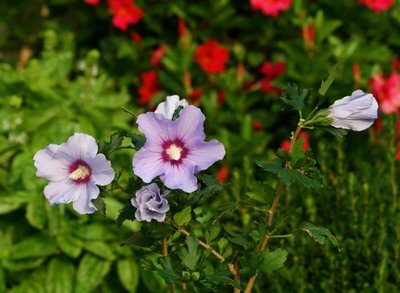 And Happiness is...a new plant to love. Specifically,
Hibiscus syriaca
(Rose of Sharon), cultivar "Satin Blue," a Proven Winner variety new this year.
All my life, I've heard my mother grouse about how much she hates Rose of Sharon, that big, somewhat gangly flowering shrub that keeps old houses company in their dotage. I don't know why she hates them, but she does. The unkempt growth habit, sparse foliage, messiness of all the dropped flowers, maybe. Mom likes things neat and tidy. And so I've never even had them on the radar screen as something I'd grow. In a similar case of unfair bias, I had a landlady in Connecticut who over and over professed her hatred of gladioli. They reminded her of funerals, she claimed. The effect on me in that case was just the opposite; I planted two long rows of them in the garden I was ostensibly keeping for her. Hee hee. I felt the glads were getting a bad rap. Not their fault that they're used in funeral bouquets. Let's just plant a couple dozen more. And, while I was a caretaker on her capacious property, that didn't mean I couldn't assert my admittedly contrary horticultural rights and preferences, and secretly gloat about it.
So I went through life not thinking about ever growing Rose of Sharon at all, until I made my yearly pilgrimage to a neat, funky little nursery right outside Chautauqua Institution's gates. And I saw this little bitty Rose of Sharon bush in a gallon pot, with a single enormous flower of the most bewitching silken blue I'd ever seen. A deep maroon throat, a creamy white pistil and stamens. I was instantly in love.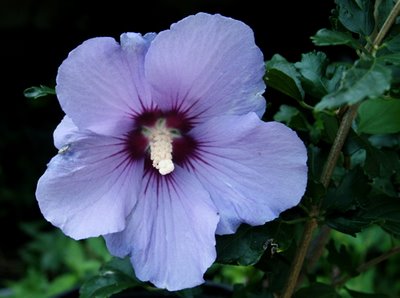 Little did it matter that we would have to juggle it around in the van for the next three days and hundreds of miles. I had to have it.
If I'm lucky, it'll grow to 8' tall and 4' wide. I'll plant it on the corner right by Liam's bedroom window, where my much-mourned blue columnar juniper expired last spring. It'll bloom in late summer, when lots of other things are tired out. And I will love it. My God! the promise in that shining bud.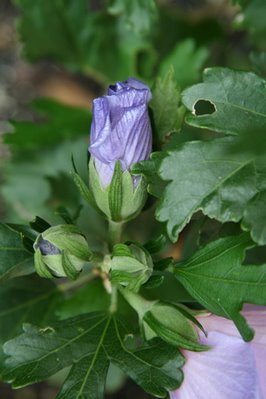 That first night in the van, three big fat buds got knocked off it, and I cried real tears, but I put the biggest one in water and was able to wear the full-blown blue flower behind my ear for breakfast with my whole family Sunday morning. I showed it to my mother, and she exclaimed about what a pretty color it was. Maybe she's forgotten that she's always hated Rose of Sharon. I sure have.