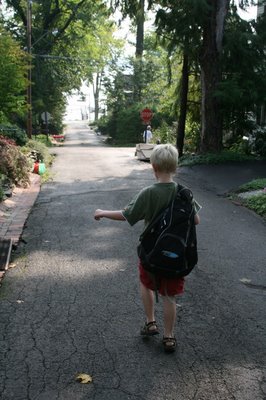 Liam makes his way to Boys' Club. Such a big boy. This was before he learned to ride his bike. He didn't want to be seen using training wheels, so he walked. Lotta pride in that golden head.
If you're wondering why there's such a paucity of Liam and Phoebe pictures from this trip, it's because they were off to Boys and Girls' Club and hangin' with friends and rumbling around the grounds on their own. We barely saw them. After an entire summer of being with them around the clock, it was a great break for me, and them. I got some writing done; they got some socializing done, and spread their independent wings.
Little Chet Baker, on the other hand, spent all his time with me, and got hisself walked at Chautauqua. He was on a lead almost the whole time, except for rare stolen moments when I could let him loose without worrying about his running into a dog he might pick a fight with, or a cat he might tree, or a fancy garden he might barrel through in pursuit of a squirrel or chipmunk. He did get to chase two bunnehs, but it was right back on the lead afterward.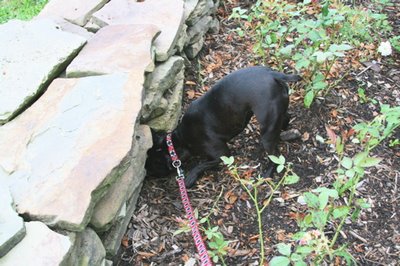 It is a particularly foolish feeling to have to follow your dog by the end of his leash along a stone wall as he roots around for the chipmunk he knows is in there. Snorf! Snorf! Please don't dig, Baker. Note turd-tail, straight out in excitement.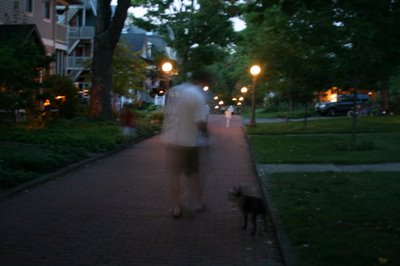 Bill and Baker blur along the brick path coming down to Bestor Plaza.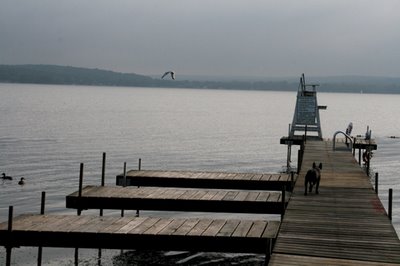 One morning, right before it started raining again, Chet and I fit in a walk. I let him off the lead so he could explore the dock unimpeded.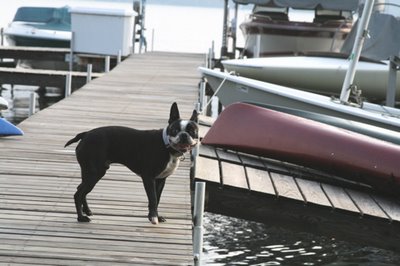 Thanks, Mether. I like docks. I like ducks, too.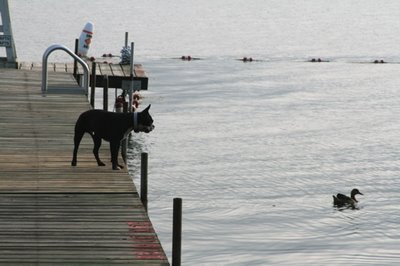 Come here, little duckie. I don't want to hurt you. I just want to pet you.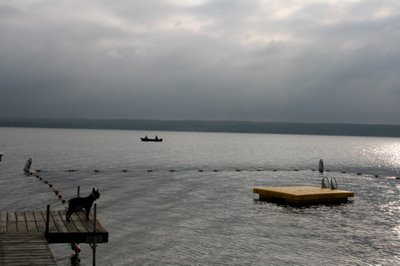 My favorite dogdock shot. Baker doesn't get to see water where we live, and he gazed out over it, thinking his dog thoughts, for a long time, until I called him to me.
Today, he slept all day, exhausted from a solid week of bad beds and disrupted schedules. God, I'd love to sleep all day like Baker can. The Fed-ex guy, who he loves, arrived, and Baker managed only a feeble tail wag. Couldn't even jump up for a kiss. The UPS truck rumbled up the driveway. Baker went a quarter of the way out the side walk, woofed twice, then watched idly as the delivery man climbed in the truck, turned around and rumbled away. Normally, he's dancing around on his hind legs, smiling and woofing. He came back to life around dusk though, as it cooled delightfully, and pestered us to throw his Air Dog toys until we had to put them away.
Home again, I've been deeply engrossed in clothing management. Four people for a week can make a mountain of laundry. I ponder the oddity of these cloth sheaths we have for our naked bodies, the weirdness of having to individually handle each piece six times, to put it in the washer, pull it back out, shake it out and hang it on the line, take it down, fold it, carry it to the right room, and then put it away. And how that can take all day. And why that should be, and why I do it so compulsively (well, that one's easy; if I don't, it piles up even worse). I wonder what would happen if I just quit, didn't mow the lawn or pick up clutter or wash dishes or sort mail or change the cage papers or sweep or vacuum. I guess we've all seen houses where that stuff doesn't get done. Mostly on
Cops
.