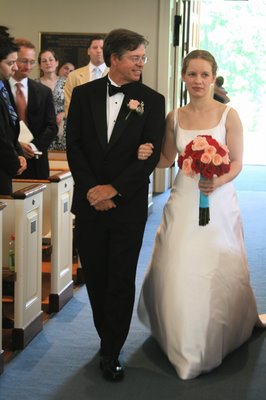 I like weddings. I especially like weddings of people I love, like that of my niece Courtney. I wouldn't want to be a wedding photographer, but I love taking grab shots at weddings, just little side details that tell a story, just as much as do those lineups of each side's family. Maybe more.
Everything is on Courtney's face here as she walks down the aisle on Dad's arm. Grace, trepidation, excitement, anticipation, an almost unbearable tension, emotion at seeing all these people she loves...oh, how beautiful.
The obligatory hopelessly adorable tiny tot with flowers...a collective sigh from the audience...is she made of porcelain? A perfect reminder of one of the reasons we get married.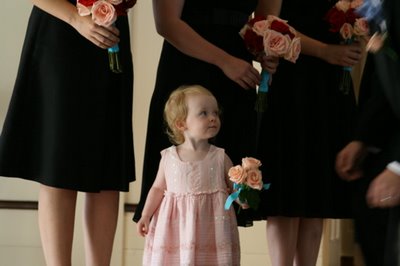 Courtney and Tyler listen to the male choir singing an adaptation of the 23rd Psalm by Bobby McFerrin.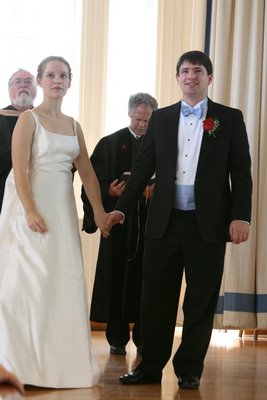 Aftermath: the bride and bridesmaids taking off across the lawn for pictures. Note that they're carrying their shoes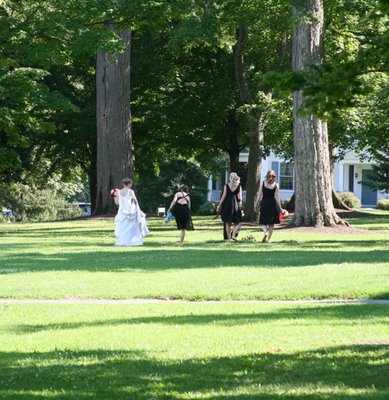 which were so fabulously stylish as to be painful, and thus were left in an unceremonious heap right on the church steps immediately after the ceremony...everyone was talking about those shoes. Bill said, "Now, there's a name for pumps like that. You know, with the stiletto heel. Somebody help me?" Such a wag.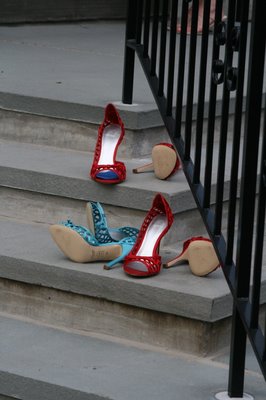 A glimpse of faeries, male and female, out on the lawn...stepdancing?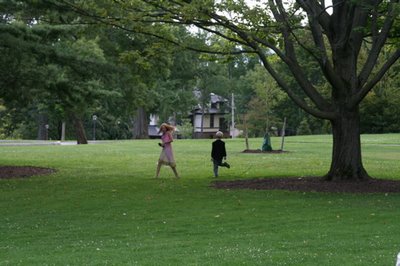 a bit closer...we could be in Ireland. Prince Liam and Princess Phoebe, Stars of the County Down. Allemande!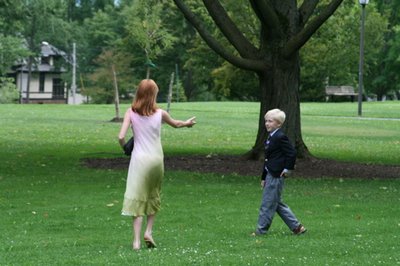 There were lots of irreverant little touches about this wedding that I enjoyed. No big fancy cake. A tiered "cake" composed of Red Velvet Cupcakes, Courtney's favorite from way back. Yeah.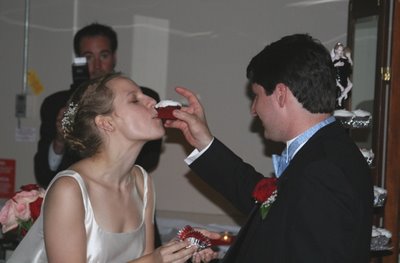 Christy, sister of the bride, and dad Larry.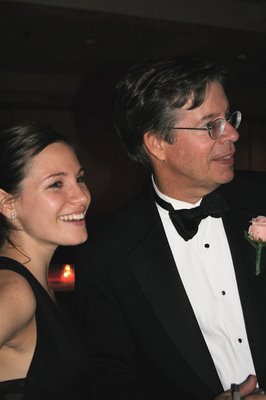 Now. Who didn't get the memo about dressing in solid color pastels? Why, it's Wilma Flintstone! or is it Jane of the Jungle? Eee! Eee! Eee! Is this going to be a dress I regret in 20 years?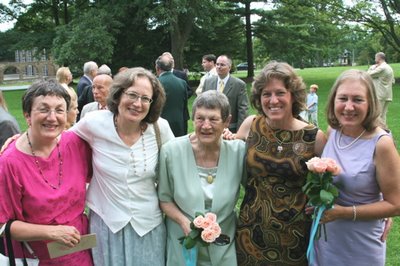 me and my sisters and mom--Barbara, Micky, mother Ida, Zick, Nancy (mother of the bride)Take a bow, Nan! Micky is a great writer and very funny. Nancy is a fabulous librarian and probably the nicest person I know.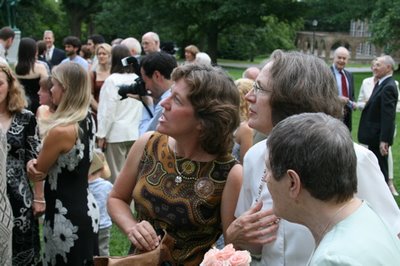 Must be a bird on top of the church steeple. Photo by BOTB.
My cool brother Bob with my cool sister Barbara. She's a gourmet cook and there's nothing she can't do. Bob rides his bicycle 13 miles to work and back every day, rain or shine. He teaches engineering and knows all about alternative energy.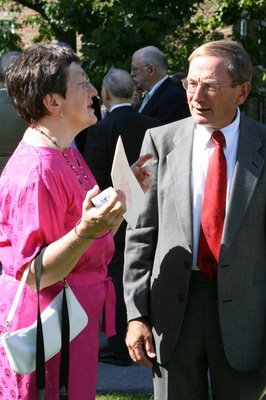 Modern male bonding: Bill of the Birds watches a Will Ferrell video on nephew Eric's new iPhone. Bill has been a model of restraint, waiting for the second generation iPhone, which will be out in oh, about forty seconds from now. When we're around Eric we hit YouTube and pretty much laugh the whole time.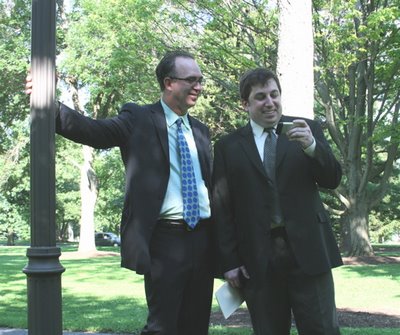 Ida to Barbara: Smell my roses. Don't they smell good? So now you know where I get it.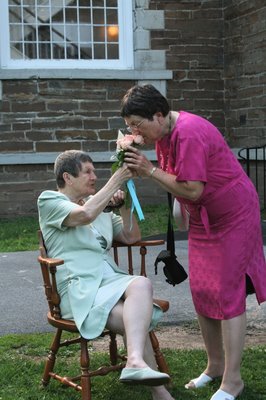 There was an imp on the church steps. Jane of the Jungle's offspring, perhaps?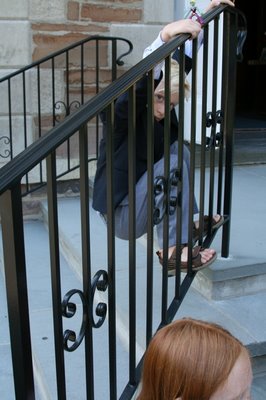 Oh, I love weddings. Thanks for having one, Courtney and Tyler. It was lovely.