Of all the things Magic enjoyed while he was a guest in my fledging tent, it was the daily influx of fresh-cut flowers. I had to come into the tent with camera locked and loaded, because the minute I put that vase in place, he was all over those blossoms. It was a neat opportunity to learn what he liked and how he approached each species. But then everything is an experiment for a Science Chimp, right?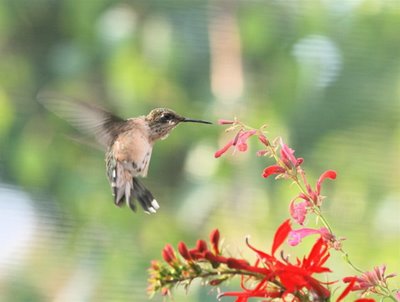 Agastache, or Mexican hyssop, is a plant that's come into some favor lately. I like it because even though it looks exotic and its leaves smell divine, it's a perennial, and it gets bigger and nicer every year. Hummingbirds love it. Magic found its somewhat floppy flowers a challenge, and he'd probe deep into them, bringing them from horizontal to full upright in his quest to plumb their nectar.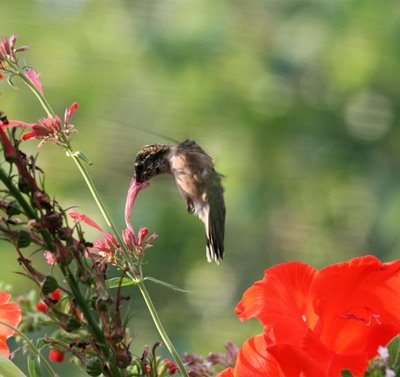 Lots of insects and birds enjoy the nectar of oregano. I imagine it might have a kick to it. Magic seemed interested in it, and visited repeatedly. You might not think a small, white, clustered flower like this would hold attraction for a hummingbird, but they feed on a surprising variety of different flowers. Buddleia, for instance, is something I'd always assumed was for butterflies, until I saw the extent to which my hummingbirds feed on it.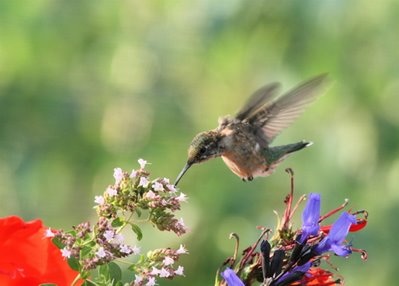 In between feeding bouts, he'd rest.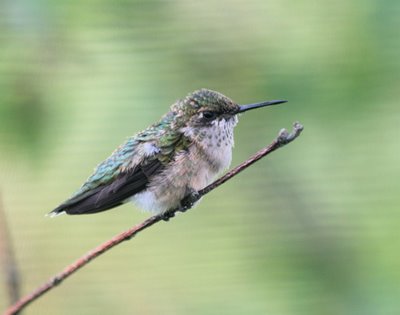 It's important when housing hummingbirds to provide them with the smallest possible twigs for perching. I taped these fine birch twigs all over the tent.
Cardinalflower (
Lobelia cardinalis
) is a huge rubythroat favorite. Its blooming is timed to coincide with peak hummingbird abundance, and its incomparable hue is the best, truest red going in my garden. When you see a wild hummingbird with a white, powdered forehead, it's been anointed with pollen by the protruding stamens of this plant. My cardinalflower gets pollinated, boy does it, and the seed children are proof, coming up everywhere. I never thought I'd be giving cardinalflower away, but I'm almost at that point.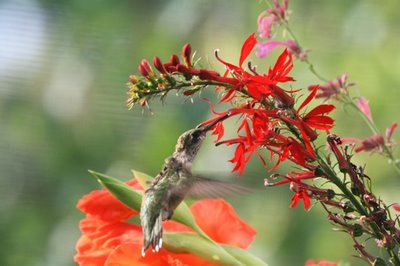 Time to stretch a wing and tail.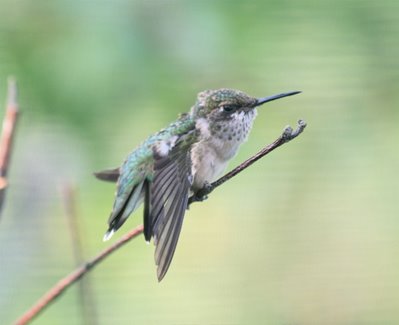 And if you've ever wondered whether hummingbirds yawn, well, they do. And they sneeze, too, but that's harder to photograph. Maybe someday.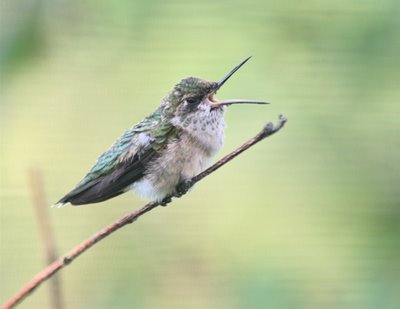 I took these pictures on Magic's penultimate morning with me, August 17. It also happened to be Charlie the macaw's 20th birthday! I could do a "What is wrong with this picture?" post with this photograph. Let's start with the fact that he's standing on the keyboard of my laptop. He spends quite a bit of time there, but I kick him off when he starts preening, because I don't want greasy little bird sheath bits in my keyboard. Next, we can notice the tipped wine glass, right over the keyboard. Durr. And we can end with the Surgeon General's warning about alcohol as pertains to parrots. A no-no. But if a bird can't have a swig or two of King Shag Sauvignon Blanc on his 20th birthday, when can he? Ye gods, that bird adores wine, and he's got a bit of a taste for beer, too. Totally up to us to limit his consumption, which we do, we do.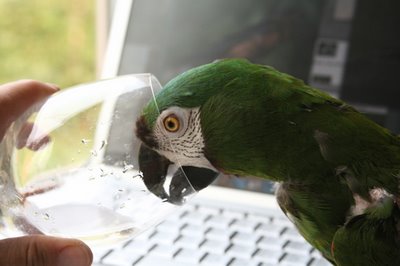 Here's to 20 years of companionship from my sweet, irascible, tender, nippy friend. If my orchard oriole and Savannah sparrow made it to 17, Lord only knows how long Charles will party on. Wine and all. Love ya, Chuckles.