The savannas around Rockview Lodge offer really
spectacular raptor viewing
; I've posted about this earlier.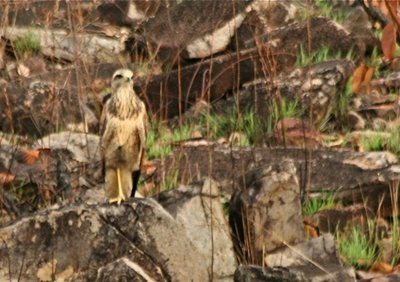 A young savanna hawk pulls up its left foot and rests on a boulder.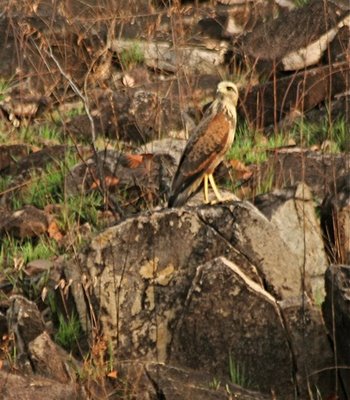 He shows me his bright chestnut shoulder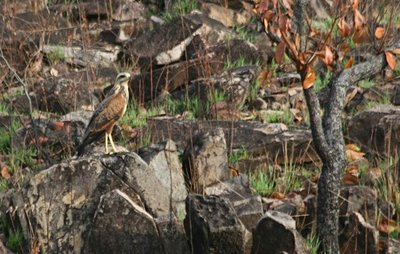 and blends beautifully into the overall scene.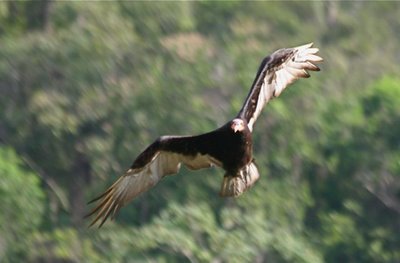 Overhead, large vultures coursed and cris-crossed. These are lesser yellow-headed vultures,
Cathartes burrovianus.
They're really gorgeous birds, their almost jet-black bodies contrasting nicely with silver underwings and tail.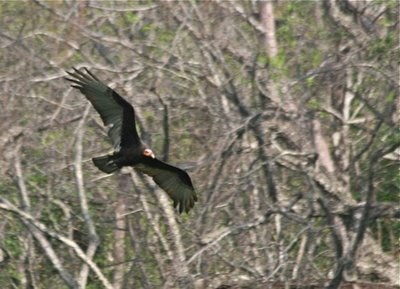 Close up, the head is a livid orange with tangerine and blue zones. I couldn't get close, but you know I wanted to.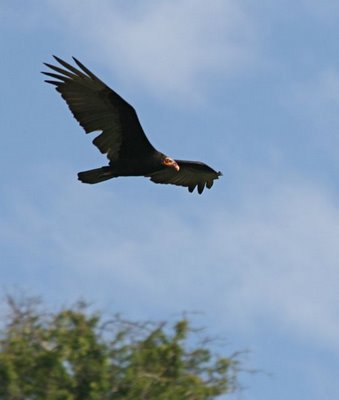 If you use your imagination you can see the blue forehead on this bird, photographed over a marsh just outside of Georgetown.
When this bird landed, I got a chance to snag some photos of its overall proportions--very long-winged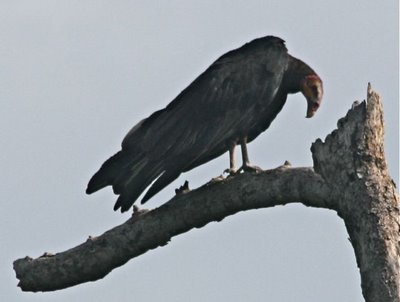 --and with an odd-looking Roman-nosed head.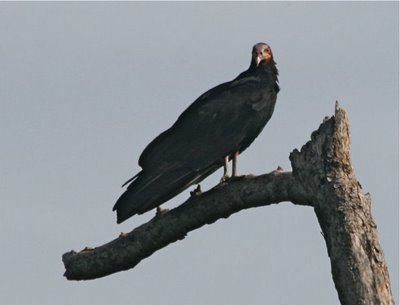 The lesser yellow-headed vulture is a subtly different bird from our turkey vulture, being overall flat black without the golden-brown feather edgings and mottling seen on the turkey vulture (which give it its species name,
aura
). The Roman profile and livid orange and blue head coloration of
C. burrovianus
further serve to set it off.
A turkey vulture (
Cathartes aura
) flew over nice and low, giving me a great contrast. Turkey vultures in South America are kind enough to be marked with a white nape!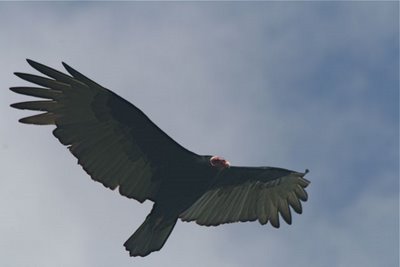 See how much flatter the turkey vulture's nostril profile is, than the lesser yellow-headed vulture's? Not to mention the TV's beef-red head.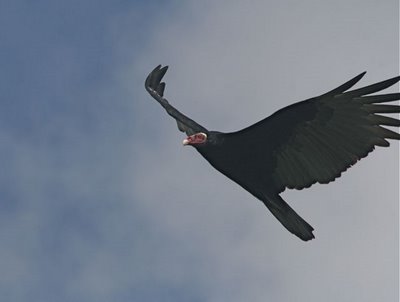 Lesser yellow-headed vultures are creatures of savanna and open marsh; their larger cousin, the greater yellow-headed vulture
Cathartes melambrotus,
lives in deep tall primary forest. We only got close to one fer-sure greater yellow-headed, and here it is (below). They're even blacker and glossier than lessers, and their heads are actually yellow instead of being tangerine/blue.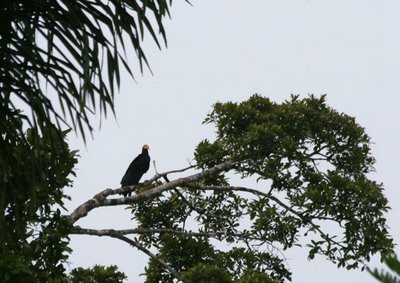 Oh, for a better look. That will have to wait until who knows when.