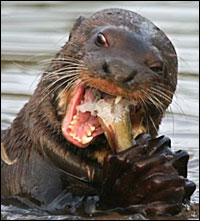 I'll be on All Things Considered this evening March 17, 2009, talking about getting bitten by an Amazon Giant Otter. I enjoyed everything leading up to the actual bite.
It should air near the end of the show; i.e., between 5:30 and 6 pm. Eastern time.
If you miss the broadcast, you can listen after 7 pm Eastern
here.
You can also go to npr.org and
leave a comment there
, to counterbalance all the people who are sure to write in, hopping mad, to tell me what an idiot I must be to pet an otter.
OK, now scroll down to read today's post about a peanut butter factory. It's a big ol' goofy world, in'it?