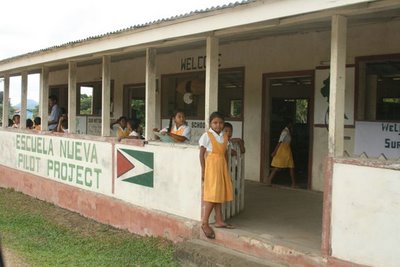 I've never been on a press trip that included stops at local elementary schools in the itinerary, but this US AID funded excursion was not a typical fam trip. We visited two schools in one day. We had been scheduled to visit the first one, Escuela Nueva in the AmerIndian village of Aranaputa, the day before, but rain messed up our plans and pushed everything aside. The children had been dressed in indigenous costumes and waiting all day, but we came the next day instead, when they had their regular school uniforms on.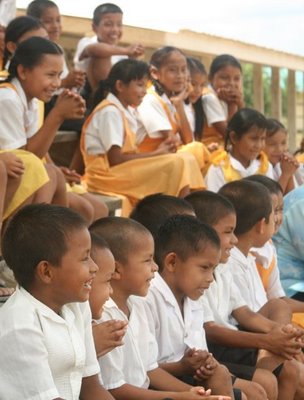 From the moment the children opened their mouths to sing, they had me. If our elementary school choir teacher had been able to coax such angelic melodies out of my kids and their classmates, she'd probably faint on the spot. There was no pretending to sing, no too-cool-for-school inattention. These kids sang, really sang, and they melted my heart. They danced, telling of their traditional agriculture and hunting with their motions.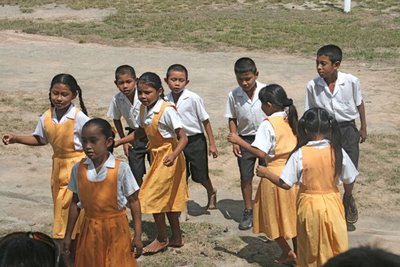 I was transfixed by the timeless beauty of their faces. They sang a song they'd written about their village, the beauty of the sun coming up over the mountains; brown-skinned Amerindians in every house, and tears started rolling down my cheeks.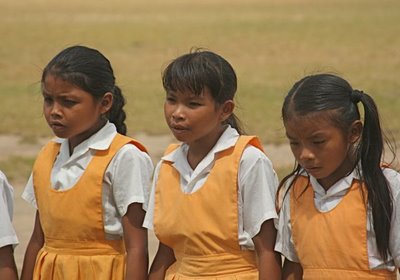 I thought about my kids standing in just such rows, singing Jingle Bells or Sleigh Ride, and wondered what might happen if they were asked to write and perform a song of gratitude to the place they live, the mountains and sky and community they enjoy. It's not that they couldn't do it, and do it well. Thing is, they've never been asked.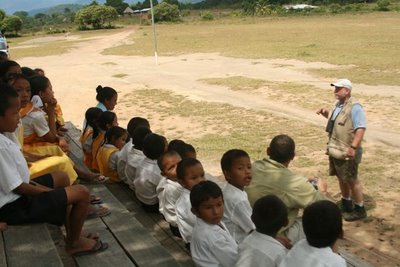 Kevin Loughlin wanted to give something back, because that's the way he rolls. So he got up and showed them his special talent—playing a tune on his hands, squeezing little raspberry noises out of his palms in a recognizable and quite melodic series of tunes. The kids had never seen anyone do that before, and they cracked up.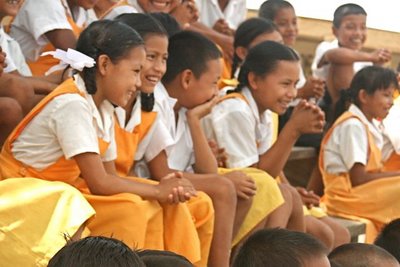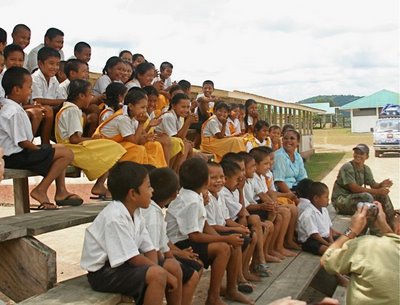 Mike Weedon set up his scope for them to look through, and I sang them an Irish song, wishing I'd brought my pennywhistle.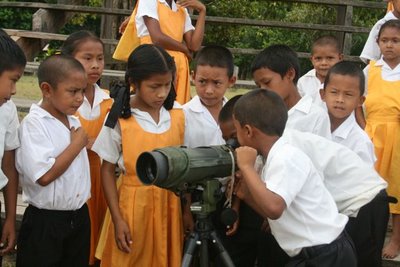 I'll never leave home without it from now on.
Very excited about a
Swinging Orangutangs
engagement this coming Friday (Ack! Tomorrow!) at the Marietta Brewing Company on Front Street here in Marietta, Ohio. Lots of friends coming, including Jimmy and Paula, and we're planning to coax Jimmy Clinton and his mandolin up on stage. We had a rehearsal last night, in which Vinnie came up with a bizarre German drinking song to which Jess added operatic trills and flourishes, and I laughed so much my stomach still aches. It ought to be a fit opener for the second set. Like my dad always said about raising kids: You gotta keep 'em thinking.