When I miss All Things Considered, or hear something I want to know more about, I haunt the
NPR web site.
I can't tell you how many great things I've enjoyed on this site: new music from unknown bands, commentaries, videos, pictures of things described on the radio, stories I heard just the tail end of and wanted in their entireity. I visit the site a couple of times a day just to catch up. It's an amazing resource, one that changes daily.
Here's a story I adored, about a
new CD of pirate songs
(brought out just in time for Talk Like a Pirate Day on Sept. 17!). If you can get the audio working, dig Bully in the Alley. This guy just sings his butt off; he's so joyful and loose. We should all be thus. I have to get this CD!
On All Things Considered Thursday evening, there was a
story about a book
just out: a collection of doodles by past presidents of the United States. It's called
Presidential Doodles: Two Centuries of Scribbles, Scratches, Squiggles and Scrawls from the Oval Office.
It's by David Greenberg and
Cabinet Magazine
.
This got my attention immediately, and I dragged these pictures off the NPR site. Presidential doodles, cool! Ulysses S. Grant was probably the most talented of all of them; he did really nice paintings and drawings in his youth, like this lovely study of a cart horse.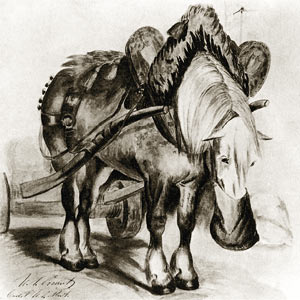 Ronald Reagan's doodles, on the other hand, look like they were copied out of a
You Can Draw Cartoons!
book from the 1940's: football players, mean thugs, babies with curlicues on their heads. He's there, too, the pale rider on the upper left. They're sweet, and certainly better than your average scribble.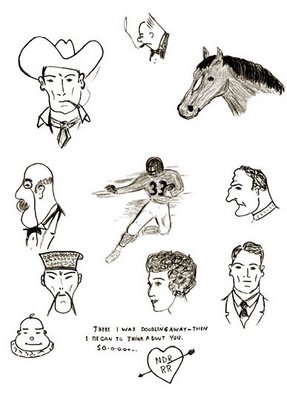 And then there was Lyndon Baines Johnson.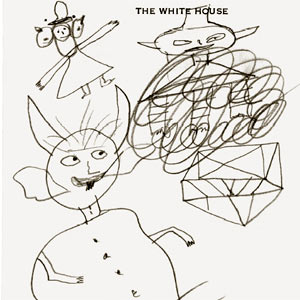 Beholding LBJ's work, I laughed like a kookaburra. Eeeek!
Does this look like the work of a man who picked his beagles up by the ears? I thought so, too.