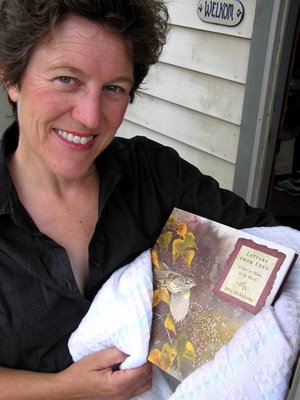 I don't quite know how to describe it: the feeling I got when I held Letters from Eden in my hands for the first time. It was a little bit like looking into Phoebe's hazy blue eyes for the first time, saying simply "Hi," because I couldn't think of anything better to say. I could never equate the two, but there were elements of that overwhelming amazement in it. I guess the main parallel is in the sudden culmination of a creative act. Seeing a book through publication is a little like pregnancy and labor, because you work and work and wait and wait, and you never get to see the finished product until BOOM it's lying there in your hands like a clothbound baby.
I can't praise Houghton Mifflin highly enough for the careful treatment they have lavished on this book. I wouldn't change a single detail.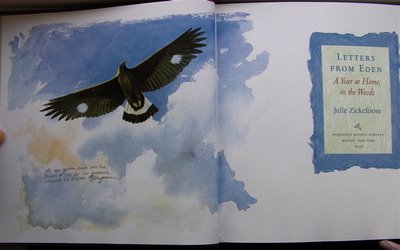 Big sturdy hard cover, nice dust jacket, luscious paper that's coated but with a matte finish. Great typefaces. The watercolors are bright and sharp as tacks; they leap off the page.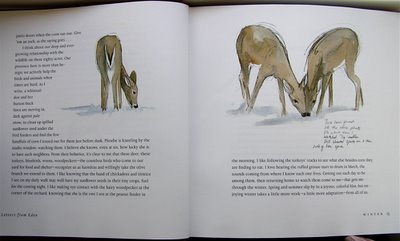 The pencil drawings are so delicately shaded that they look as though they were drawn right on the page. Sixty-three paintings and 53 drawings. I just keep looking at it, reading it, waiting for the next painting or drawing to be revealed. It's like a picture book you can read. The designer, Anne Chalmers, gave each painting and drawing the room it needed to really sing. There were no shortcuts taken. It's a full-bore art book approach.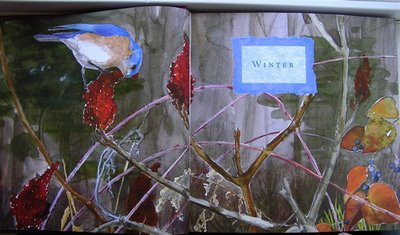 I carry it with me in my groaning Guatemala bag everywhere I go, ready to whip it out at the slightest indication that someone might be interested. Gotta cut me some geek slack here. It's my first all Zick book, and I'm thoroughly loving it.
When the ten cases I've ordered come sometime in the next week, I'm going to be shipping
out the 122 copies so far pre-ordered. I'll sign each one as requested, most with some kind of personal inscription, wrap it, slip it in its mailing box, address it and haul stacks of boxes down to the Whipple post office, which needs all the help it can get to stay open. A mass mailing like this ups their quotient of pieces handled and helps justify their continuing existence.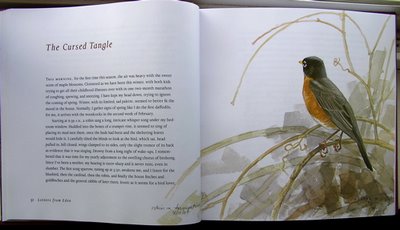 Apologies for these photos. They were taken by an overexcited photographer on a rainy day in a hotel room in Iowa.
The next few days will be a flurry of ordering shipping boxes and packing materials, and getting everything ready for the arrival of the cartons of books. I think I'll probably have to order a few more cartons just to be safe.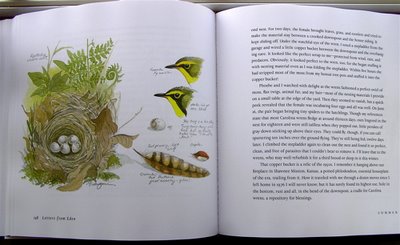 The official publication date is October 4; that's the date that retail booksellers will be able to sell it. I hope to have books in hand and be shipping them by the week of September 11. If you'd like to be added to the list of people who want Letters from Eden, signed by the author, before you can get it anywhere else, please click on the little banner ad to the right near the top of the blog, or click
here.
The more the merrier! Now I have to scrape up a couple of grand to pay for all those cases of books from the publisher. If you wonder what I've been doing with your $32 checks over the last few months, well, I've been buying shampoo and peaches and Spiderman sneakers with them. Hope that's OK.