The Muhlenbruch barn, no longer home to free-range Duroch and Hampshire hogs, Simmental and Hereford cattle. No longer home to anything but barn swallows, in fact. Just over the bean field behind is a factory farm. Small farmers like my uncle can't compete with the super-efficient, ultra-economical and incredibly inhumane animal warehousing that now passes for farming.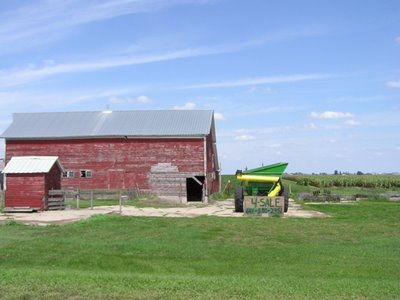 Iowa is where my mother and father were born, and where I still have many beloved relatives. Bill was born in Pella, Iowa, home of the famous RollScreen windows and Tulip Time. We've both got roots in Iowa. Every summer, my parents loaded us in the car--five kids and a dachshund, later just the two youngest and the same dachshund--and we drove 1200 miles from Richmond, Virginia, to north central Iowa.
My childhood memories are simple, pungent, cherished. Uncles on both my mom and dad's side had farms, old-fashioned farms with chickens, cattle, hogs, horses; hundreds of acres of corn and soybeans; trains rumbling by in the night, squeaky iron beds; the belch and bicker of hogs fighting under a mercury light; the smell of manure and fresh-cut alfalfa; clouds of dust on the gravel road. There were so many alfalfa butterflies that our windshield would be yellow with their guts, and we'd have to wipe them off periodically if we were to see our way from farm to farm.
I remember playing with our cousins in a wagon full of shelled corn, pouring it over our heads. I remember studying hogs and cattle and chickens, trying to get my uncle Howard to tell me the difference between a gilt, a barrow, a sow and a boar. I remember burrowing in the haymow, looking through holes in the one-board floor at the cattle in the barn below. Barn cats with pasty eyes waited for my uncle to shoot hot Guernsey milk into their mouths. We'd visit so long in the evening that Bossy and Rocket wouldn't get milked, and they'd bellow pitifully until Howard tore himself away from bridge with my parents to go do his chores. I am thankful for those memories, and for my parents, who made the supreme effort to get us all out to Iowa to see our cousins, grandparents, and the place we came from. The place our food comes from.
Iowa, 40 years later, is a changed place. Where there used to be animals, there are vast fields of soybeans and corn. The animals are all hidden from view now, kept like prisoners in enormous metal sheds, bundled out of sight, cheek to jowl. This is factory farming.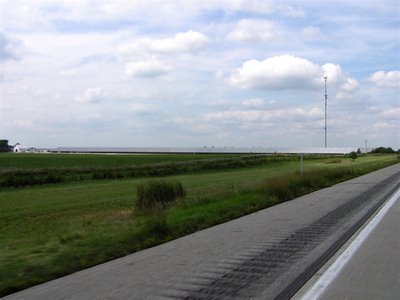 This is a shed that houses turkeys. It seemed to go on forever. I caught a fleeting glimpse of a pile of white turkeys panting in the front of the shed, stacked atop each other, trying to get a look at the sky. Butterballs, all.
We passed a hog truck on our way, but it was one such as I'd never seen. This truck was loaded full with just-weaned piglets, on their way to a factory farm.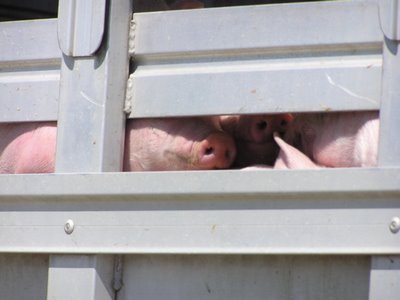 On this ride, they'd feel the sun and wind for the last time. They were crammed in like the sausages they'd become, nosing at the sky. I'd never seen weanling piglets being trucked; all the hog trucks I've ever seen had full-grown animals going to market. Another change, a new way of doing things.
My aunt Toot, who farmed for 35 years on this beautiful place,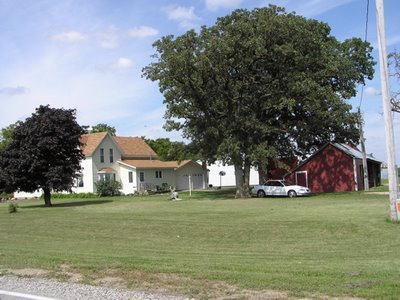 explained to me that the factory farm corporations have a sophisticated approach. First, they wine and dine farmers at a banquet, giving each one a $500 check for attending. All they want is to buy a little corner of land where they can put a couple of sheds. And the factory farms aren't really all that obtrusive to look at; in fact, I was amazed that they weren't bigger. Just a couple of long sheds, some silos for feed, tanks for water, and another shed for equipment. You don't see people around; in fact, you don't see any living thing. All hidden from view.
But in each one of those sheds live (and I use the word loosely) 2,500 hogs. A total of 5,000 in the two. A city of animals, just existing: eating, pooping, drinking, sleeping. That's it. They can't walk; they can't see the sky; they can't fight or bicker or roll or wallow. They can't amble slowly out into a grassy field and flop down on their sides as my uncles' hogs always did. But I know they think, because most pigs are at least as intelligent as a really smart dog. Many, probably smarter. Imagine, locking a mind like Chet Baker's up like that, just waiting for his body to grow bigger. This is what we do to the animals we eat. But we don't want to think about that. We just want them to hurry up and get big so we can eat them, and truck more piglets in to complete the same, horribly wrong cycle. Much of the meat goes to Japan, my aunt told me.
Each factory is required to drill its own well. Think about how much water 5,000 hogs will drink in a summer. This draws down the water table. And in the winter, the accumulated droppings from 5,000 animals for an entire year is spread on the surrounding fields. My aunt says the smell is incredible, nauseating. The runoff inevitably pollutes watercourses, lakes, and gets into the groundwater, and we drink it, antibiotics, steroids, nitrates and all. But look at this check for $500, and this nice dinner we just had! And there's more money coming! It's easy to see how it all happens. It's a takeover, a buyout, a guarantee that real barns will go empty, and slowly deliquesce into piles of siding, weeds sprouting in barnyards that once housed hogs and cattle.
Over the soybean field next to the Muhlenbruch farm is a factory farm, in view of the house where Toot and Howard spent 35 full, hard-working years, raised four girls and married them off. The Muhlenbruchs never sold out, but their neighbors did. The smell drifts over. Everywhere in Franklin County, everywhere in Iowa, the silver sheds have risen.
And now the windfarms are coming, full force. There's lots of wind in Iowa, and overseas corporations are flocking to what once was prairie, raising hundreds of enormous turbines that slash the air.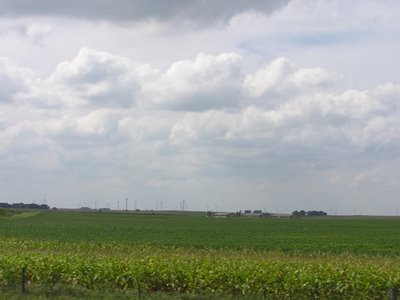 This picture doesn't look like much, taken as it was from a speeding car, but it's the changing face of Iowa: soybean fields for ethanol; factory farm, with turbines.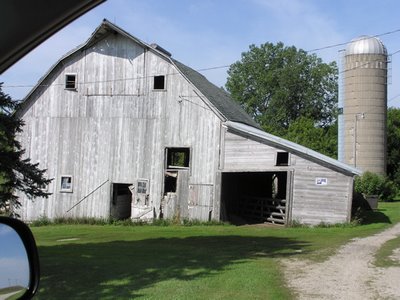 This is the barn on the farm where my father grew up. It was here that Peppy the collie buried a chicken who wasn't quite dead yet; here where the team of horses lived; here where Dad hauled sacks of feed and bales of hay. Now, just a relic, never to house animals again.
Young as I am, I miss the old Iowa I once knew, the colorful, lively one with red barns and wandering animals. I'm glad my father never saw the new face of Iowa. He wouldn't have liked it.