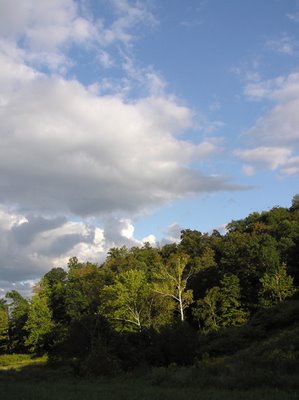 One of my great pleasures in life is to drive the Appalachian Highway to Athens, to go record commentaries. Last Tuesday, I went to the WOUB studios in Athens, an hour and a half away, to record five more commentaries for
All Things Considered.
The first one aired today (well, yesterday for most of you who aren't pounding away at your computers until midnight). It's about Liam's bellyache, an unlikely subject for a commentary, I know, but the unlikely ones are the most likely to catch, it seems. They named it "Back to School, in Spurts and Starts." You can listen
here.
It felt great to be back on the radio again. There are more coming. My dear editor at NPR wants to give the book a few plugs. Listening to Michele Norris plug my book on the national airwaves made me dance like a ruffed grouse, beating my featherless wings in the air.
Oh, the light in fall just drives me wild. Makes me want to wander. Makes me want to cut trails and spend the day sweating and cooling off in the chilly air. Makes me want to bury myself in fragrant sycamore and sweetgum leaves. Here are some scenes from the road back from Athens. I had to keep pulling over; the light and the clouds and the sycamores etched against the sky just shouted to me.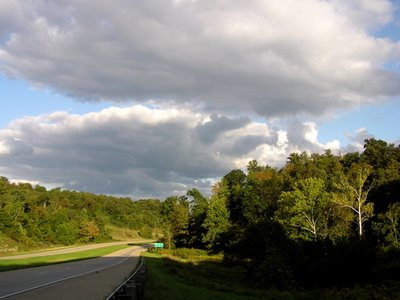 Look how the earth colors are carried in the bellies of the clouds.
It's getting on time to say good bye to some plants I love dearly. My friend Jason (he of the errant Yahoo map and Baker smooches) has offered to house some plus-sized beauties in a college greenhouse for the winter, where he'll personally tend them. How sweet is that? Somehow, I managed to root a cutting of this amazing red mandevilla, so if it cacks, no big deal. Even though it's too big for my little Garden Pod, I cannot just leave it outside to die. Same goes for a select handful of oversized plants that Jason is going to abscond with, right before frost. What a nice offer. He doesn't know what he's offering, clearly. He'll have to rent a van.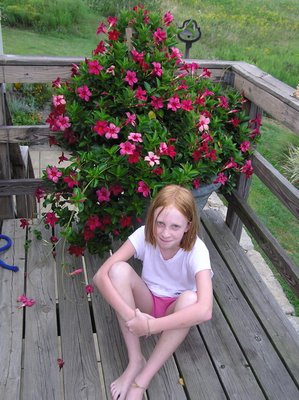 This one dwarfs Phoebe, who is perilously close to dwarfing ME. Leggy thing. Rrrr.
I packed books for 2 1/2 hours tonight. I'm now at 151 out of 202. I'm into the orders made in the second week of September. What a delight to hear from people who are just receiving theirs. The thing that gets me is that almost everyone says, "I've put it aside to savor. I'm reading a chapter a night," or something to that effect. It's good, after writing for so long, drawing for so long, for publications that may be printed months or even years in the future, to have a product in my fists. To write a note in it, and pack this heavy square thing up in tissue paper and cardboard and send it out to people who want it. My sister Barbara said her favorite job ever was driving a flower delivery truck in Bridgewater, Mass, just marching up to people's doors and presenting them with bouquets. That's what this feels like to me.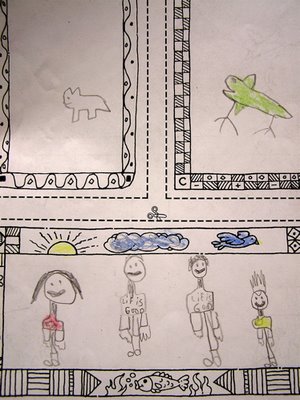 Liam drew a picture of me and Bill at school. We're both wearing the slogan, "Lif is Good" on our shirts. Since I got my hair butchered, it's hard to tell which one is Daddy and which one is me. I think I'm second from left. (Big Hands, I know you're the one). That's Phoebe, looking mumpsy, and Liam, with his rockstar hair (Bill does a different, heavily gelled, standup do for him every morning). He (Liam, not Bill) announced his first crush on a girl in his class tonight. Bill, Phoebs and I melted.
At the top of the drawing, Baker's there, on the left, and that's macaw Charlie on the right. See his green wings? OK, I'll work with him on drawing birds.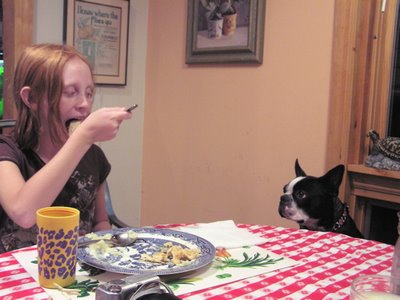 I'll leave you with Baker, begging for roast chicken tonight at the dinner table. He ensconces himself on the bench behind the kitchen table, and after a few sheepish glances at us, decides it's probably fine to beg from there. He's such a gentleman (pronounced gemmun) at the table, it's hard to deny him. And so we don't. Nice gets you everywhere.