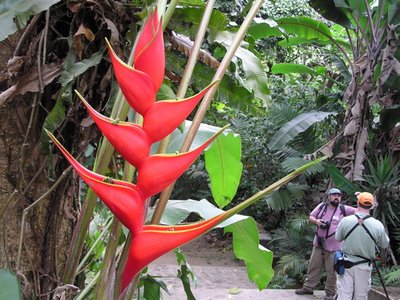 Bill and my old friend Frank Gallo from Connecticut, about to be impaled by a giant heliconia blossom.


Guatemala. It still seems real. I can still smell it, the hint of pinesmoke in the air, the sweetness of the high altitude oxygen. I loved being in a country that seemed in a way unconscious of tourism. It was such a contrast to the Yucatan Peninsula of Mexico, where Bill and I spent a wonderful ten days last March. There, everyone's sort of laying for you; everyone has an angle, and they're looking, for the most part, to separate you from your pesos. In Guatemala, we were ignored, or gazed at curiously, or engaged on a friendly level, but not as potential prospects. It was great.
There was this feeling that the Mayan culture was not just being preserved as a curiosity for tourists, but that it reigns supreme, and is healthy and ongoing. People weren't dressing up for show; they dress like this all the time. I would love to have a closet full of huipils and skirts like these.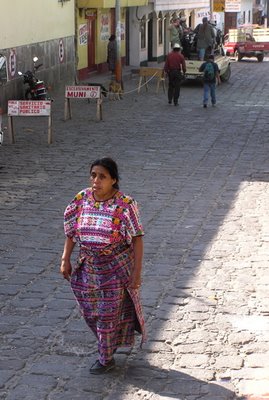 I've never been anywhere where the local clothing fit my aesthetic so thoroughly. Bought some bitchin' things, too, and I've been running around in hand-stitched jackets and hand-loomed scarves, with all my crap stuffed into gorgeous hand-made bags. I could have filled three suitcases. As it was, on the return flight, my suitcase was blown up like a balloon and its zippers were singing. Next time, I'm taking a lot fewer clothes and leaving more room for the really cool stuff. What I liked best was buying textiles from the women who wove them. Talk about cutting out the middleman. Not only are the prices amazing, but you have the satisfaction of knowing that your money goes directly to the person who manufactured the item.
Here are some coffee buyers in a village along Lake Atitlan.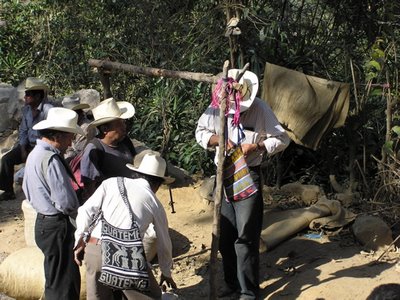 And here's a cemetery in a mountain village. The dead remain part of everyday life; there's a lot of attention paid to lighting candles and replacing flowers on the gaily painted aboveground tombs. I'd like to be here on the Day of the Dead!