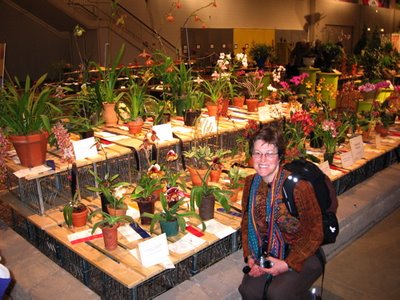 A junkie in a field of opium poppies, I stalk the Chicago Flower Show. Ostensibly, Bill and I are here to work, but in reality it is just one big hedonistic wallow. We're booked into a bitchin' suite at the Doubletree Inn, overlooking the aqua blue waters of Lake Michigan. The king bed is like a soft white cloud. The restaurant is good. We're giving a talk this noon on gardening for birds. The Keynote presentation is cued up and ready to go.
Yesterday afternoon, we took a reconaissance walk--rather
stalk
--around the show. There were orchids. Fortunately, nothing in this first display was for sale. But there were two booths that were selling orchids, and I felt as if I were grappling with a large beast as I fought back the urge to buy, well, everything I saw. I kept muttering under my breath, "I can do this. There's nothing here I can't live without."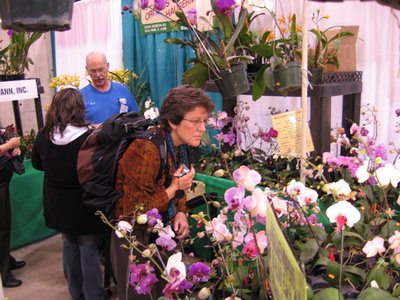 Because the reality of the situation is that, should I fall for something with a tall, delicate bloom spike, there will be no way to get the thing home on the plane without breaking it.
And so I look at the orchids, hanging above me like stuffed toys at a carnival, and fantasize about which ones I would love to take home. The blotchy dark purple and white phalaenopsis here are a new creation called "Harlequins." They're neat, but I can live without them.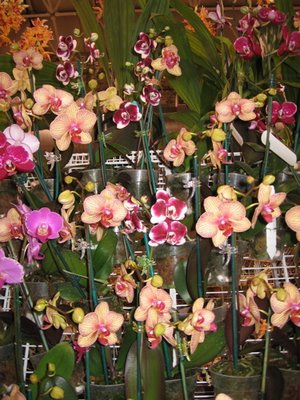 I can do this. I can walk away. And yet I can't let this poor guy bring in another skid of orchids without waylaying him to see if there's anything on there I can't walk away from.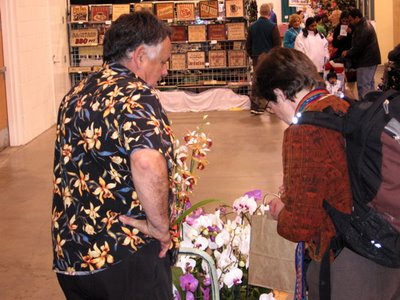 I got a sickness, and the only cure is more orchids.
And then, in the fabulous booth in the back corner of the hall, I find a balm for my suffering. Baby orchids in teeny pots, just the right size to stuff inside a plastic water bottle in my pack. I treat myself to three, and think about how much more fun it will be to watch them grow up and wait for the first blossoms. Amazingly, they're all putting up tiny flower spikes. Life is goooood.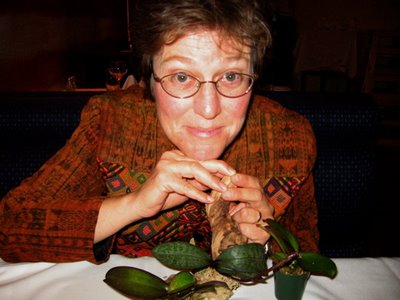 We'll give our presentation, climb back on a plane, get back in the car, and be home by midnight. And then we'll STAY home for a couple of weeks solid. Ahhhh. Hey, happy St. Patrick's Day! This is the first one in recent memory when Bill and I haven't been schlepping from nursing home to elementary school, playing Irish tunes, often capping the day off with a gig in the evening. It's great to be in Chicago! A change will do us good.
Wonder what airport security will think of the baby orchids under my coat?