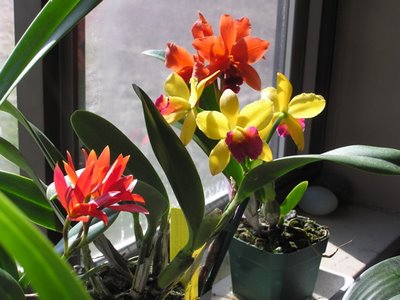 Part of my
Cattleya
loot from the orchid show! Shot during a rare sunny moment.
It's just relentlessly cold and dreary here. They say it will warm up by Friday. I thought you could use some color, because I sure can. During the orchid show last weekend, Cindy, Shila and I wandered through
Franklin Park Conservatory's
beautiful exhibits. Every year, the Conservatory raises butterflies and releases them in the rainforest exhibit area. They float through, feeding on flowers and fruit, and people reach out to them as they pass, like they'd reach out to the Queen, just hoping to make contact. I found it so touching to watch. For some reason it doesn't occur to me to hold my hand out to a butterfly going by--I just let it pass. But everyone else tried to touch them. It was very sweet.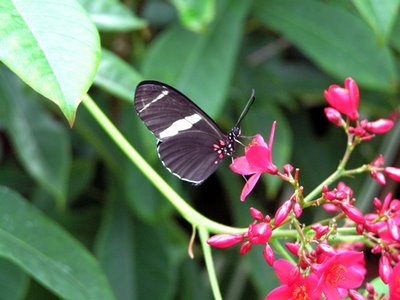 There's a big koi pond with some real lunkers in it. My favorite is Lemon Boy.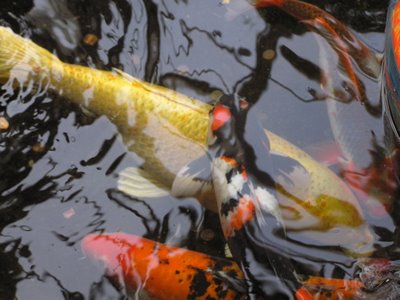 The glass spheres by the amazing artist Dale Chihulhy set them off so beautifully. FPC has a knack for pairing the work of artists with the art of horticulture and animal husbandry. I love this place. You never know what sculpture or artwork might be peeking out of the vegetation!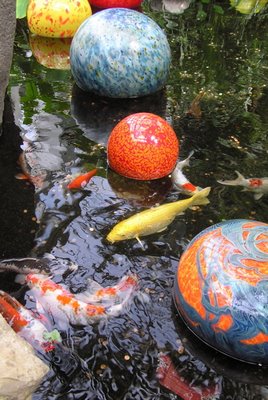 We watched the koi picking up coins from the bottom of the pool, sucking them, and then spitting them back out. It's something to do. They doubtless get pretty bored cruising the same figure eight all day long.
Back at the orchid exhibits, some
Paphiopedalums (ZOWIE!!)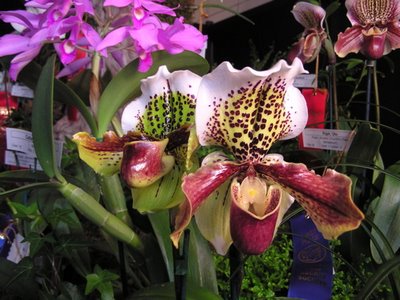 and
Phragmipediums
(both representatives of the ladyslipper tribe, but from far-flung places like Borneo)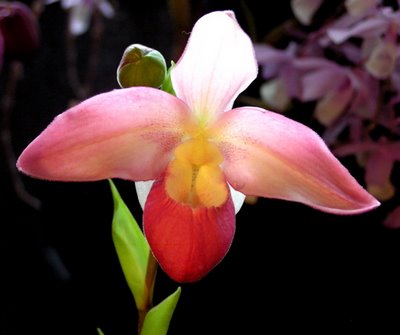 drew me back into the luscious world of orchids. Back home on my windowsill, two
Paphiopedalums
are sending up buds. I cannot wait!! OK, that's enough cheery positivity for anyone...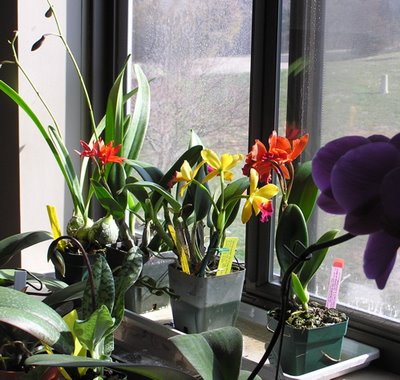 WHINE WARNING!
I hope you're enjoying this blog. I truly don't know how much longer I'll be able to keep it up. Blogger has been giving me fits for weeks now. About 75% of the time, I waste an hour or two just trying to get a single post up. I attempt to post the photos five and six times for each post you read. I get "Bad Response from Server" most of the time. And then I have to try again, hours later. This is an art form for me, and constantly working against Blogger is a colossal drag. It's like having all my watercolors dry into rock. I don't know what's to blame, but what should be (and once was) a pleasure is now a hassle. Life's too short, and it should be lived to the fullest. Endlessly fooling around with Blogger isn't part of my plan. If any other bloggers out there have a solution, or a hassle-free blog server, I'd love to hear about it. It's a big, beautiful world, and I love sharing it, but the hassle, I can live without.