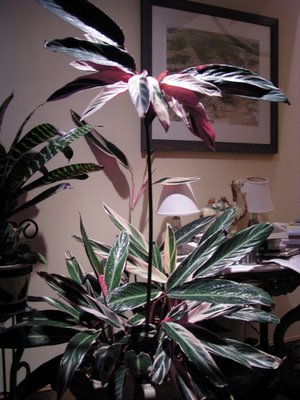 I just flippin' love plants. Especially when they surprise and delight me. I bought this
Stromanthe sanguinea
in a 2" pot at Lowe's, of all places. I'd just bought one at
The Glasshouse Works
, a fabulously quirky greenhouse in Stewart, Ohio, that specializes in strange and wonderful exotic plants. Only to find one at Lowe's the same week. Of course, I paid much more at The Glasshouse. And I was happy to pay more--the proprietors are terrific, and know absolutely everything there is to know about weird plants. Ironically, and uncharacteristically, the Lowe's find was healthy as a horse and soon outpaced the more expensive one. It grew and grew for two years and finally I put it in the biggest pot I had and told it that was the end of the road. No more upgrades. It sulked for a year and then sent up the most amazing yard-long shoots, crowned by lateral fans of leaves. They are literally as high as my head.
This is a wonderful plant. It likes low light, and it has this amazing fifties color scheme of deep green, cream, and grenadine--the reverse side of the leaves is shocking wine-red. It's a foliage plant, meant to decorate the corner of a living room, quietly doing its job without demanding much. Native to South America. The wild ones have a grenadine reverse, but the cream variegation is a flight of human fancy.
So I wondered for about six months what the plant was up to, and this morning, while watering it, I found two buds. It's going to bloom. I can't get my hopes up too high for the blossom; the leaves are so fantastic why should it bother to make a great flower? But it's blooming, and that feels like an affirmation.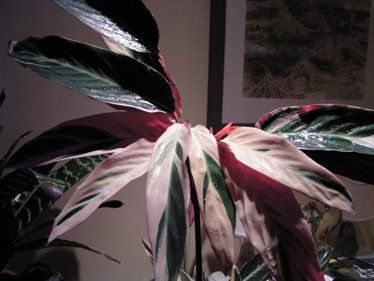 You can see a bud, coral-pink, above the second leaf from the right. Whee!
Finding the flower, I feel a bit as I would if one of my kids turned to me and said, "Mom, I've decided I'm going to school to learn how to swallow swords and eat fire. It's what I've always wanted to do with my life."
Meanwhile, in other rooms, some of my orchids are preparing for their big spring show. This morning, Burana Beauty greeted the dawn, yawning. Its first bud had opened in the night. An east window is perfect for this Cattleya-type tri-generic hybrid. It drinks up the morning sun.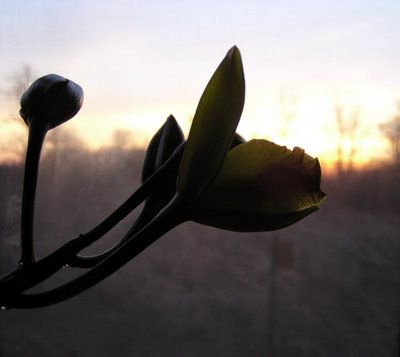 These flowers, still developing now, will color up until they're brilliant egg-yolk yellow, and then they'll emanate a perfume so strong that it fills up the room--but only around noon until dark. Sorry to say, but Burana's overpowering fragrance reminds me of Dow's Scrubbing Bubbles (original scent) and then it makes me feel guilty for not cleaning quite as much as I might. That's OK--it looks so wonderful, it could smell like cabbage for all I care.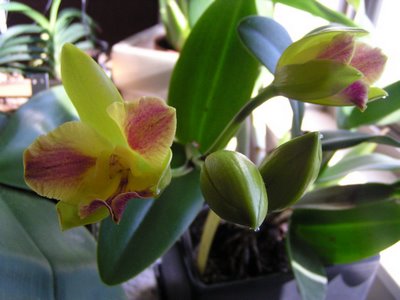 This is Burana Beauty's third year with me. It had rave reviews for its second year here, and put out three new stems and thirteen blossoms. I probably should have called the newspaper, it was so spectacular.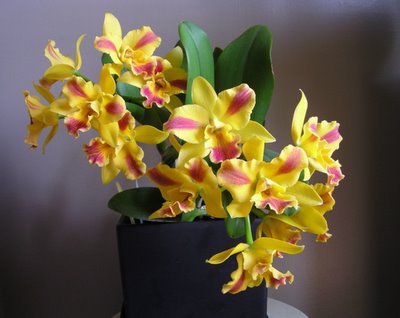 This lovely thing, about to burst its magenta bud balloons, was my first
Phalaenopsis,
purchased at a Trader Joe's. When I got it, I knew nothing about orchid care. I thought, being tropical plants, they'd want a whole bunch of sun and water. Wrong on both counts.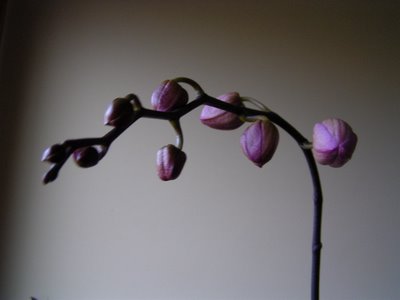 I put it in a west window, let it sit in water, and bake in the sun until it was almost done. Its roots rotted off; it lost all but two leaves. I finally realized I was probably doing something wrong, repotted it, cut back on the water and put it in a north window, and let it recover for two years. Like a phoenix, it forgave me and came gloriously back to life. I promised it that I would never torture an orchid again. Deal, said the orchid. Just treat me like an African violet, and I will bloom every year for you. I'll never tell anyone you almost killed me.