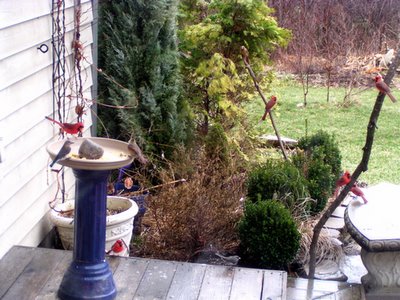 8 cardinals, a junco, and a bluebird--just a small part of the morning crowd.


Somebody told the cardinals, who told the bluebirds that there was really good stuff on our front porch. I think it was the juncos who spilled the beans. Today started out dark and dreary, but the front porch was hoppin'!
Every winter is different. Last winter we had eight bluebirds and no more than five cardinals who developed a taste for suet dough. This winter I have trouble counting all the cardinals. It's spectacular. They all listen and watch for the door to pop open at about 8 AM, and practically run into me in their haste to gobble this delectable stuff.Here,the song sparrow who's trying out his songs under the bedrom window every morning is joining the fun.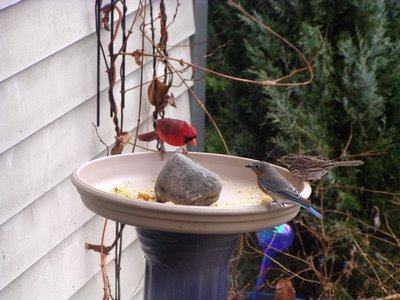 I multiply the recipe (1 cup peanut butter, 1 cup lard, 2 cups quick oats, 2 cups yellow cornmeal, 1 cup flour) times six every time I make it. So it takes a 40-oz. jar of peanut butter, plus an additional cup, about a third of a large bucket of lard, 12 cups of oats. I always wonder if people look at me buying two large buckets of lard every time I go to the store and scratch their heads. It makes a jarring contrast to the arugala and sprouts, that's for sure. Roger Peterson used to go in the Old Lyme CT A&P and buy a half-dozen bags of Cheetos. He'd throw them in the water off the Old Saybrook causeway, hoping to lure black-headed gulls in close enough to photograph. Same thing. He said he got weird looks, too.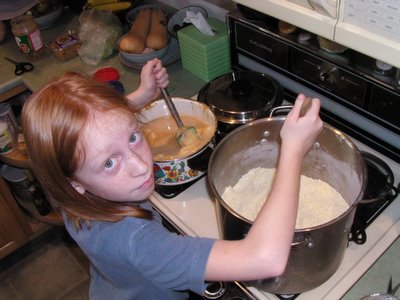 The kids both like to help me measure and add the dry ingredients, but everybody disappears when it's time to stir it all together. It takes a lot of strength to mix it as it's setting up, and we've broken a couple of wooden spoons trying. I've got my drill down and can get the big batch done in under an hour now. Sometimes I wish I didn't have to make so much, but then I look out the window and realize that it's not much effort for the beauty it brings to our doorstep.