It was a gorgeous day. I spent much of it in the car, trying not to think about hiking along the stream in the sun. But I had a blast. Drove over to Athens, Ohio, to record a commentary for NPR. Recording engineer Jeff Liggett always bends over backwards to accomodate my often sudden schedule changes. We've got it down to a science, and the piece was recorded within 20 minutes. Since there were some sound effects, it was a bit challenging for me, but fun as always. Here's Jeff.
One of my favorite things about Jeff is that when Liam accompanies me, as he usually does, Jeff doesn't mind having Liam spin his wooden trains around on the LP turntable. Not much ruffles JL, and he makes Liam feel welcome. It's nice to feel a real affinity with one's local NPR affiliate station, and to know that when you respond to the pledge drives, you're helping pay your friends' salaries.
I asked Jeff to take a picture of me in the studio, knowing that I'd look dumb in headphones, but who doesn't?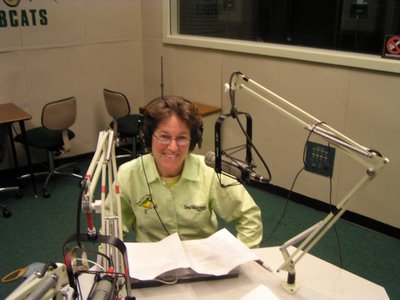 photo by Jeff Liggett
Met my friend Cindy the Forester for lunch and we had a nice talk. I took her a plant to love--
Abutilon megapotamicum.
Nope, no common name. Just fabulous pendant flowers. I'll put it up on the blog when it comes into bloom. Another treasure from Lisa Van Dusen, master gardener. I had to have it when I saw it at her house. Many cuttings later, the fun continues. I took a picture of Cindy crawling under her truck but she deserves better than to have it posted here. I'll substitute a picture of a beautiful oak tree I always look forward to seeing on the way to Athens, along the Appalachian Highway. We'll call it Cindy.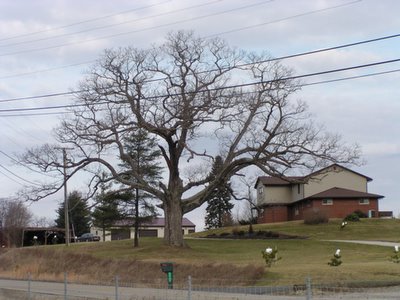 On the drive over and back I saw a total of a dozen turkey vultures, unprecedented in January. We usually don't see many until about the twelfth of March. I imagine they're hanging around because the weather has never gotten really terrible, nor has there been much snow cover to speak of. Lord knows there's roadkill--I saw two fresh deer and a very nice wild turkey gobbler laid out--a regular buzzard Thanksgiving.
The cattle in Boaz, WV, were enjoying the springlike sunshine with a lie-in. Very decorative.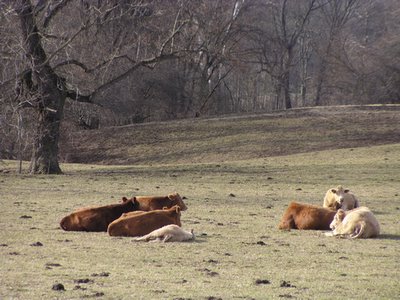 And, for those of you who log on for your dog fix, a jumping game, starring Bill and Chet.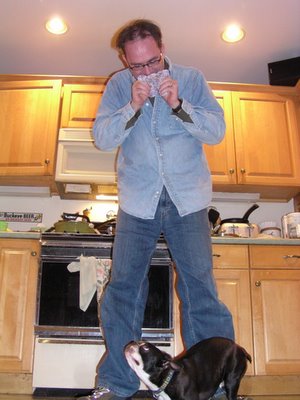 It doesn't matter what Bill grabs to hold out of Chet's reach--it could be a sock, a teddy bear, a child, or a turkey drumstick--Chet takes it as a personal challenge to soar to new heights. The Dog Photographer was on her back below. Yes, we call Bill the Colossus of Whipple, and Chet is the Michael Jordan of Boston terriers. He must have pretty good knees.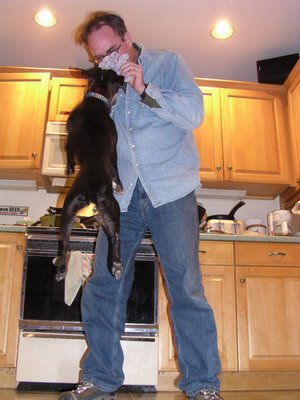 And we are very easy and inexpensive to entertain out here in Whipple.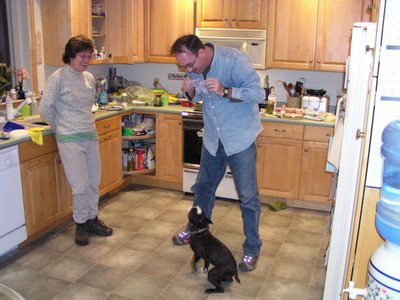 photo by Phoebe Thompson