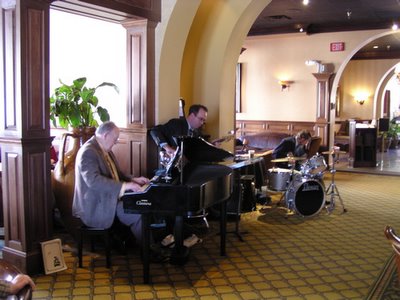 Phoebe, Liam and I started the day with brunch at the historic Blennerhassett Hotel in Parkersburg, WV. Such a gorgeous place, nice food, but we were really there for the music--Bill's Sunday gig playing jazz with his uncle Bruce DeMoll and drummer Chet Backus (not to be confused with Chet Baker, dog). The kids adore going there, and the staff couldn't be nicer to them. One of my firm beliefs is that kids truly appreciate nice restaurants; that they need never set foot in a McDonald's or Chuck E. Cheez, and that if the kids are properly brainwashed, their parents never need to, either. Phoebe is famous in her class for once bringing a sack lunch to a McDonaldLand birthday party, and for shrinking back from the Happy Meal she was given on a class field trip. Success!
The light was killer beautiful, and we devoured the shifting cloud shadows on the drive to Parkersburg. Here's a view along the county road to our house. I never tire of seeing the light playing on this little pond--the one where I released
Fergus, the bird-eating bullfrog
, as a matter of fact! Yes, those trees are in bud. Everything is budding. Crazy weather, but I'll take it.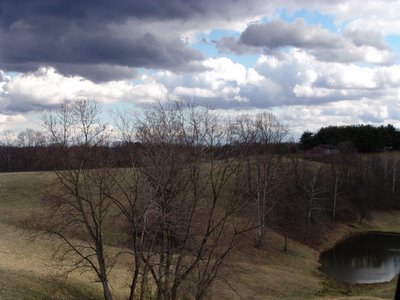 Bill played real purty, and it was so nice to listen, sip tea, and go through set lists looking for forgotten tunes for our band rehearsal this afternoon. We got home just in time to greet the rest of the band and settle in to rehearse. It was a marathon of running through tunes new and tunes forgotten, more than three hours of hard work. We dusted off some dandies, worked up some new cover tunes, and introduced three new originals, courtesy Bill and Andy. By the end of this, our second rehearsal, I finally felt my voice coming back, feeling reliable again. Baker kept his station on my lap. His coat is so smooth and sleek he feels like a polished ebony carving--a warm one.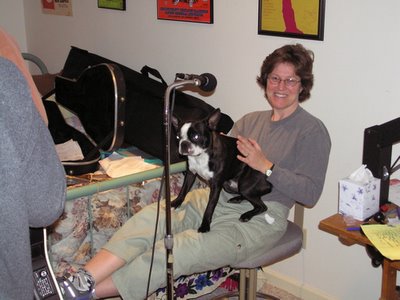 He got hold of an old drumstick that I was using to beat on a cowbell. I got a fever, and the only cure for it is MORE COWBELL. Bill demands that I play cowbell (which makes sense, I guess, because everyone else's hands are busy with instruments), but then he laughs at me when I do it. Which doesn't seem fair.