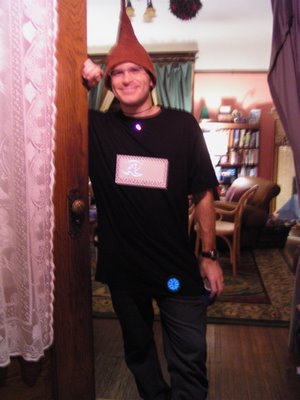 Our friends Zane and Margaret are wildly imaginative, gracious hosts. They also have the best party favors. As each reveler entered, Zane, a wild New Year's elf, deposited a cup of Fish House Punch in his/her hand, and draped said reveler with some kind of lighted favor--flashing earrings, whistles, necklaces or hats. In the darkened dining room, while psychedelic patterns played on the ceiling,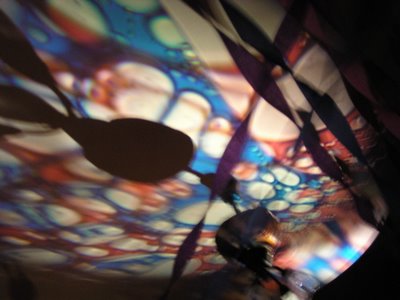 the bobbing, swirling lights on revelers made a dreamscape. Setting the camera to take a three-second exposure, I played paparazzo.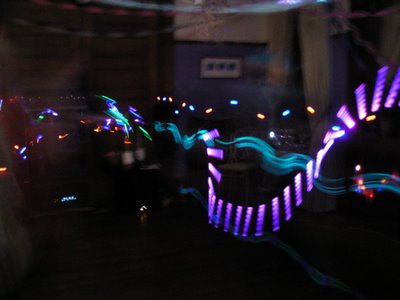 I love these ghostly images, and wish I could include the thumping audio that emanated from enormous speakers hooked up to Zane's iPod.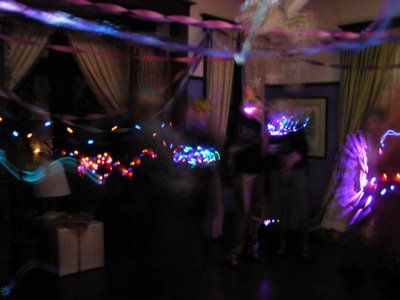 Before he melted down, Liam demonstrated his fabulous break-dancing moves. Phoebe had festooned his tummy with a cheery New Year's greeting, and he made his rounds with shirt hanging open to display it. A few key piercings and he'd have been a perfect miniature grunge-punk. We're having a New Year's thunderstorm right now--flashing lightning-yikes! I'm drawing warblers, a good thing to do on a rainy January day. I'll leave you with my breakdancing six-year-old, and best wishes for a happy New Year!