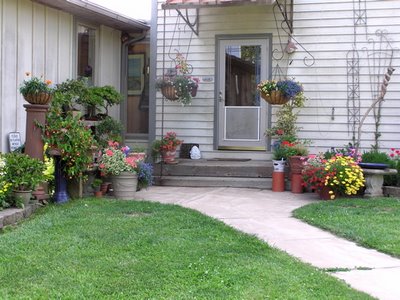 Things are beginning to color up around here. Bill and I spent a lot of time weekend before last sprucing up the gardens and trees, trimming and weeding and pruning, in honor of a visit by the Marietta Garden Club and the Barlow Bluebells. Love that name! It's a good thing to do, we decided, becuase it gives us an excuse to get the house and garden ship-shape. It's easy to let windows go unwashed and clutter accumulate. But when you know about 30 pairs of sharp, appraising eyes are going to be roaming over your house and grounds, it is a serious motivator. Luckily, I'd been home enough this spring that the gardens were in really good shape.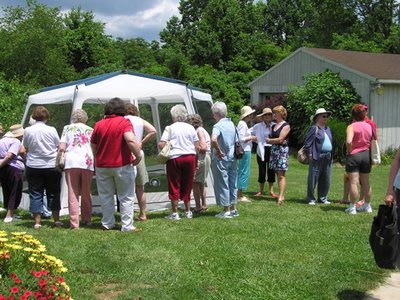 I couldn't help thinking, as the crowd descended on Indigo Hill at noon June 20, how much I'd like to have some of my readers in the group--you who share so much with me, every day. The gardens are just coming into their own, slowed by a cool, wet spring. The first coneflower is starting to color; the liatris is still in bud. But there's a lot blooming, and it's sooo beautiful right now. So, since you can't leap out of my computer, I'll show you what the garden clubs saw.
The phoebe tent was a big draw. They were charmed by my tail-bobbing fairies. One of the women asked why I was the only songbird rehabilitator for at least three counties around. Bill piped up, "Who wants to feed birds every half-hour?" True enough. Much easier to throw a frozen rat in front of a raptor and be done for the day. You don't have to take your redtail to the movies and grocery store with you.
This huge bromeliad, supported by the arms of one of my "liberated bonsais," drew a chuckle from the group. What better place for it, in the light dappled shade of Japanese maple leaves, living in the canopy as it would in the wild. I have two Japanese maples that were a bit too rangy to be good bonsai subjects. They live in the yard now, taller than me, and happy, too.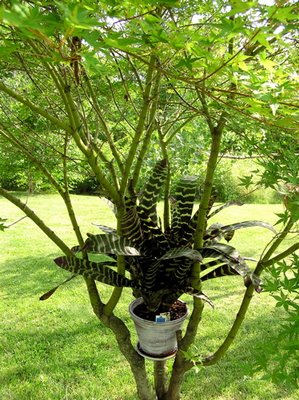 I've had this bromeliad species for years--Vriesea "Splenreit." In midwinter it sends out three or more swords of flame-orange, lighting up the foyer. Its zebra leaves are beautiful all the time. It loves its summer vacations. I've given many a pup away from this plant. It splits like an amoeba and I get to spread the joy--one of the things I love most about gardening.
This year, I've decided to add interest to a forgotten part of the yard by making "shade stations" under the birches. We have so little shade here on the ridgetop, and it's all taken by hostas, columbines, hardy fuchsias, ferns and the like. So I'm using containers under trees as spots of alluring color, destinations to get us out the side yard. It's working! I've got to get out there to water them, and while there I enjoy the birches and pines.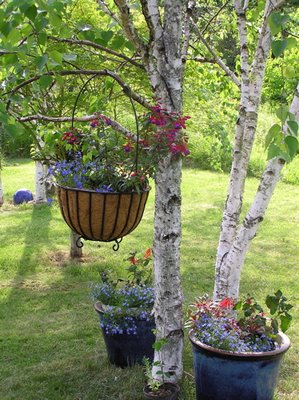 These containers are going to be stunning in about a month. Gotta love this fuchsia with its red hat lady flair. I have to say these colors look better on a fuchsia than on a zaftig woman. But that's just my opinion.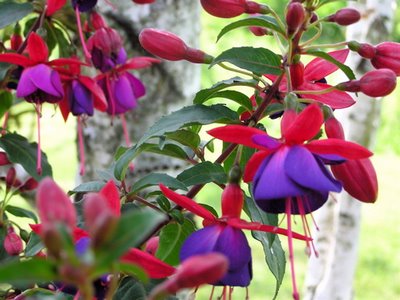 Beneath it in the blue pots is a more modest upright fuchsia called "Gartenmeister"--ever a favorite with hummingbirds and Zicks.
The garage beds are a wild tumble of volunteer daisies, lavender, snapdragons, pink hibiscus, hollyhocks, Rudbeckia, tall ironweed, coreopsis, and cactus. Missouri primrose is the pink mass at left.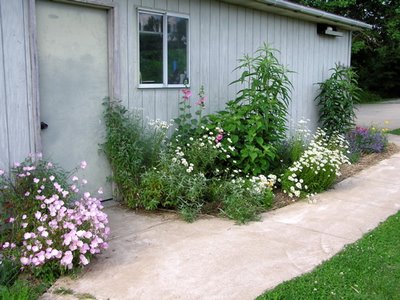 These beds are alive with bees and skippers, who love lavender as much as I do.
Much of what's cool here has volunteered. This is my fritillary and monarch ranch--common milkweed, barely kept in check by patio and pond. Those are great spangled fritillaries , drunk on the blossoms.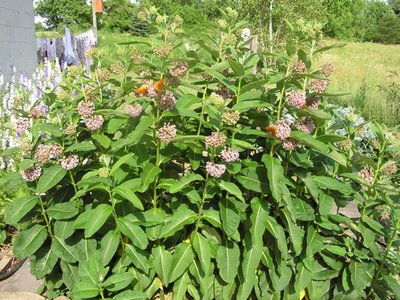 When it finishes blooming, spreading its honeyed scent up to the bedroom windows, I'll cut it to the ground. The shorter new shoots that come up in late July will be dotted with monarch eggs and chewed by caterpillars, and I'll be able to see my pond again. The monarchs are delighted to find new shoots in July, when all the rest of the milkweed around is so grotty. It works fabulously: I've had as many as 26 monarch caterpillars on this small patch at once.
A glimpse of the pond, which lies directly behind the milkweed ranch, framed in larkspur. This is where my famous
bird-eating frog, Fergus
, once lived.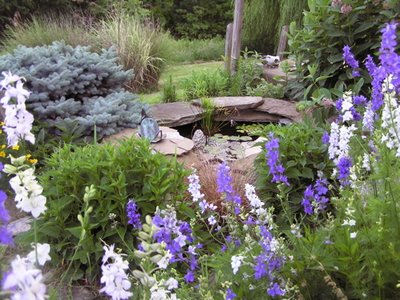 The big hanging basket, with trailing snapdragon "Sultan," a mini variegated alpine geranium I can't live without, Calliphora "Rose Star," and Lobelia "Laguna Blue w/Eye."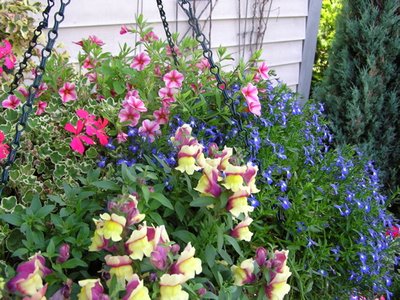 These are plants that get greenhouse space all winter so I can have them always.
A particularly successful combination of Osteospermum "Yellow Sonata," Calliphora "Hot Tamale," and fancy geraniums "Mrs. Cox" and "Frank Headley." Fire and ice.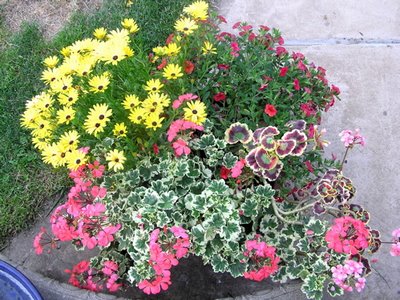 My favorite pot of all. Color. I eat it for breakfast, lunch and dinner.