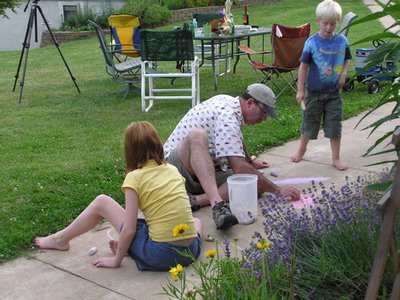 These summer evenings are so luscious, I can't wait for Bill to get home so we can lapse into our chairs, share the events and conversations of the day, and breathe the sweet, moist air. Sometimes we cook out; sometimes I have something ready so we don't have to mess with it. A little wine, a beer, the kids playing in the yard, a little wiffleball, our sweet Phoebe smacking the ball farther and farther, reveling in her newfound strength.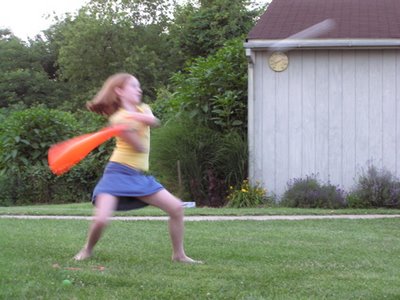 Barn swallows skimming the air and chattering on the wire, a prairie warbler teasing Bill from a birchtop, Bill cussing and scrambling for his scope and camera. Oh, there's nowhere else I'd rather be. These are the sweetest days.
No one else I'd rather be with than this dear man, drawing flowers in chalk . He's got a lot of what they call The Most.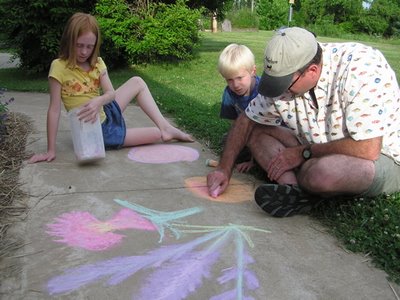 No sky I'd rather gaze up into than this one, amber clouds swimming in turquoise.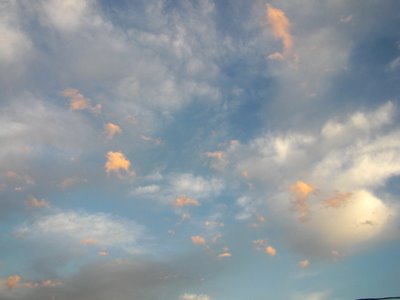 My favorite shirt has a prowling tiger on it, seal brindle just like Chet. Summer is the time for Leos: heat, passion, fervor and sweat; strength in the sun and the coiled green spring. Warm days and soft nights. Solstice, everything coming back into perfect balance, equilibrium.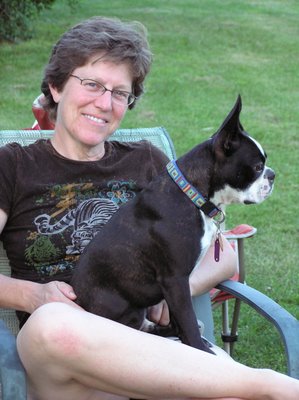 We stare out over the meadow until the lightning bugs start to blink. Heat lightning plays along the southern horizon. This landscape has grown around us, and we have grown into it. We have given it gardens and bluebirds; it has given us everything. B, this one's for you, a taste of home.