Excuse me. Gotta brag on a plant again. Bill's mom, Elsa, dug up a lilac shoot from a bush that grew for years on the Miller farm (the ancestral Thompson family farm,which is now under a highway cloverleaf). For years, this offshoot has grown between Bill's parents' house and the neighbor's--not a great place, doesn't get much sun--but it's hanging in there. Every Easter, Elsa climbs out the bathroom window and walks around the corner of the roof to cut some blossoms for the table. The bush is that big. We call it Aunt Lolly's Lilac, because she was the queen of her garden, and she knew from good plants. I would have loved to have known Bill's Great Aunt Lolly. Told she had a live bat clinging to her hat, she said, "Oh, leave it there. It's not hurting anything." My kind of cool old lady.
Aunt Lolly's Lilac isn't just any lilac. The is the finest, most gorgeous, most deliciously fragrant, and the BIGGEST lilac on the planet. This is not a lilac for the faint of heart. It knocks you over with its size, color, and aroma.
Naturally, I went poking around under the offshoot at Elsa's, looking for sprouts. I found a number of them, and potted them up. At the end of the summer, I planted them, and gave several away. This is what mine looks like now, after maybe four years of happy growth: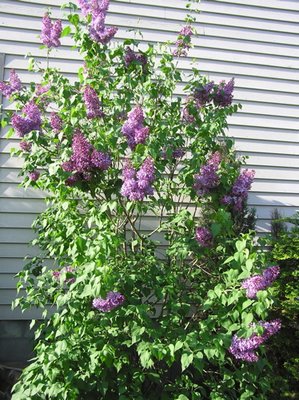 And just to show you what I mean, today I broke a sprig off the garden-variety lilac that came with our farm. The kind that grows everywhere. The ordinary kind. The one in my hand.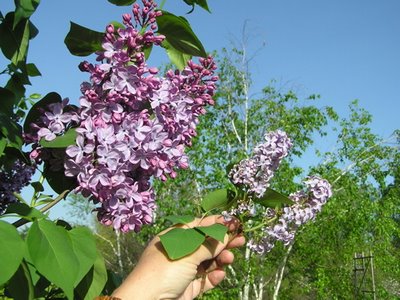 Now do you see why I rave about this lilac?
This plant is an heirloom in the finest sense of the word. I'm making it my mission to propagate it and spread it around, because I've never seen a finer one. My sisters in Massachusetts and Connecticut are all waiting for theirs to bloom. Bill planted one in a sunny spot in his folks' backyard, so we can see what it'll do there. I like to think about how old the variety must be, and how old things are often so much better than new things. And the old things all come around in their own time. This is a lilac whose bloom trusses are big enough to accommodate your entire face. Ahhhhhh. Wish I could give you Smellovision. That's on Mac OS29.