Easter was a huge day. The Easter Bunny (who also doubles as the Tooth Fairy and Santa Claus) dragged herself out of bed at 6:45 to begin a fruitless search for Easter baskets, and to gather grass from the meadow with which to stuff said baskets. Some Longaberger baskets would have to do in a pinch, because the nice brightly colored baskets went AWOL. Rain spattered down on her as she tried to find grass that wasn't all moldy. (She has an aversion to plastic Easter grass.)
The Bunny had to hop all the way down the driveway over the hill to fill the baskets, to avoid being busted by Phoebe and Liam, who were up and sniffing around by 7 AM.
She barely got the baskets hidden before the kids, Chet Baker, and sleepy Mr. Bunny came out of the house to start the hunt. Liam has learned that he has to act fast if he's going to save a stuffed rabbit from Chet's lightning dash.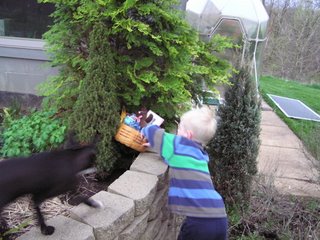 NO BAKER NO! he yelled as he swept the rabbit out of harm's way.
Fine. Take your dumb rabbit. I'll just lick the faces off your Peeps, then.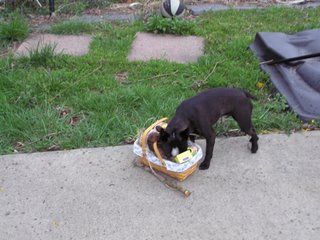 Figuring Chet might get to it first, I put Chet's Easter surprise in Phoebe's basket. A referee, with a shocked look on his face and tough canvas skin. Something to shake the daylights out of.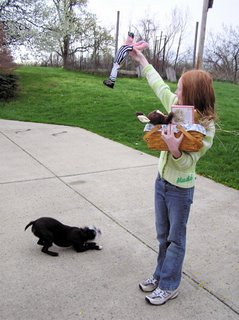 Baskets found and appreciated, everyone got dressed for church. First Communion for both kids. Can you tell Liam woke up with a fever of 102? Ceremony won't wait. He had taken several Saturdays' worth of classes in preparation. Arrrrgh. We dragged the poor little shaver through the service and the festivities afterward.
When we got home, Liam went to sleep, racking up a total of 15 hours. He feels MUCH better this morning!