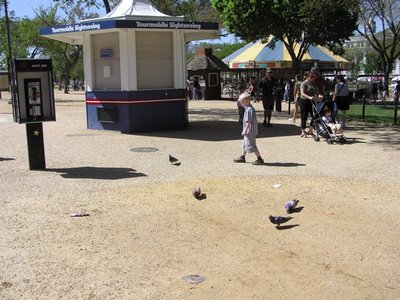 City kid, chasing pigeons. You can tell the ones from Ohio, because when their mothers tell them to try catching pigeons, they actually think they will catch one.


We left last Monday for Severna Park, Maryland, where my sister Nancy and mom Ida both live. Sisters Barbara and Micky and Micky's husband, David, and son Evan came down to make it an almost all-Zick reunion (missing only my brother Bob, who is closing on a piece of hilltop in the Shenandoah Valley at the moment). It was just Liam and me. The proximate reason for the trip was a talk I was slated to give at the National Zoo, and all the other wonderful stuff just accreted around it like layers of a hailstone. Man, it was great to hang with my sisters and mom.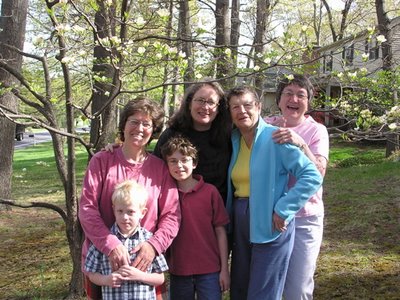 We went for a four-mile walk, nearly killing Liam, who takes after my dad. He was the one waiting on the park bench for my mom while she ran around.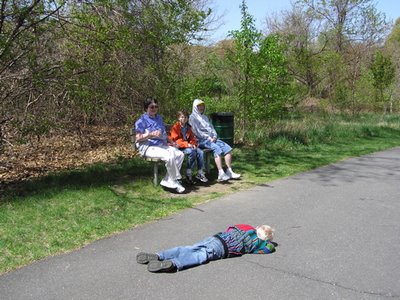 Ida, my mom, turns 86 this May, but you'd never know it, from the pace she sets. She walks 3 miles a day, and all the people at her independent living community call her Speedy.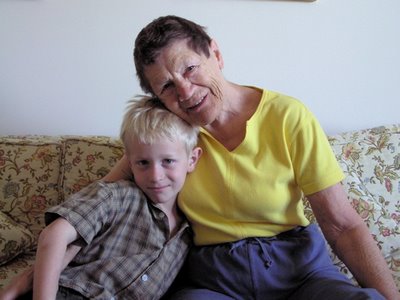 I hope I'm as fit and sharp and funny at 86. You can't pick your parents, but I would have picked Ida in a heartbeat.
It was a train-centric trip. The highlight for Liam was taking the MARC train from BWI airport all the way in to the glamorous, historic Union Station in Washington. We wanted to see the old trains in the Museum of History and Technology, and the dinosaurs at the Natural History Museum. I thought Liam would pop, waiting for the train out on the platform.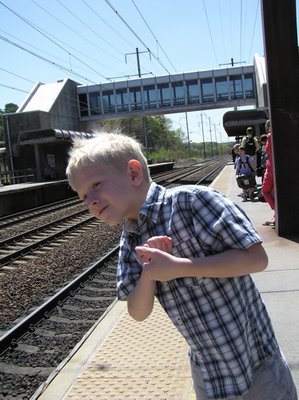 No one ever enjoyed a train ride more. He liked riding the train waaay better than he liked the museums or even the zoo, where we spent the next day.
Continuing the train theme, we stopped in Cumberland, Maryland, on the way home. Cumberland's the home of Mountain Thunder, a famous steam engine that takes people on 35-mile round-trips to Frostburg in the summer. We didn't see MT, but we saw his coaches and caboose, and Liam climbed aboard, waving away huge cobwebs as he made his way along. He stopped and pretended to be "an old skeleton, forgotten on the siderail."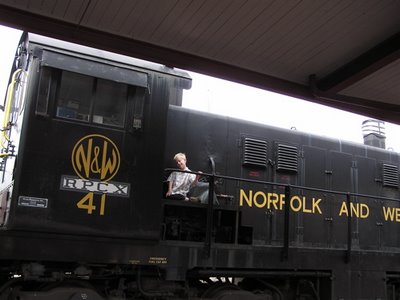 It was a convincing portrayal. We ate at the local creamery, and we stopped in the fabulous gift shop that's strategically designed to strip train-crazy kids' parents of all their extra cash. My goodness.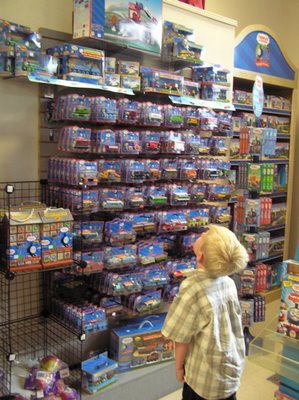 $70 later, Liam had a bunch of new DVD's, a wooden diesel engine, a Thomas placemat and teacup, and a new engineer's hat. He needed one; his old one was sitting up high on his head like a little sparrow.
At the Mall in Washington, we trudged from museum to museum in the thrilling spring sunshine. I quickly realized that I would have to spring for a cab from Union Station if Liam was to survive the walk. Washington "blocks" are Ohio half-miles. The scale of the place is almost inconceivable, especially to a weary six-year-old. I thought a ride on the merry-go-round would revive Liam, but as we stood, thirty deep in line, he set his heart on riding the sea monster, something that clearly only the first child in line gets to do. We managed to get horses right behind it but... Only Liam could get on a merry-go-round and stay mad the whole time, because he didn't get the monster he wanted. By that time, my ragged maternal edges were showing. But it was the coolest sea monster. Liam is incredibly specific in his desires, and if he sets his heart on something, you can forget placating him with anything else. Traveling with him is an adventure in negotiation.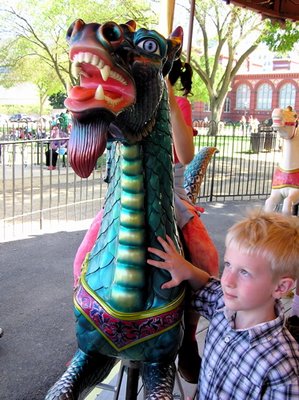 When we got off the merry-go-round, we walked back to where we could catch a cab to the station. There was a man drumming on garbage cans and joint compound buckets. He didn't even have drumsticks; he was using random pieces of wood, and splinters were scattered all around him. He was an artist of the highest caliber, rock solid in rhythm, playing tunes on those hunks of plastic. Every once in awhile he'd hit the shopping cart, which made a great crash. We were mesmerized. I could have stayed and listened to his music all day. All the exhibits and rides were fine, but the guy who was playing real good, for free, was the one who touched us most.