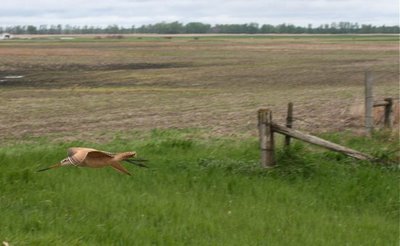 More things you don't see every day…marbled godwits. What are those? They sound like some kind of bonbon (the kind I spend all day popping into my mouth while I lie on the divan, watching game shows). Godwits are enormous sandpipers, like curlews who got their bills straightened. Godwits are beautiful, especially in flight. Godwits are also easily annoyed, especially when they have chicks running about in the tall waving grass.
We never got out of the car; these godwits came to us, yelling and complaining. We were careful to crawl along at a snail's pace lest a chick be squatting in a tire track. The godwits believed that they were distracting our vehicle from attacking their chicks, and we didn't try to dissuade them. We just let them lead us away, with our friend Ernie driving and Ann navigating and Bill and me leaning out the windows, shooting frame after frame of these leggy furious beauties.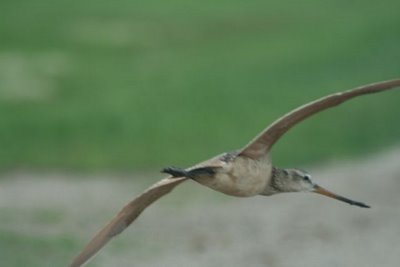 They flew along at window level, yelling.
They landed in front of the car and strode away with a come-hither look on their long faces.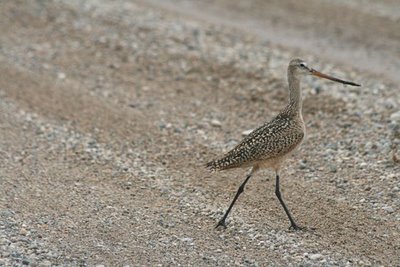 They ran alongside our car.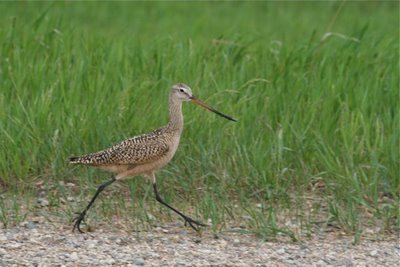 They crossed and cris-crossed over us. Their cinnamon wings flashed against the verdant green, producing images so beautiful that they border on surreal.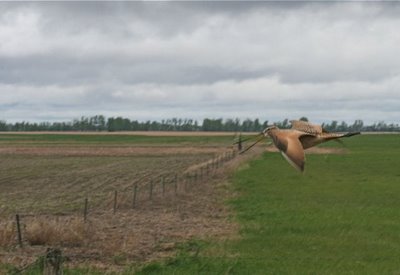 And then we were far enough away and the godwits doubled back to reunite with their chicks, and the show was over. I wondered if they meet every car this way, and if people understand why. Perhaps you can get used to having a marbled godwit escort when you drive this road in June. I doubt I ever could.