I was driving this spring at the screech of dawn in a driving rain, trying to get somewhere or other, some airport, some festival. I don't remember. But I will never forget the sound and feel of running over a box turtle who was crossing our country road. I couldn't see it; it was well off to the right side, and obscured by the sheets of rain that my wipers weren't clearing. It's not the first turtle I've hit, and I'm sure it won't be the last. These things happen, even to people who love turtles.
I've always tried to help turtles whenever I can, whether by moving them across the road in the direction they're headed, by trying to fix them when people bring them to me busted, by raising hatchlings to release size, and even by offering food to the wanderers who cross our lawn.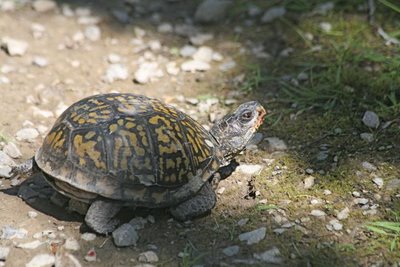 This lovely female (note her brown, not red eyes) was slowly crossing our driveway. I walked by and casually dropped some strawberries in front of her. Wouldn't want her to think I wanted her to eat them or anything. I get such a kick out of watching turtles take in the information. Suddenly strawberries. What to do?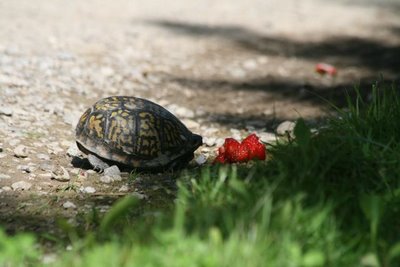 Of course, they're wary creatures, so I withdraw and shoot at a distance through my telephoto lens. This one was aware that I was still watching her, and hunkered down. So I left her to her contemplation of the luscious fruit, dropped from heaven. Ten minutes later, I returned.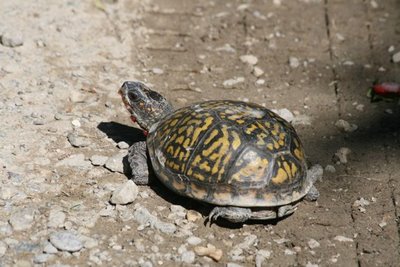 And what would that be on your chin, Mrs. Turtle?
I've lost count of the turtles I've moved this spring, but this one is my favorite: a gorgeous little juvenile. I have one the spittin' image of him in a tank at home; he's on his third season with me since he hatched, the progeny of captive parents, in a backyard near Youngstown. I'm growing him on until he's too big for the chipmunks to chew up, and then I'm going to let him go right here on Indigo Hill.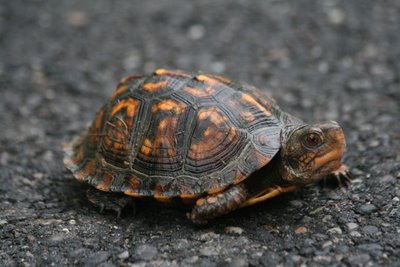 If you count the rings on this wild animal, you'll find four, and he's starting on a fifth. He'll fit in the palm of your hand, and he's four years old. Pretty humbling. My turtle, Shoomie, has had the benefit of an abundant diet, calcium supplements, and the leisure simply to grow. He's a bunch bigger than this one, with only three growth rings. I feed him Repto-Min sticks for aquatic turtles, floating them in his shallow water dish. The Brownian motion makes them move, and he snaps wildly, sometimes eating four at a time. I can almost see him grow. It's good to know he's getting a balanced diet, that it will help him grow fast and strong, and get closer to release every day. We've started to let him tour the living room under close supervision, and he's a speed demon. He'll do well in the wild.
We're home. At 2:30 AM, we rolled into the driveway. After being on planes for eight hours, hauling all our Utah luggage plus the two large suitcases JetBlue lost, then sent out to us at Salt Lake City, we hit a roadblock (police cars with flares) at 1 AM and were forced to turn off the car as we sat on the highway for 30 minutes. We all fell asleep, awakened only by the roar of trucks rolling again. All we saw at the end of the mile-long backup was two police cars, shining a klieg light into the forest. Maybe they were filming an episode of Cops: Muskingum County. Maybe they had a Bigfoot sighting.
Count is strep throat: 3, still standing: 1. That one would be me. We'll get a nurse practitioner's opinion on Dr. Zick's preliminary diagnosis. For now, it's laundry, mail, restocking the larder, doctor at 3 PM, and looking forward to picking up Chet Baker at five. Oh, are we looking forward to that!  Bacon! Bacon! Bacon!