On an afternoon that we got a chance to bird together, Bill and I were driving toward Tuttle, North Dakota, through some terrific grassland habitat.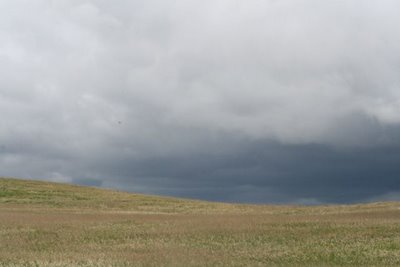 We saw a speck on the horizon (middle left) that resolved into a male northern harrier. (I include this picture to show you how far away he was). He was performing his courtship flight, something we'd seen once before near Burns, Oregon. The more I watched him, the more amazed I was. He'd rocket straight up, stall out, flip over, and dive earthward, describing a deep parabolic curve. At the bottom, he'd pull up, and use his momentum to shoot upward again.
He's near the apex here, preparing to flip over, hundreds of feet up.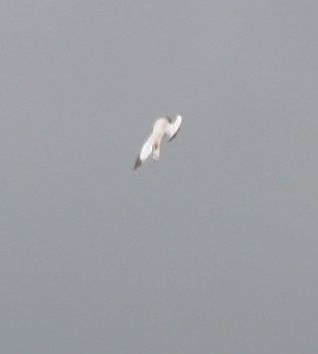 Here, he's in mid-flip at the apex of his climb.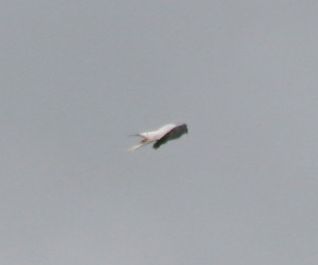 It wasn't until I got my photos on the computer and closely cropped (the bird was quite a distance away) that I realized that I'd photographed a bird flying upside down. He's completely inverted here, flapping away.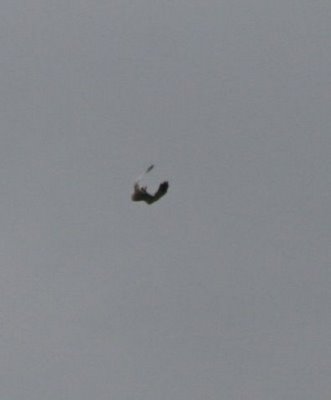 It also became clear to me, watching this magnificent display, why male harriers are snow-white below.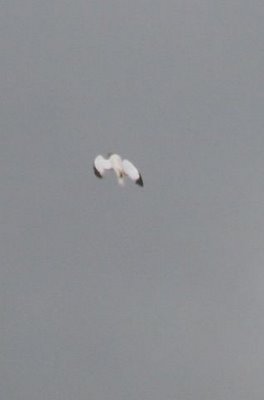 They are visible for miles when performing this rollercoaster display. A blinding white rump patch doesn't hurt, either.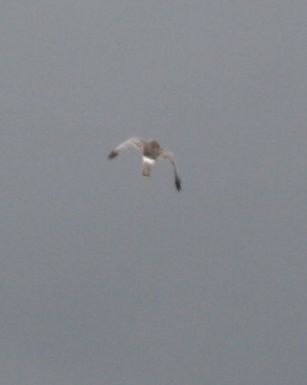 It all adds up to a neon sign, advertising his availability and his choice territory.
On his way back down--plummeting like an arrow.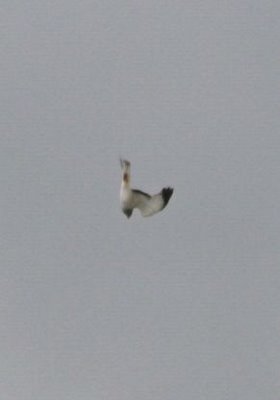 It worked for this gent. A big brown female harrier appeared out of nowhere and engaged him in some close passes, which may or may not have involved a vole engagement present. We were too far away to be sure.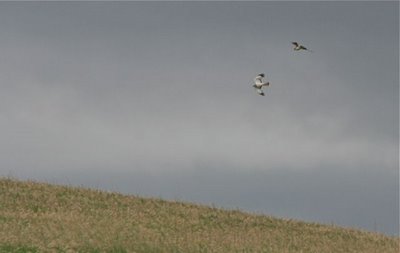 These pictures aren't publishable, but I'm happy to have them as a record of that beautiful flight against a stormy sky.