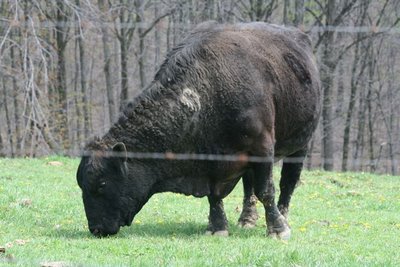 Faithful readers and archive diggers at this blog will remember
Buck the Bull,
the sweet, low-slung Angus tank who lives the next road over. If my calculations are correct, Buck should be pushing 11 or 12 now. He's still throwing nice calves. Here are some of this spring's progeny.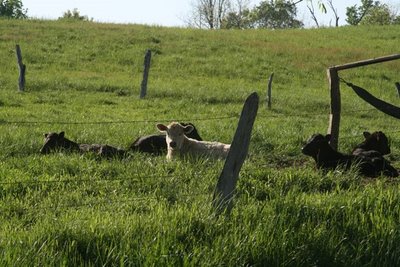 The gray one belongs to beautiful gray Betty. Here she is, backlit.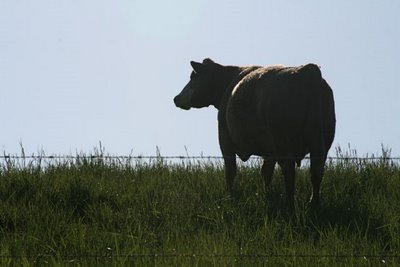 I think the Warren's cattle are the prettiest cattle around, with the best-managed pastures.
Although the Fleeman's Limosins are ravishing, come to think of it...I am a card-carrying cownoisseur.
Buck's still just as nice a guy as ever. I stopped on a sunny afternoon last week to visit with him. He had been scratching his forehead and brisket on a rough post and was up nice and close to the road.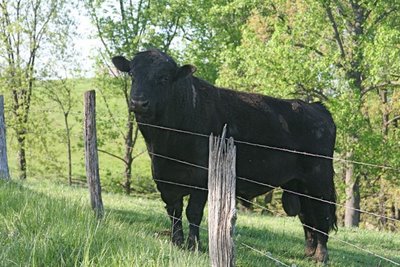 There's something I like about touching a multi-ton animal who could, if he wanted, annihilate me, something I like about knowing that he enjoys the contact as much as I do. A few strands of prickly wire separate us. I scratch his forehead and tell him what a magnificent, good boy he is. I tell him how much I like to see him and how beautiful his new calves are. I ask about the
little red cow I always see him with
but he's not talking.
He snorts, sending a spray of flobber over me, and shakes his head.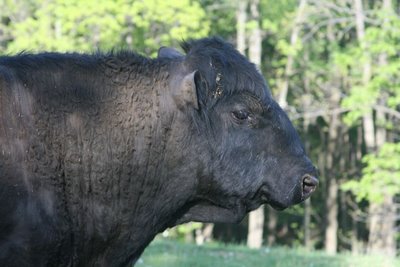 I could reduce you to a spot of grease. Don't forget that I am a bull, a very big one, a dangerous one. Mean. Unpredictable. Slobbery. Pffffuuuuf.
Yes, I know. I'm flirting with death. You are a highly dangerous bull, and I have received your warning. But I still love you. And next time I come I will have an apple and some carrots with me.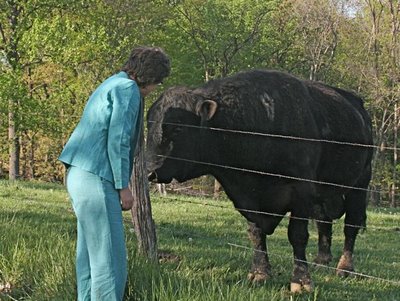 photo by Phoebe Linnea Thompson. Thanks, honey.
Well, all right then. You bring me an apple, and we'll talk.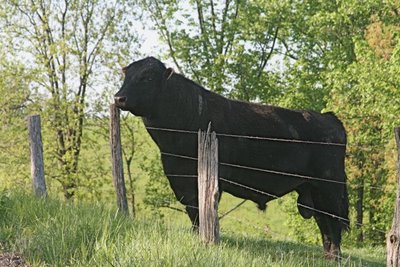 I have taken dozens of pictures of Buck in his many moods, but this is my favorite so far. I like to think he's remembering Dale.