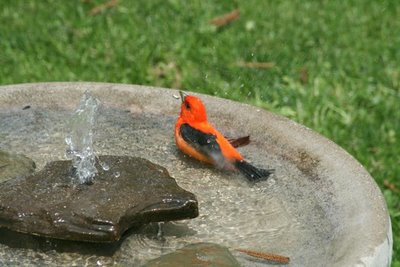 Sometimes I'm lucky enough to be watching the Bird Spa when a tanager or oriole stops by to wash the grime of a long migration from its brilliant feathers. This tanager was singing lustily in the birch just outside my studio window. I'd been gardening all morning, and had just come in the studio to check my e-mail. My camera was still outside on the picnic table in the front yard, naturally. I dithered in agony. If I tried to sneak out the door to get my camera, I might spook the tanager. But in my experience, this is usually a once-per-spring event.
I finally decided to go for it. I walked out, hugging the side yard, head down, as if the last thing on my mind was the beautiful bird bathing in my Spa. I grabbed the camera off the picnic table and walked back, head down. The tanager never budged. Once back inside, I focused and snapped, capturing his beauty to share. My studio is like a big ol' blind, and birds readily give up their portraits and secrets to me as I lurk in its friendly confines.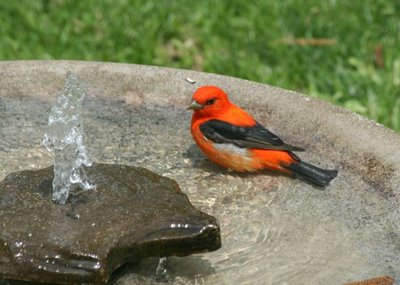 How lucky we are to have such a bird in the treetops, singing its hurried, burry song, the robin with a sore throat.
This is why I'm happy to scrub, rinse and refill the Spa every four days without fail. Tanagers like it sparkling clean.
He hadn't been bathing long when a female bluebird, weary from brooding her young, came down and body-slammed him out of the water. Nice. Mrs. B. You can bathe any time. Why must you be so obnoxious?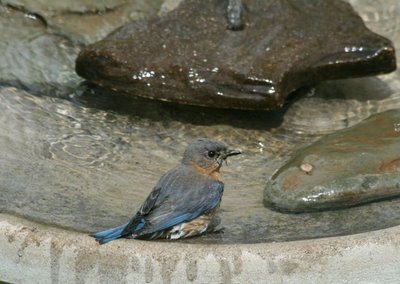 Oh, I'm not bad. But this garish woodland bird needs to understand that this is my bath, and there are rules about its use. Mainly, I use it first and always. What's he done to contribute to society? Sing? Fly 4,000 miles to get to his territory? Donate sperm here and there? I am a working mother. I've got babies to feed. I bathe first.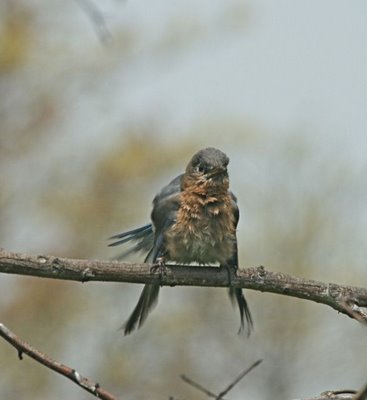 The tanager repaired to the poolside birch, where he sorted through his glowing plumage only a yard from the bossy bluebird.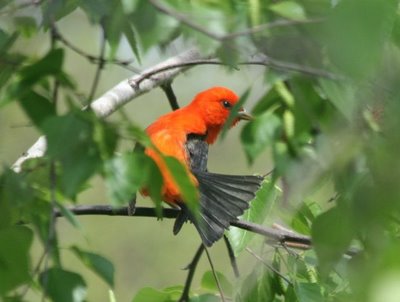 Must dip into the oil gland to waterproof my feathers.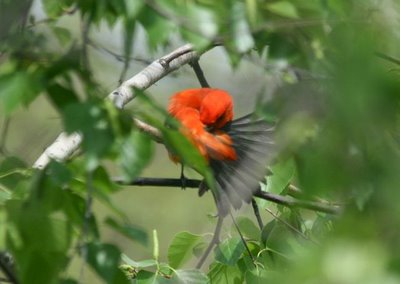 Ahh. I don't expect to see another tanager in the bath until fall. Who knows what goes on while I'm traveling? Best not to think of the things unseen, unappreciated; best to be happy with what I do manage to capture.