Speaking of flowers gone by, I would like to show you some pear trees. We have an ancient pear tree on the old home site. The pears are hard as rocks, no matter what you do to them. You can wrap them in newspaper, you can put them in a brown paper bag with a ripe apple; you can dance the tarantella on them and they remain astringent and resolutely inedible. But the deer and the question marks and commas love them; the woodchucks and raccoons and opossums eat them too. The pear is a tree of great value, and not least for its spring blossoms. It's a blizzard of white.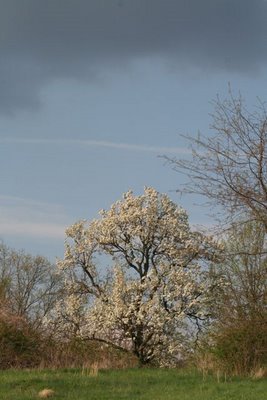 I remember rocking Liam in the old Scotch rocker two springs running while he nursed, watching that tree ready itself for the fruit to come, watching it come into bud and burst into dazzling bloom against the rainclouds.
Phoebe against the pear, with her new glasses.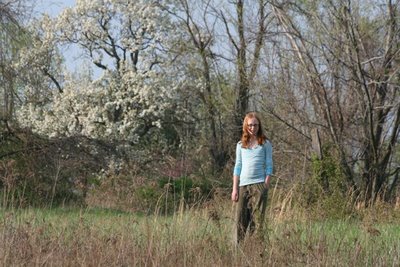 A lone pear in our neighbor's hayfield, wearing her party dress.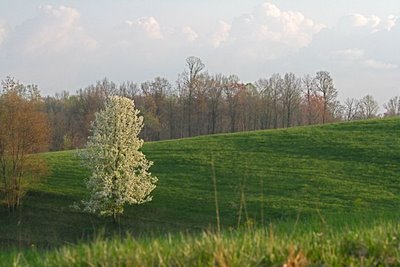 Our pear, losing its petals, springtime snow.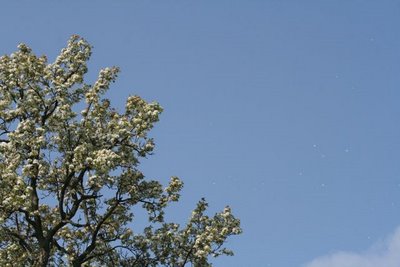 Liam and Phoebe were enchanted, standing in the warm blizzard. "Does this happen every day at this time??" Liam asked. "No, sweetheart, it's only happening now, and we must enjoy it while it's snowing."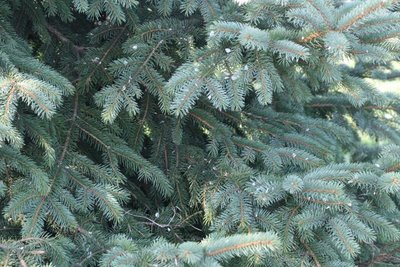 Blue spruce catches spring snow.
Because not everyone pauses to read the comment section, I'll offer this tidbit, sparked by a comment from rmharvey, who speculated as follows: "Years ago, in colonial and frontier days, cider was the most common alcoholic beverage. The apples grown for the cider were lousy for eating. Today those varieties of apples are mostly lost to us. I suspect that pears were used that way too, and can't help but wonder if your tree might not be such a variety."
Indeed, exactly the same kind of pear grew on the old farmstead at the Burnham Brook Preserve in CT where I lived for ten years. My landlady used to put the hard little pears in a covered stoneware crock in a cool dark place and cover them with sugar. Lifting the lid a month or so later revealed a fine clear alcohol that they enjoyed. She said it was the only way to use them, and thought it was just fine. I may try it someday, just for fun. Hic!
Coming home today from the New River Birding and Nature Festival. They had gorgeous weather until I arrived on Thursday. It commenced to rain as I turned in to Opossum Creek, and it rained and rained and rained. (They told me the same thing at Whitefish Point two weekends ago...it was in the 70's until you got here, and then it started to snow...) Saturday, my new friend John and I took an intrepid group to Cranberry Glades, where it was 42 degrees, with a blowing cold misty rain. Yeah! But one thing I love about birders is that they roll with it, and they're happy for what they're able to see and experience. A couple of friendly warblers (Canada and Blackburnian) saved the day. Home again, home again, jiggity jig. Happy Mother's Day.