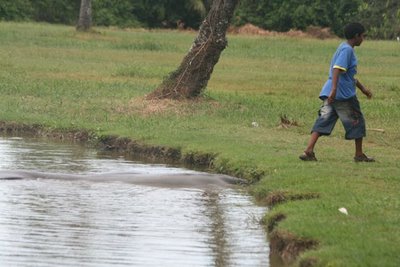 So we're tooling around the Georgetown Botanic Garden in Guyana, South America, in a light afternoon shower, looking at flycatchers and jacanas and greater anis, and at some distance I see this boy running back and forth from the edge of a small waterway to a patch of lush grass. He's pulling grass and running back to the canal, just as you would if you...were...feeding...a..
pony...or...a....MANATEE!!!
AGGGGH!!!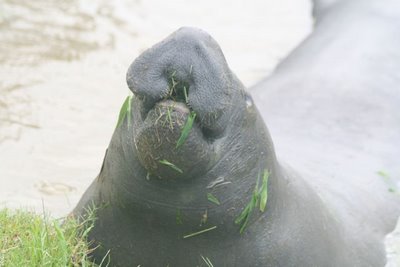 You cannot imagine how excited I was to come into contact once again with manatees. The Science Chimp's every hair stood on end, she pant-hooted and hugged herself. You see, I have an enormous soft spot for manatees, ever since having shared their space at the Amazonian Research Institute in Manaus, Brazil as a lonely college student in 1979. I came to know several individuals housed there under the auspices of
Robin Best's Projeto Peixe-boi
, and loved them from the first kiss on their smooth rubbery noses. I held tiny orphaned Amazonian freshwater manatees, no bigger than a piglet, in my arms and watched their Brazilian caretakers feed them with baby bottles. Oh my goodness. Manatees. It all came flooding back.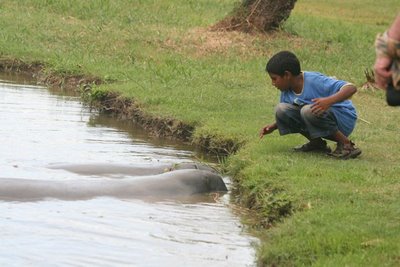 So this boy is pulling grass and offering it to the eager manatees, and I got right in and pulled grass with him.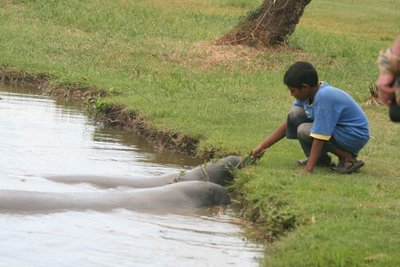 Knowing manatees as I do, I knew they love to be spoken to and fondled--they're very sensual animals, endlessly sweet and affectionate. The other members of my group looked at me as if I'd been out in the sun too long when I knelt and hugged them as best I could, given the soggy substrate. Sure, they were in scuzzy water of uncertain origin; sure, they are the oddest and most foreign of beasts, but behind those minuscule eyes and that soft, questing muzzle is the gentlest of souls.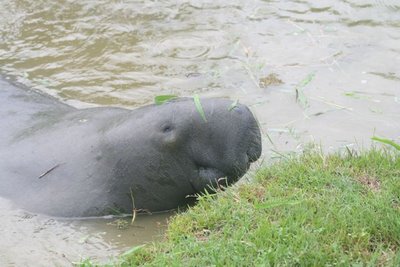 Food motivated? You betcha. But there's much more to manatees than meets the eye. Tomorrow: Zick gets down and personal with the manatees.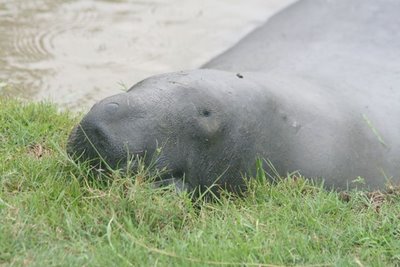 Feed me. Feed me good. But first, love me all up. Rub me down. Kisses would be fine.
If there is a living Schmoo, the Amazonian manatee is it.