I know. Halloween's a long way away. And so am I. I'm sitting at home by the fireside canning blogposts on a quiet November Sunday afternoon. Bill's in Texas. Phoebe's curled up with a book, Liam's reading; Chet is chewing a Nylabone at my feet. As I write, I'm looking forward to a ten-day natural history trip to Guyana, to not having to think about my blog for ten whole days.
So I'm looking back and writing ahead, picking and choosing topics that will sustain the effort in my absence. I'd love to think that at some point I could relax about it all and just go, leave a little note on my virtual door, Gone Birding. I'm not there yet. True or not, I believe that all my readers would up and leave if I were to do that, lovely as it sounds.
And so I give you some images from Halloween past, a wonderful costume party thrown by our fabulous friends Jess and Andy. Jess is a Muse, which is appropriate for a singer, musician and voice/piano teacher--My Voice Teacher!!, and Andy is a Pastafarian. He has a
Flying Spaghetti Monster
on his shirt, but his dreads hide it. This link is why I love Wikipedia.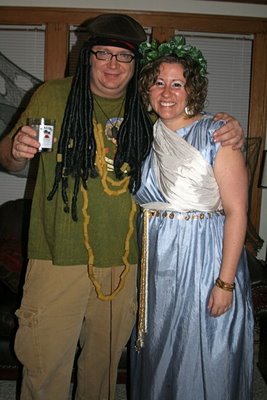 Lots of people look great on Halloween. They manage to be slightly menacing or odd and alluring at the same time. Cathy and Martha are prime examples of this approach.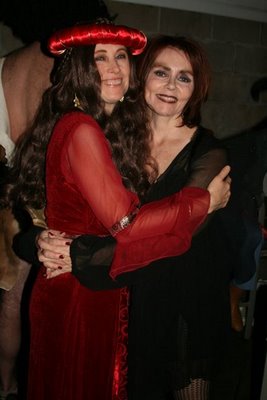 As is Andrea.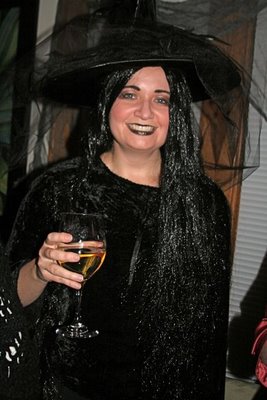 Clay as Cool Hand Luke definitely qualifies. He's carrying a specimen that he drinks from.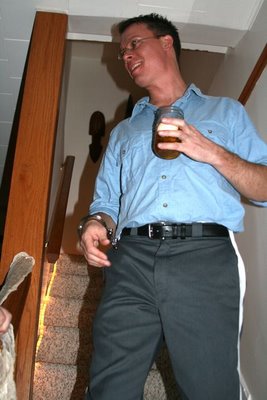 Sarah made the scene, palin around with terrorists. (Stole that line from the Kinsey Sicks).