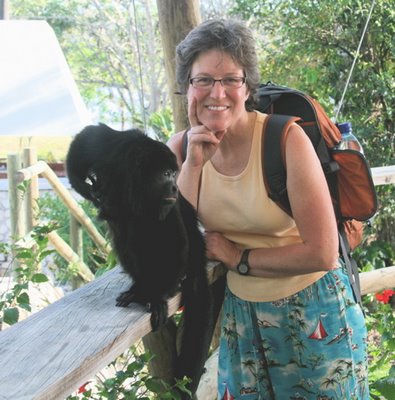 Like all monkeys, she was an itchy little thing. (So was the howler, har har.)
Blogger poll:Are my pants touristy enough?
After our various adventures at Cerro Cahui, Ixpanpajul, Sta. Elena and PetenItza, it was time to settle in for a few days at a very nice hotel called La Via Maya. It's not too far from Tikal, and is surrounded by some nice forest and some very nice birds. This turned out to be a very good thing for me, because I was to spend the rest of the trip right there. I am now using foreshadowing, a literary device intended to produce tension in the reader, with a desire to punch the computer screen. More on that later.
Like many large hotels in Latin America, La Via Maya has enclosures with native wildlife; the harsh squawks of captive scarlet macaws ring out starting at dawn, well into dusk. They are well-treated and free to ramble about a large area, socializing, a satisfactory lot when you think of how most captive parrots end up living: in solitary confinement. Another paddock holds a herd of Guatemalan white-tailed deer, which are noticeably smaller and darker than our whitetails, not quite as small as Key deer, but getting there. I considered trying to make you think I had captured these images by stalking and waiting, but it is not so. My main concern was poking my lens through the woven wire and not getting any of it in the picture.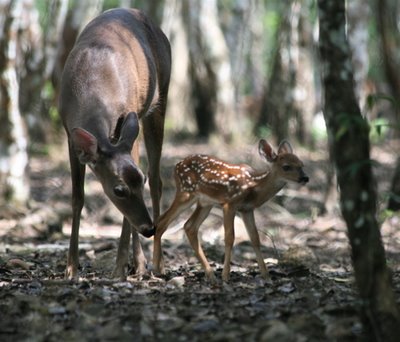 By chance, one of the does had just given birth to twin fawns, and I was captivated by the tiny animalettes, their bodies no larger than a small Jack Russell terrier's, all legs and angles and huge liquid eyes. They'd totter a few feet,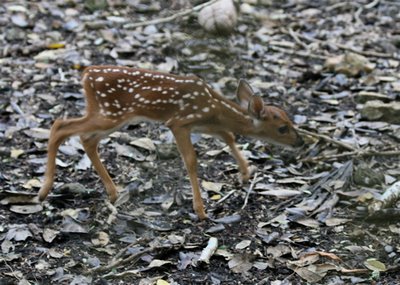 then collapse down in a defensive crouch, probably responding to low vocalizations from their mother. Think small loaf of Pepperidge Farm Toasting White and you have the size. Teeny.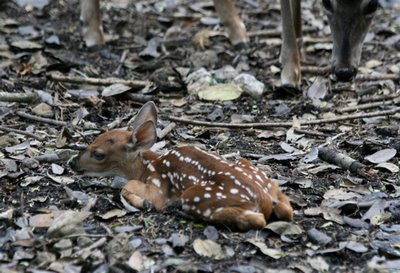 The other does were fascinated by the twins, and they got a whole lotta lovin.' I was reminded of myself around our friends' children Oona and Sophia, the 1-year-olds to whom I am lucky enough to act as an unofficial auntie. Oh, I love those girls.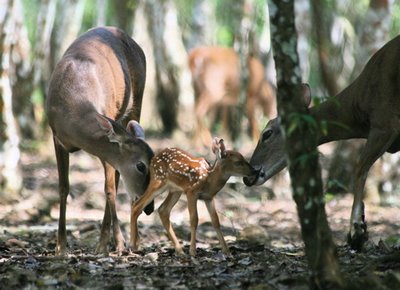 Also hanging around the grounds was a somewhat mysterious young female black howler monkey. She was a most placid and lovely animal, unafraid but unobtrusive.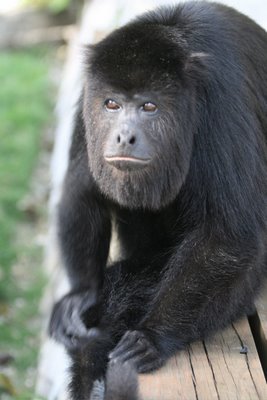 She seemed to enjoy the smiles and surprised reactions she got from hotel guests when she'd drop down out of the trees and sit near the tables, absent-mindedly scratching herself. Here are the incomparable
bird painter Keith Hansen
(left) and the illustrious co-author (with Sophie Webb) of
Birds of Mexico and Northern Central America
,
Steve Howell
. Both are much rowdier than the little monkey. Keith is a howl unto himself. Dude. I love this guy and his beautiful wife Patricia, a Yucateca from Mexico with a keen sense of humor and terrific taste in textiles and travel.
We staged some wonderful pictures of Steve showing the howler some birds in his book, but I took them all with his camera--rats! I never saw her grab anything from anyone, the way many acclimated monkeys in India and Africa do. Even when Keith offered her his video camera (something I would not do), she thought about taking it and then gave it back to him. She was a perfect little lady.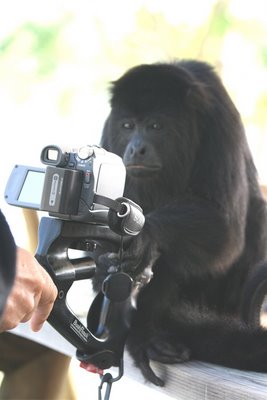 I so wanted to groom her. She probably would have enjoyed it and reciprocated. But it's never a good idea to touch a wild animal, even one that's obviously been hand-raised. So I hung around hoping she'd touch me. I wanted to bury my nose in her hair and see what she smelled like. Missin' Baker.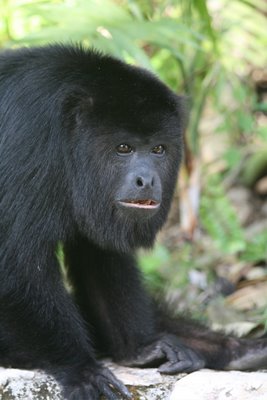 In the morning and evening, we could hear the unearthly roars of wild black howlers coming from the forest all around. They're common in the Peten region. They're heavy, rather slow-moving monkeys who live on fruit and leaves. Their round bellies house chambers where the low-quality forage is fermented and digested. Tails are prehensile, and act as a fifth hand. Nice nonskid undersurface, too.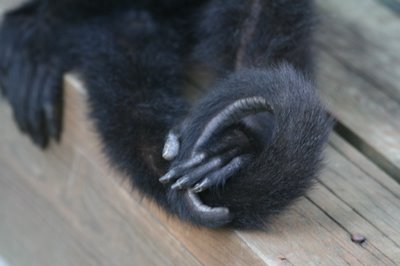 Something about monkeys freaks people out; I think it might in part be due to the contrast between their familiar (human) eyes and faces, and the fact that many have these long slightly creepy prehensile tails, that move with a mind of their own.
Male howler monkeys have huge round bony bullae, or chambers, in the gular (throat) area that act as resonators for their roars. They have the most amazing skulls. I wish I could find a ventral view to show you, but the bullae are in the vee, under those massive mandibles. Very cool skull. This picture, pirated off the Net at a site that sells skulls. You can buy any darn thing online. Monkey skulls. I like skulls but I draw the line at displaying primate skulls in my home. Too close.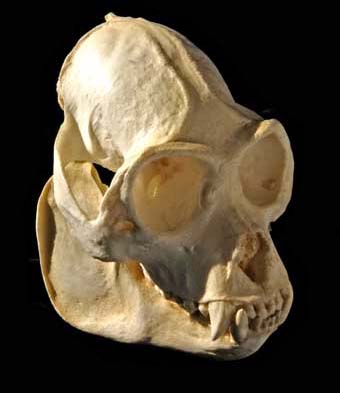 At a distance, calling howlers sound like a great wind through trees. Close up, they sound like mythic lions, very angry ones. I love the sound of howlers in the morning.
And now, I am off to Ithaca, to hang the "Letters from Eden" paintings, open the show, give some talks, and meet some wonderful birdpeople at the Cornell Lab of Ornithology. There is talk of ethnic restaurants and wine. Plans are being made. It ought to be a hoot, or a howl. Chet Baker is going with me as my mental health guide dog. Maybe I can sneak him into public facilities by saying I'll freak out unless he's with me. He'll be great company on the drive, which will push 9 hours each way. Howler monkeys and humid forests will be a distant memory in the Land of Ice and Snow, but I have been promised ducks in nuptial plumage, and I'll take them! Must pack his sweaters.