This essay aired today on All Things Considered, in honor of Earth Day. You can hear me read it
here.
I couldn't have written it, much less felt it, without a letter that
Mojo Man
, a self-described frustrated forester, wrote to me more than a year ago, when I was complaining about selective cutting. In essence, he said, "Get over it. Think of the alternative. Logging is a sustainable use of a forest. Forests are dynamic systems, and even logged-over woods beat a housing development."
Sometimes we don't know the impact a few well-chosen words to a friend can have. Mojo's letter got me through the logging, got me through the snarling chainsaws and the shrieks and cracks of dying trees. Did I enjoy it? No. Would I allow it to be done to our forest? Never. But I repeated Mojo's wisdom to myself over and over throughout February and March; I repeated it to Bill and the kids; kept it in my head as I spoke respectfully to my neighbor, and it truly got me through. This old earth is a renewable resource, bouncing back after unthinkable injury and insult. Think of the Exxon Valdez disaster, the healing that's gone on in those diesel-soaked beaches. We owe her so much more honor, love and respect than we'll ever give her, but like a good wife and mother, she keeps coming back, taking care of us even at our spoiled, self-centered and destructive worst.
Our neighbor is logging his woods. We listened as the bulldozers and chainsaws moved closer each day. One by one, the big trees fell. The loggers were taking everything over 18" in diameter, leaving the smaller trees to mature. After three weeks, there was only one giant left, the tulip tree we called the Privacy Tree. We called it that because it shielded our house from the road, made it feel like a secret.
I knew the logger was saving the biggest tree for last. He couldn't have overlooked it. It was time to say good-bye. I walked out through the snow, meaning to wrap my arms around it, and had to spread them for a good-bye hug. I know, I'm a tree hugger. But it's something, in this cut-over, degraded forest, to find a tulip tree that's 36" at breast height.
"Can't we ask them not to cut the Privacy Tree?" asked Phoebe, her voice plaintive. "Doesn't the logger have a heart?" Well, no, honey, we can't ask him. A 36" tulip is worth money, and it's on our neighbor's land, and that, dear, is that.
While she was at school, I did call my neighbor and offer to compensate him for the value of the tree if he'd leave it standing. It was a reckless act, born of a mother's desire to fix what's wrong. I had no idea what it was worth, figuring I'd either be able to meet the price or not. I just wanted to buy it, to leave it standing, so the tanagers and wood thrushes could still perch in it and sing. He turned me down flat. "Nope, I'm gonna cut it. If it dies and falls down, I can't get anything for it. And I don't want it lying on the ground. Trees are a crop, just like anything else, and you need to harvest them before they fall down." I suggested that trees might have another value as habitat, even after they fell down, and we hung up, agreeing that we saw things differently when it came to trees.
Two days later, my husband and I watched in silence as a chainsaw snarled into its base. The Privacy Tulip trembled, groaned, spun slowly, and smashed down, taking five other trees with it.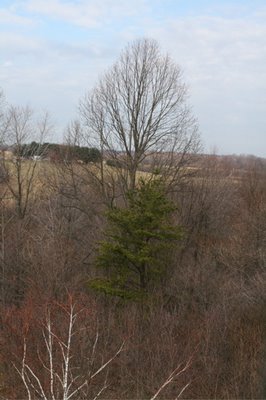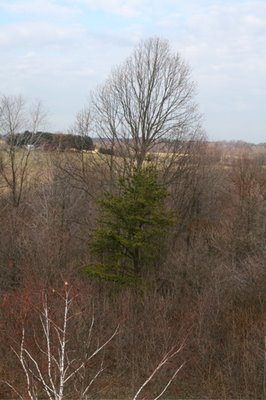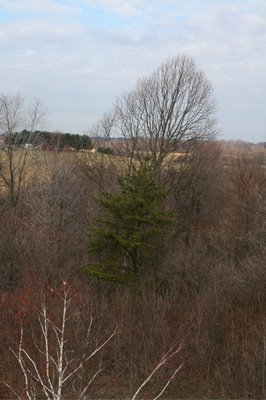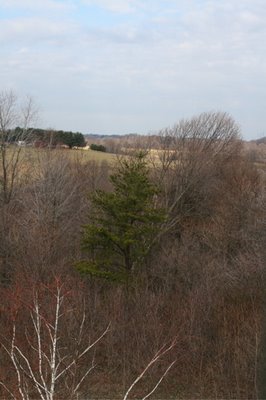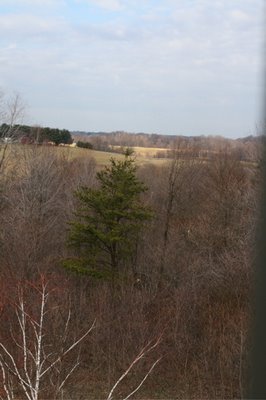 Four years ago, I watched with dismay as another forest I loved was logged just like this one. I'd drive by every day, watching it get thinner and thinner. The loggers took all the big trees, piling them like Lincoln logs on a flatbed truck, hauling the forest away in a cloud of diesel fumes. I ground my teeth and muttered as I passed. The next spring, underbrush sprang up in the newly opened woods, from seeds that had been waiting for decades in the soil for just such conditions.
Within three years, new, strange bird songs rang through the opened stand: Wild turkeys, American redstarts, blue-winged, prairie, hooded and Kentucky warblers flocked to the thick young growth that sprang up in the wake of the cutting. Come spring, I'll park my car where the logging truck once sat, and watch jewellike birds fetching insects and nesting materials in the flickering sun, in the new growth racing toward the sky.
For birds like these to survive and thrive, some trees must fall, some sunlight must strike the forest floor. Even as I mourn the Privacy Tree, I know that my neighbor's is a changed woodland, and not necessarily for the worse. Come spring, I'll be listening for new songs.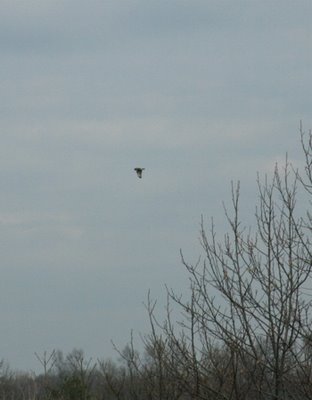 A postscript:
Even before the branches had settled, five hawks appeared in the sky directly over where the Privacy Tree had stood for so many years. Two red-shoulders and three redtails circled and screamed, keening an unearthly chorus in the space where the tree had been. Their cries tore through the pearly sky. Who can say why? I think that we are not the only ones who mourn it.