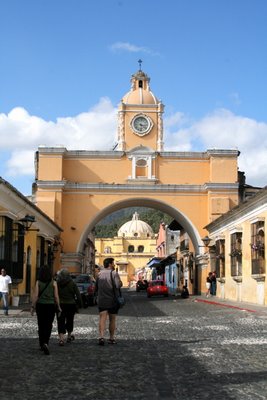 Lisa, Liz and Jeff leading me through the streets of Antigua, Guatemala. That brilliantly-colored zone above the building is what is called a blue sky. Dig back into your memory...
Three trips to Guatemala, and I was finally going to see just a smidgen of Antigua, a gorgeous colonial city not far from Los Tarrales, near Lake Atitlan. Antigua is justly famed for its architecture, which has a Moorish influence, and its textiles. Its markets pull in the best Atitlan's Mayan weavers have to offer, and my head almost exploded when Jeff and Liz, who'd stayed here overnight, took me into the nicest textile shop. I overloaded, and couldn't buy a darn thing. Too much to choose from.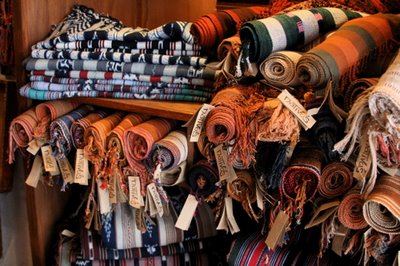 I never got used to looking up and seeing a volcano, its massive dangerous head wreathed in clouds of its own making.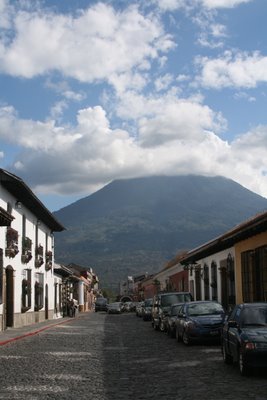 Garden fans, this is what a yellow brugmansia looks like when it's really, really happy. Oh, I could spend a long, long time in Antigua, just photographing flowers and fabrics and buildings.
Finally, with only about twenty minutes to spare before we had to leave for Los Tarrales, we bolted into the big marketplace, where hand-made papier mache monsters greeted us. How do you get something like this in your luggage? Darn it! Liam would have loved one.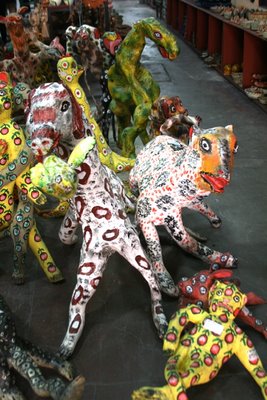 I finally assuaged my textile lust buy purchasing a couple of huipils, the traditional poncho-like overshirt worn by Maya women. See that hole in the middle? That's where your head goes through. Then it drapes over your shoulders, leaving your hands free.
It's as if the weavers know exactly what color combinations will drive me wildest. I bought one for Bill, covered in stylized dragons. I'm sitting now in a chair, my favorite blogging chair, an old family heirloom from the 1950's. It's got a tough nylon-chenille fabric, cut with a tracery of roses. It used to be rose-pink, but it's faded to an elegant dove-grey. And draped over it is my new huipil,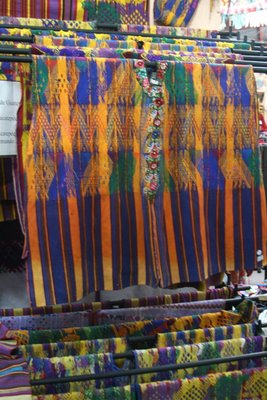 embroidered in vibrant flowers and stylized quetzals, their colors fresh and new, and it still smells of woodsmoke from the cooking fires where it was woven on a backstrap loom. I paid about $20 for it, all that hand loomed fabric, all that work. I felt like buying the whole darn rack of them. They make terrific throws for weary furniture.
You
can
take it with you, just a little bit of it.