Is it the weekend already? Yes, it is. Phenomenon noted: Weeks go by much faster when Bill is home. Weeks draaaag when he is in Peru, looking at fabulous birds and not hugging me.
I will leave you for the weekend with a post about Baker, because after all it is time for a Chetfix. (Not the same thing as Chexmix, which you eat in your living room around Christmas time).
Chet Baker. You know you are not allowed to have this teddy bear.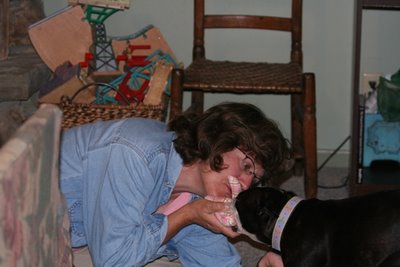 photo by Phoebe Thompson

I am not Chet Baker. I am The Gremlin. And I defy you. Rrrrrrrrrrrrrrr.
The first winter of my bloglife, I posted about a game Phoebe, Chet and I play every night without fail. It's called
Gremlin's Gold
. (Worth checking out. Phoebe looks so little and so does Chet! And I got
one
comment, from Rondeau Ric, aka Old Faithful, thank you.)
Chet stands, ears flat back, watching Phoebe go through her bedtime routine. Just as I'm tucking her in for the fourth and last time; just as I'm ready to turn out the light and think about what I want to do with what's left of the evening, Chet Baker vanishes. He drops to his belly and crawls under the bed, dresser or desk, then glares balefully out at us. This is the equivalent of going into a phone booth and coming out as Superman. Only Chet undergoes a reverse transformation; he becomes an Evil One. We aren't sure why he does this, but we're glad he does. It's an essential part of bedtime stalling for Phoebe, and sometimes it's the best laugh I get all day.
Anyone passing by (say, a little man walking innocently on two fingers) usually gets grabbed and dragged into the Gremlin's Lair. There are many kinds of gremlins, and we determine which kind we've got with this little finger-man test. For instance, there are Licking Gremlins, Barking Gremlins, and Biting Gremlins. The Biting Gremlin is most common, and one of the worst of the lot. Worse yet is the Biting, Stealing Gremlin.
What the Gremlin is waiting for is some gold. The best Gremlin's Gold is something the gremlin knows he is not supposed to have. In this case, it is a pink plaid teddy bear Phoebe got for her birthday. He is really not supposed to be chewing something like that. Chet Baker knows that, but the Gremlin ignores convention, grabs the nearest Gold, and drags it into his lair. Chet Baker never growls or bites. That is the evil work of the Gremlin. I don't know if there was a radioactive spider involved, but our dog mysteriously disappears every night around 9 p.m. And then we find the Gremlin. His eyes have an evil glow, otherworldly.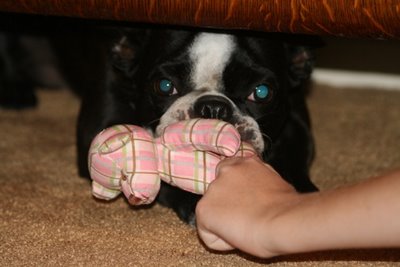 I am not chewing it. I am just holding it.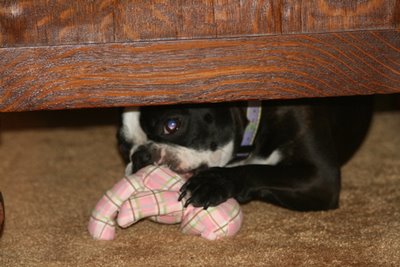 I will take it to the couch and open a seam, something that milquetoast Chet Baker would never dare to do.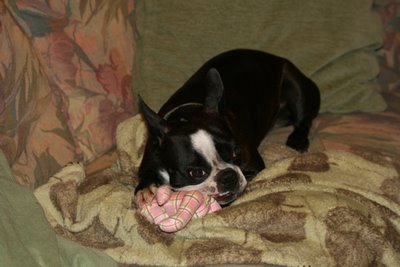 You may tug on it all you want. You will not get it back. By the way, your fingers are in extreme danger.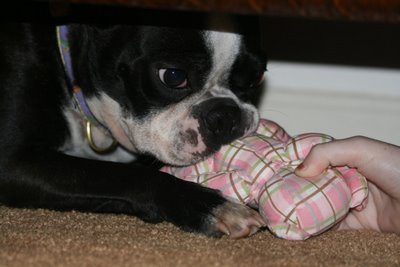 Sometimes the Gremlin relocates to a place where he will not be so vulnerable.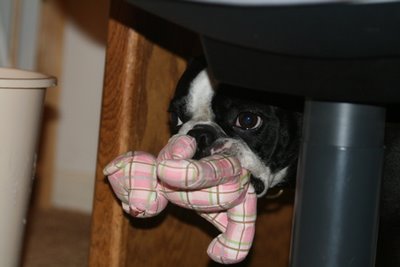 Sometimes the game goes too far and the Gremlin has to be chastised. Some of the chastisible offenses include: Growling too realistically, biting too hard, and opening teddy bear seams. It is worth noting that the gremlin will chew vigorously on Mether, but only licks Phoebe. We can switch our hands as cleverly as you please, but he can always tell which hand to lick and which one to chew on.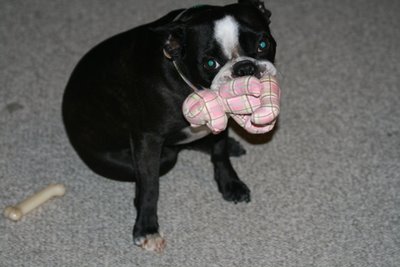 Why are you using the name of that sissy dog? Why do you use an angry tone with me? Where is your sense of humor? Did you lose it along with your sewing kit? Because you are going to need both.