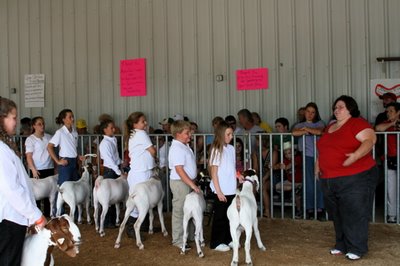 It was unutterably hot the day we went to the fair, and these 4-H'ers were gathered under the galvanized metal roof of the new cattle barn for a Goat Showmanship competition. Two of the girls are friends of Phoebe's, and we watched with great interest as they pulled and tugged on the collars of their recalcitrant animals, trying to get them to stack up and stand right for the judge (in red).
Rumor had it that one of the goats in the group had been purchased for $1,000. Our friend McKenzie's goat, Simon, had cost about $50.00. The longer I looked at the bunch of animals, the more convinced I became that Simon stood head and rounded shoulders above the lot. What a gorgeous animal--well filled out, straight of spine and leg, clear of eye, just about perfect, as far as I could tell.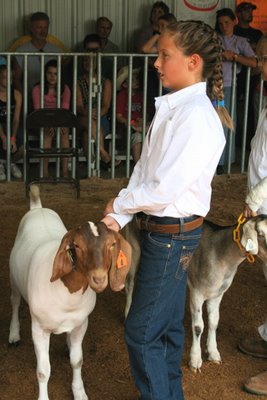 McKenzie's other goat, Randy, was supposedly better-behaved, but went into a snit just before this heat, so Simon stood in. I told McKenzie's dad that I thought Simon was a keeper, though I knew the whole point was to sell him to the highest bidder. Just wanted to put in a plug. I'd stop short of spray-painting NFS on his side, y'know. I mean, look at that sweet goat.
There's something doglike about these meat goats. OK, I can't think about that any more. Moving along...
Phoebe's friend Jessi had her goat there, too. I think his name was Jared. I like this picture. Jessi looks so intent and serious. That's big old Simon's pink posterior just to the right of Jessi
. My gosh, what a gorgeous goat, even his bum's nice.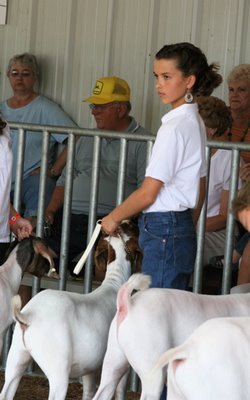 There's a lot of standing around and waiting in ring judging. This goat alleviated its boredom by trying to nibble the rivets off its handler's jeans.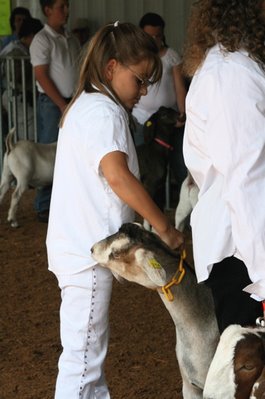 The judge carefully considered each animal, teaching the kids and onlookers a lot about goats in the process.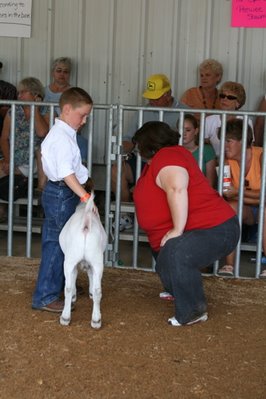 In the end, Simon won Grand Champion of all the goats entered. We were thrilled for McKenzie, and I got a little glow that I'd been able to spot his quality, knowing essentially nothing about goats. Yaaaay for McKenzie and her folks! I will tender my application for goat judge in 2008.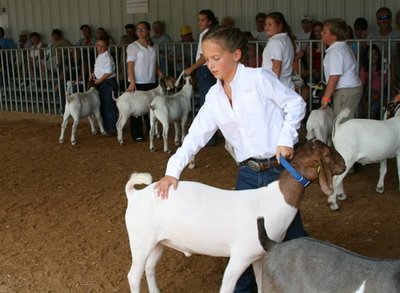 Today, I'm whipped. I've been on the road the last three days with some good adventures and funny pictures to show for it. Sure has been nice to ride on my ant's harvest of blog posts--a nice break after the couple days' work it took to put two weeks of posts together. But they're petering out. It's 10 PM and I've just finished driving the same durn stretch of I-77 for the third time in three days. Phew. I fell asleep coming around a sharp curve on the road home--just one of those moments of unconsciousness that remind you that your heart can still leap and race. That would have sucked, to run my old car into the crumbly shale cliff face that had ZICK written on it... Smacked my thighs so hard to stay awake I have bruises. But I can stay home now for a little while and paint!! Yay¡¡ Talk to you soon...