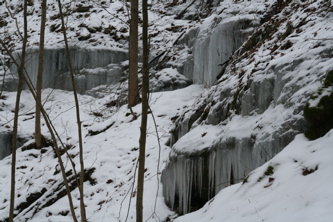 The woods is lovely, stark and deep. Black and white it is, with the occasional Christmas fern frond to break the monochrome. Water that's still open is black, none blacker; no skylight here. I open up the camera's eye as far as it will go.
It is silent. I see only two birds on this evening walk, both of them winter wrens, tiny motes of chestnut with almost forgotten tails, about the size of a pompon on a mariachi sombrero. Their calls are bold, a loud, ringing CHEMP! The perfect bird for this colorless fastness. They seem to wonder why Baker and I are here.
We are here for patterns. There are no bobcat tracks, as there were this time last year. I don't make it all the way down to the rock overhang, so that doesn't mean there are no bobcats. I stay in the upper reaches of our nameless stream, bewitched by black and white.
Castles of icicles hang from every ledge.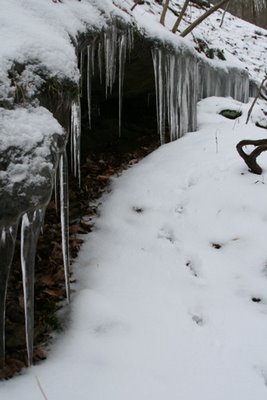 They're big; here's Chet for scale. They're Tyrannosaurus teeth, shiny and clean.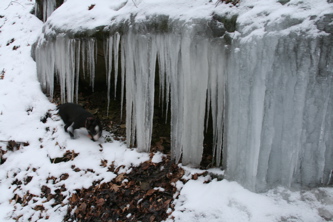 I am walking, looking down at the ice, and stop dead. A happy dog cavorts before an ivory-billed woodpecker, inviting it to play.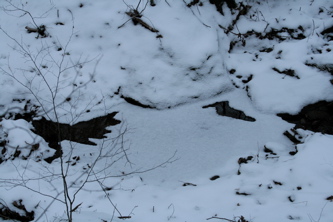 I have passed through the looking glass.
This is another kingdom, where my most heartfelt questions are answered in riddles. Normally, when I walk in the woods, my mind goes blank, the better to take in what I see, hear, and smell. Tonight, I'm taking it in, but there's an ambient rumble going on. I'm contemplating the source of happiness. Where does it come from? This is not as simple a question as it might seem.
From what I've seen, I think that happiness is something like the ability to sing. If you can't carry a tune, nobody can show you how to do it reliably. They could sing and sing in tune right in your ear, and you could try to match the pitch, but if you're tone-deaf, and unable to produce a true note yourself, it's not going to give you a song.
Shila says that Buddhist teachings hold that nobody else can make you happy, but nobody else should be able to make you unhappy, either. Both happiness and unhappiness come from within. Thinking about this, it fits with the Buddhist teacher, sitting alone on a mountaintop, self-contained. It is, though, an enormous prospect to contemplate, a call to self-reliance that seems pretty extreme.
I don't know why I need to generalize about life. Writing is, in large part, coming up with generalizations. It cuts complex things up into bits we can digest. I don't know if this new one of mine is true. I suspect the Buddhist idea is true. For now, it feels like some kind of answer.
Why the happy dog? Why the silent woodpecker? There's an answer hiding somewhere in the black and white forest, and I can't get to it tonight.