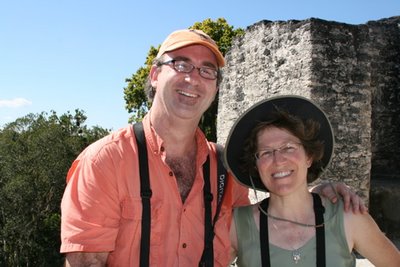 Me and my baby atop a temple in the Grand Plaza of Tikal, Guatemala. Photo by Jeff "El Jefe" Gordon. It's sweaty up there. Soundtrack: screeching red-lored Amazon parrots and burbling Montezuma oropendolas. Blurp-blurp-blooooeeeeepppkkksksksk!
In the tropics, one fruiting tree can make all the difference in your birdwatching experience. A lovely fig tree in the Grand Plaza is dripping with fruit, and hordes of birds are taking advantage. Tikal is one of the few places on earth where you can watch big, tasty birds like crested guans, curassows, and ocellated turkeys. They aren't molested, and more importantly, they aren't extirpated in parks like Tikal and Chan Chich in Belize. I spent six solid months in Amazonian Brasil, and never saw a wild cracid (the family name for the chachalacas, guans and curassows). Here, they're present, and they are unafraid, a very unusual thing to be when you live in Latin America and are big enough to be edible. Oh, what a delight.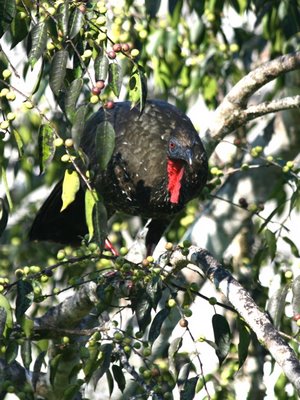 I looove these birds, love to draw them as they clamber around in the fig tree, plucking fruit.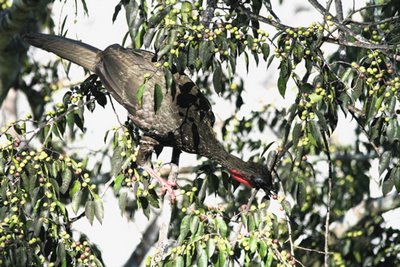 They have a polished greenish patina on their feathers that reminds me of bronze. Not to mention their slate-blue facial skin and screaming red wattles. Here's a crested guan in flight, temple ruin behind. Yeah. Guan in flight. Happens every day in Ohio.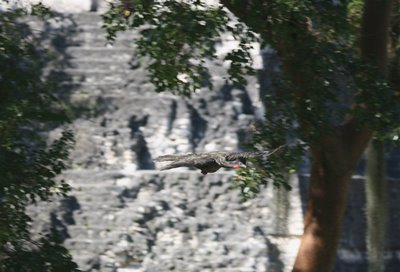 Bill, Jeff and I set up on the flank of a temple at eye-level with the fruiting fig. It's not often you're at eye-level with a crested guan...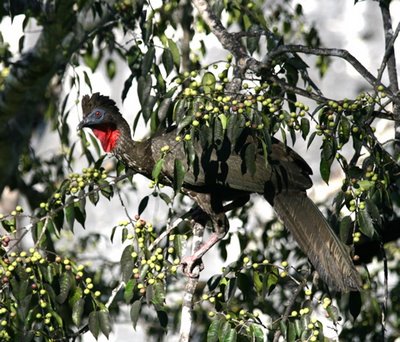 or a Montezuma oropendola. These amazing members of the oriole and blackbird family build enormous hanging nests, five to eight feet long. They're almost ridiculously loud, bold, and bizarre. Highly recommended.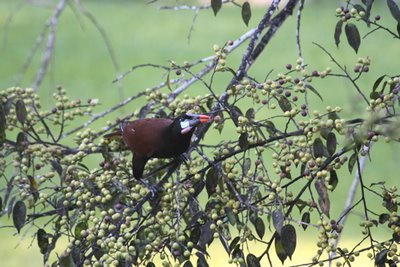 Surreal, this, posting from Coban, Guatemala, telling you about the wonderful birds in this gorgeous little country even as I'm experiencing them. The Internet continues to delight and amaze me. Too soon, we'll be heading home. Bill and I are slated to play music on Friday night, February 23, for the opening reception of the Ohio Ornithological Symposium to be held at Hueston Woods near Oxford, Ohio. It's the
OOS Owl Symposium.
I'll be speaking on Saturday, Feburary 24, along with the incomparable Denver Holt of the Owl Institute. Bill and I will help lead field trips on Sunday. Yeah, we'll be fried crispy--racing home Thursday morning, driving across the state with kids and Chet on Friday. Yes, Puppy Supreme will be making an informal appearance at the Owl Symposium. Check it out! Hasta luego!