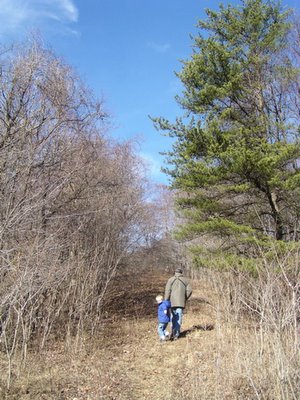 Sunny hikes with my three boys. Really sore legs. Happy sigh. It all makes me feel incredibly good. Shila says that if you walk on uneven ground every day, you can forget about needing a chiropractor. Walking slopes like this gives your spine a little adjustment with every step. I used to avoid these slopes. Now I crave them. It doesn't feel like a hike unless I drop to all fours a few times, slip back and laugh a few times, grunt with exertion and grab for handholds. It's a strange thing to be hooked on, but I'm not questioning it. Such climbs, and spirulina shakes, are fighting writer's spread in a big way. That's the irony of being a nature writer. The more you write, the bigger your butt gets. So I figure you've got to climb more than you write, or the balance will be pretty unbalanced. Not to mention that, unless you get out every day and scramble around in the woods, you've got nothing much to write about.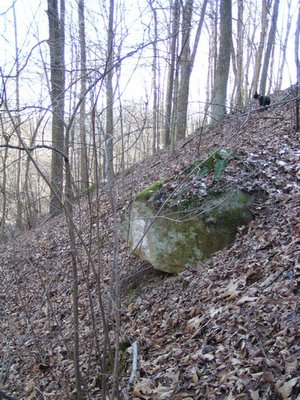 When you walk with guys you have to let them be guys. It's interesting to see what Chet considers his "turf." He marks like crazy all along the Loop, much less so along the rocky stream we call Beechy Crash. In this picture, you can see where he got his affectionate nickname, "The Tennessee Turd-Tail."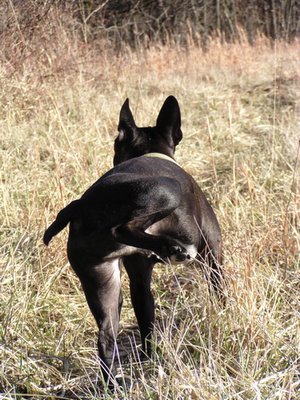 When we emerge out of the deep woods onto a well-worn trail, Chet always marks. I haven't really discerned a pattern to Liam and Bill's marking, but I'll spare you pictures. Liam's given to dramatic collapses after long climbs, but that little guy can cover serious ground.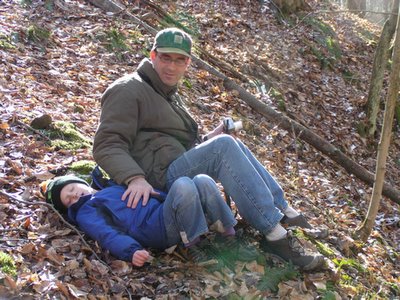 He's strong and tough, and it doesn't even occur to him to ask to be carried. Phoebe's just as fit.
Loving these days when there is still water flowing in the stream. It's been so dry here for so many years that I'd become accustomed to empty stream beds. Annie Dillard says that the stream carries its own lights, and it's true--even as evening comes on, the stream reflects the sky and is a light source itself.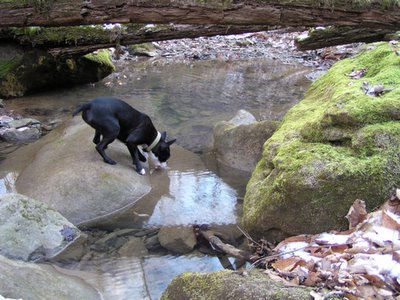 I'm re-reading Pilgrim at Tinker Creek, a book that probably influenced me more than any other. I was in high school when it came out, and I felt as if it had been written just for me. I think I stole that from Bill, who made that comment when he saw it in the latest stack of library books. I think it's Dillard's way of mixing the everyday with the imponderable that's so alluring. She finds amazement in small natural events that others would completely overlook. It's good to go on walks with Annie Dillard. More than any other writer, she captures that combination of peace and utter excitement that being in the woods brings. And, like a painter, she notices light, and its power to transform.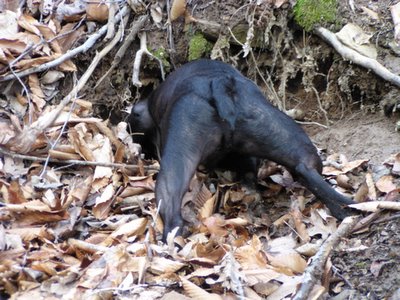 Being in the woods with children and dogs connects me to things I might have overlooked. I like to see what they notice, what impresses them. Would I have known there was an active raccoon den under a rock ledge, had Offisa Pupp not poked his head into a concealed air passage? Chet found the barred owl pellet made of crayfish shells... Would I have tasted an icicle if Liam weren't along? Would I have taken a basketball on a two-mile hike? Chet's campaigning heavily to take a large green Frisbee all the way around the Loop now. We keep throwing it back toward the house, and he keeps fetching it and carrying it farther along the trail. Can't we just bask in victory for awhile, you nutty dog? Always has to be doing something.