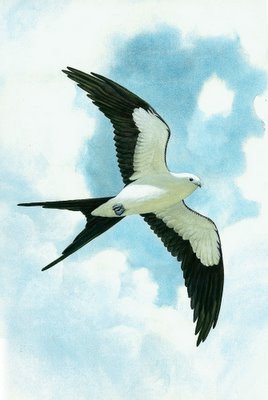 This bird is ALOFT!!
May I have your attention? Please look, just look at these paintings. My dear friend Mike DiGiorgio is painting some of the most beautiful bird portraits since Louis Fuertes. I absolutely cannot get over his handling of shadow on this swallow-tailed kite's white underwing and belly. If Mike can be said to have a mentor, it was the great Don Eckelberry. He made many pilgrimages to Babylon (Long Island) to hear what Don had to say about art, bird painting, and the wide world around us. I went with him once, too, and I'll never forget that night, Don's raspy voice and great booming laugh, Ginny's gentle counterpoint; the amazing original art on every wall and cranny in their beautiful carriage house/residence. How I wish Don Eckelberry could comment on these two works.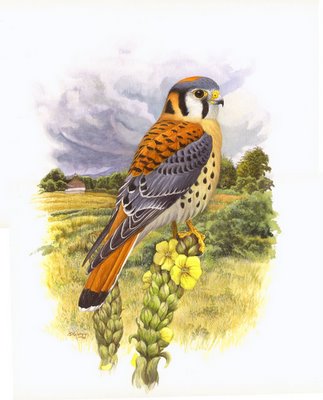 Can you tell how much Mike loves kestrels? This is a celebration of North America's most ornate bird. He's rolling around in its beauty. Mike's a soul man, a delightful and loyal friend, and such a wondrous painter. He is perfectly at home with watercolors. I'm going to try his favorite paper: Fabriano Artistico Extra White 300 lb. soft press. Wonder if it will make me paint like him? Worth a try, anyway.
Thank you, Mikey, for decorating my blog. It's not every day an artist is commissioned to paint North America's most beautiful birds--but I can't think of anyone better for a dream job like that.