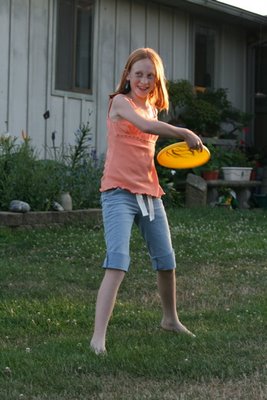 A warm golden evening, four people and a small plastic disc. Who'd think that you could get so much fun out of those simple elements? We found a nice soft Frisbee at a Scheel's store in North Dakota. Soft Frisbees don't hurt little hands even when they're thrown hard.
In any athletic pursuit, Will has a nonchalant ease.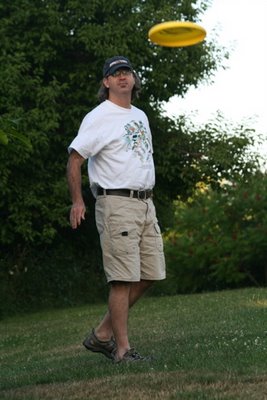 Phoebe is enthusiastic and pretty darn good at it now.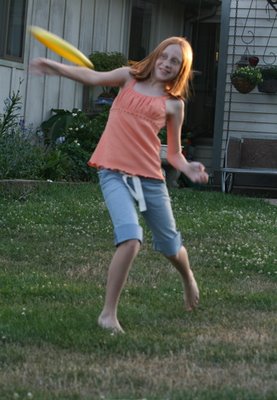 Liam is still getting the hang of throwing the disc on the level. Like his mother, he tends to cant it upward, making an embarrassingly steep arc that never gets much of anywhere.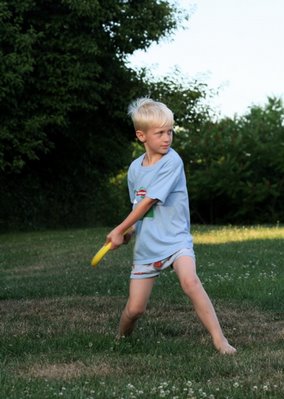 But even I can throw this little yellow one. I'll spare you any photos. Nobody's lining up to photograph me at an athletic pursuit, anyway. Not when there are little fauns like Liam to ogle.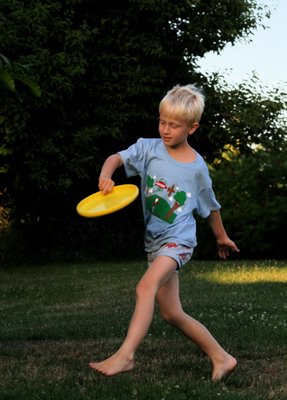 We've finally broken Chet Baker of grabbing errant discs. His teeth rip up the edges and the hard pointy bits hurt when you throw a dog-chewed disc. So most of our past Frisbee games were marked by loud shouts of BAKER NO! when he'd romp in and grab the disc. Now he retreats to a lawn chair to watch, a slightly crestfallen look on his face.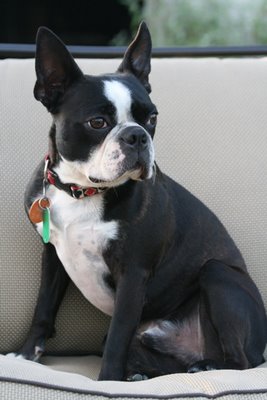 Don't worry, he has plenty of toys we throw just for him. Supposedly durable dog Frisbees are chewed to smithereens in minutes.
This dog. We love him. Somehow we've all grown together over the two and a half short years we've enjoyed his company. Liam cannot walk past him without giving him a kiss and a hug. Neither can Phoebe, nor I. He smells good, he feels good, he's smart and pretty and he makes us laugh. What more could you ask for in a 23-pound package?